Between 1970 and 2015, Minnesota's total population grew by nearly 1.7 million people, arriving at nearly 5.5 million residents in 2015. The period between 1990 and 2006 saw particularly steep growth of 1.1% annually, on average.

While both the U.S.-born population and foreign-born population have grown since 1970, the foreign-born population has swelled more quickly (see Figure 1). Minnesota had about 113,000 foreign-born residents in 1990, but that number had more than quadrupled to about 457,200 residents by 2015. 


 FIGURE 1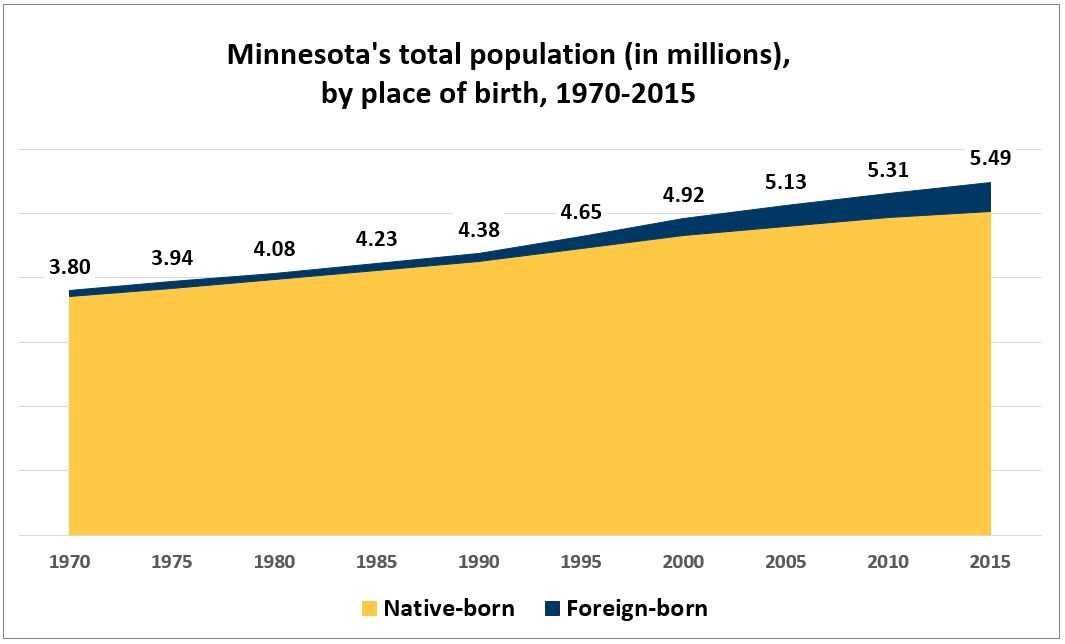 In terms of percentage change, natural increase (births minus deaths) has historically been slower in Minnesota than the U.S. average. However, Minnesota's foreign-born percentage change began far outpacing national trends between 1985 and 1995 and continues to do so (in part because our number of immigrants are a small fraction of all those in the nation). The net change for Minnesota's foreign-born population between 1990 and 2000 alone was 13% annually. By comparison, population growth due to natural increase in Minnesota was less than 1% annually during those same years.
 FIGURE 2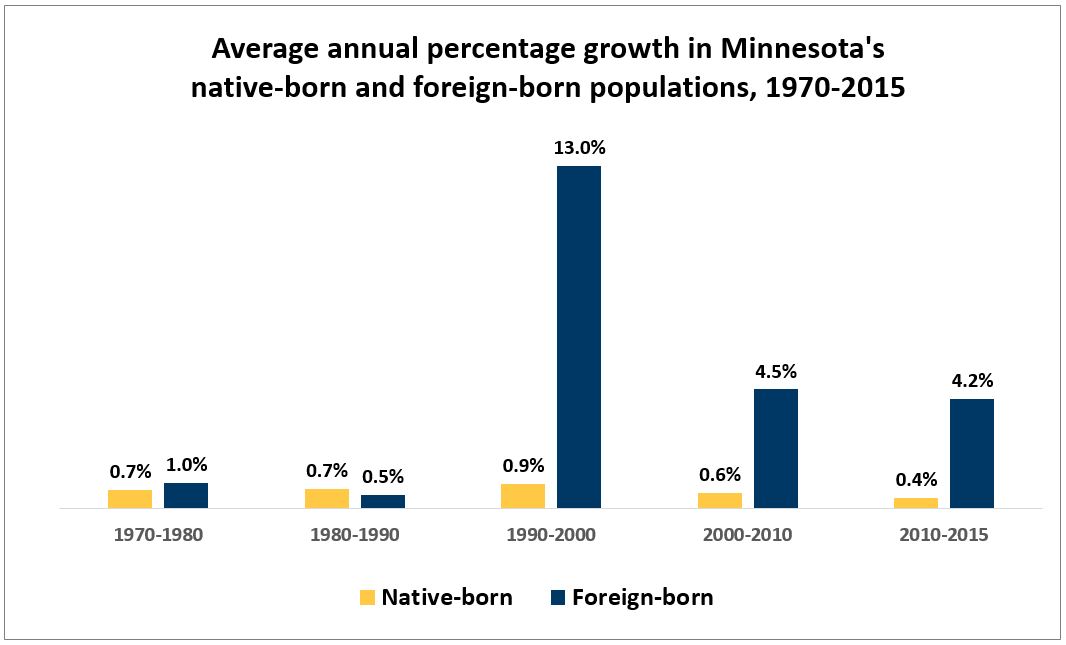 Historically, natural increase has been the driving factor in Minnesota's population change. With total births numbering near 70,000 and deaths at about 40,000 annually since 2010, natural increase has accounted for nearly 81% of the population change between 2011-2014. 

However, the driver of Minnesota's population growth is projected to shift by 2031 when population gains from net migration are anticipated to outpace natural increase, according to our office's projections. Births are projected to remain around 70,000 each year, but as the Baby Boom generation ages, deaths will rise until they are expected to peak at about 77,600 annually in 2050. As deaths are predicted to outnumber births in 2040, migration in Minnesota is going to become increasingly important if Minnesota is to continue growing.
Our office has made a "zero migration series" projection to illustrate what the future would look like without any impact from persons coming or going across state and country boundaries. This dataset shows that, without migration, Minnesota's total population would begin declining in 2040 (see Figure 3 below).

 FIGURE 3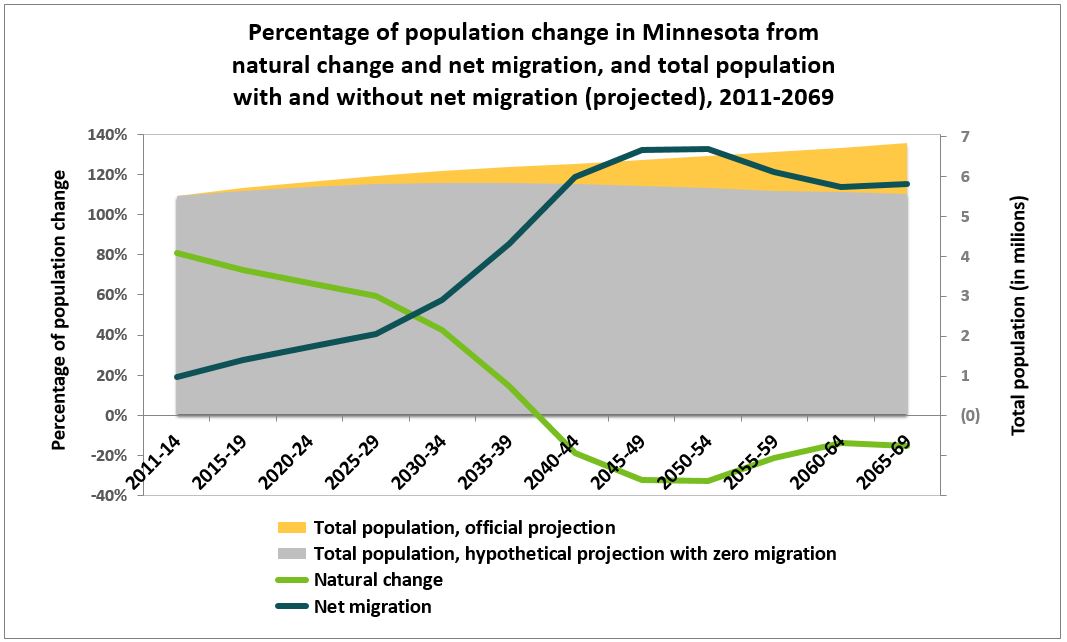 Since 2002, Minnesota has maintained consistent annual domestic out-migration – that is, more people moving out of Minnesota to other states than people moving into Minnesota from other states. The most recent year of data, 2015, shows that Minnesota had about 13,700 (net) international migrants and about -1,800 (net) domestic migrants. In sum, our international arrivals rescued us from experiencing negative overall migration, resulting in a total (net) migration of about 11,900 arrivals in 2015. 
With deaths projected to outnumber births in 2040, international migration is going to continue to be crucial for population growth in Minnesota. Our state's domestic migration has been steadily negative since 2002, a concerning trend that we must work to reverse. New neighbors from other countries (and states, if we can turn the tide on domestic migration), will be especially needed to fill jobs and keep our communities vital in the decades ahead.   
/admin/demography/data-by-topic/population-data/our-projections/index.jspExplore more trends expected in the future on Our Projections page.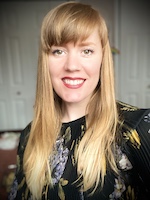 -Author and SDC Senior Projections Demographer Megan Dayton is a native Michigander who has lived in four states and on three continents. However, she is now proud to call Minnesota home!
---