Explore and download the attached materials to help you in conducting outreach in your community.
---


Organizing Complete Count Committees

A 45-page guide and workbook on organizing complete count committees in Minnesota communities. Updated June, 2018.
---

2020 Census Frequently Asked Questions
A two page flyer with frequently asked questions about the 2020 Census - who gets counted, citizenship, safety and security, and how to watch out for scams.
---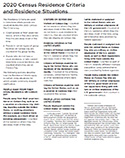 2020 Census Residency Criteria

Official 2020 Residence Criteria issued by the US Census in February, 2018.The residency criteria are used to determine where people are counted during the 2020 Census.
The Criteria say:

Count people at their usual residence, which is the place where they live and sleep most of the time.
People in certain types of group facilities on Census Day are counted at the group facility.
People who do not have a usual residence, or who cannot determine a usual residence, are counted where they are on Census Day.
Includes full descriptions of how the Residence Criteria apply to common, (and some uncommon,) living situations.

---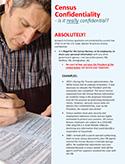 Census Confidentiality

One-pager explaining why the confidentiality of answers given on census forms are absolutely protected under law.
---
A brief from Council For A Strong America on the importance of an accurate 2020 U.S. Census for business
---
Counting for Dollars 2020

A handy resource from George Washington University that lists 16 of the largest federal assistance programs that distribute funds in Minnesota based on Census-derived statistics. 
The upshot - just one missed person costs Minnesota taxpayers over $1,500 annually in federal tax dollars that could be returned to our communities.
---

Sample Resolutions for Creating a Complete Count Committee

Two sample resolutions that cities and counties can build upon to create CCCs in their communities.
---

US Census 2020 logo

Official 2020 US Census logo. For use on 2020 Census related materials produced by complete count committees.

Graphic designers: For full style guide and colors, refer to the Census 2000 style guide

---

Minnesota "Count Everyone" Census logo

Not exactly an "official" logo, but it' what we're using until somebody comes up with something better.

Graphic designers: display as is, or with a 5 degree counter-clockwise rotation.


Poster: Sit Down and Be Counted

First of what we hope will be a lot of posters created and shared by Complete Count Committees.

Graphic designers: As with all the graphics on this site, you're free to use for Census-related promotions. 
Got a cool design you'd like to share? Send us a file and we'll post it!

---