Testimonials

Minnesota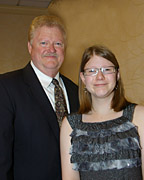 Jeff Pearson and his daughter, Abby, are recent graduates of Minnesota's Partners in Policymaking leadership training program. They are each using the knowledge and skills learned in Partners to strengthen their leadership skills and be active participants in helping to shape positive public policies for individuals with developmental disabilities and families. Read more...
Carolyn Ouradnik is a Minnesota Partners graduate, Class 12, who has taken her Partners experience and fully immersed it into her vision of a successful and self determined lifestyle for her son, Derek. Read more...
James Anderl is twenty-one. He attends Normandale Community College and enjoys math and science more than English or humanities. He currently has a class in American Government and said that it's frustrating to learn that out of the l0,000 bills that have been introduced in Congress only 500 to 700 actually have become law. James has cerebral palsy.
"I find myself much more able to cope. I find myself looking long term and setting goals and priorities. 'Fixing' Michael's academic problems which were so important one year ago are secondary now. More important is self concept, socialization, integration and independent living skills."
"For me, being able to communicate with policymakers has diminished the underlying rage I have experienced, for so many years due to my Anishinabe heritage."
"If I could break down one barrier for people with disabilities, it would be other people's first impressions."