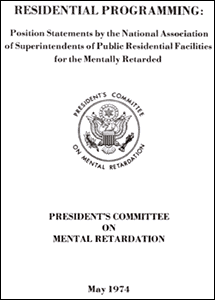 These decisions flowed from the growing arguments about the possibilities of supporting people with needs that challenge support providers to live in the community. The court decisions required public funds to be used to develop community alternatives for that group of people it has been argued would always require an institution.
The research from the Pennhurst closure particularly gave added support to the development of small, community living arrangements that were able to support people with severe disabilities well in the community.
These experiences began to undermine the arguments of those who appeared to support community alternatives but in fact supported continued institutionalization for some, if not many, people.
For instance, in 1974 the National Association of Superintendents of Public Residential Facilities for the Mentally Retarded said it "thoroughly supports the recent emphasis upon community programming… [and] it does express concern over the manner in which this goal is being realized… All too often 'community back wards' and 'closeting' are being substituted for institutional 'warehousing'."