In 1969, the International League of Societies for the Mentally Handicapped issued its document "Residential Care for the Mentally Handicapped – Conclusions."
The document embraced a number of key concepts:
The Principle of Normalization is a sound basis for programming.
Residential services should be based on a developmental model.
The hospital model is inappropriate for residential services for most residents. The concept of lifelong institutionalization is inappropriate for the great majority of people with developmental disabilities
The importance of volunteers in minimizing the isolation of institutions and providing opportunities for meaningful interpersonal interactions.
The important role of parents in residential services, and the importance of residential services encouraging parents to maintain contact with their sons and daughter.
Both the decentralized institution, consisting of small living units (maximum 20) scattered within the community, and the simplified community-like institution are viable models.
Whenever feasible, where people live should be separate from where they work, attend classes, engage in recreation and participate in social activities.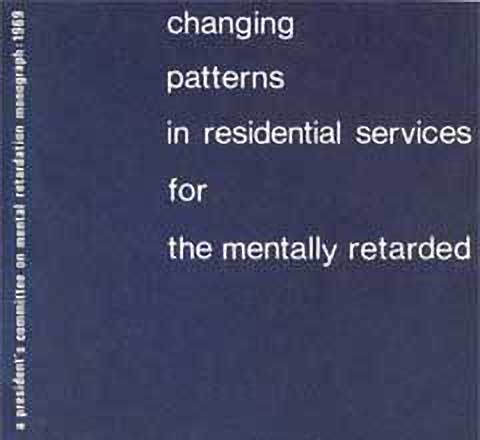 Also in 1969, The President's Committee released Changing Patterns in Residential Services for the Mentally Retarded. edited by Wolf Wolfensberger and Robert Krugel.
The papers focused on the dehumanizing nature of institutions, the need for institutional reform and how The Normalization Principle could inform that reform, and an examination of regional service systems.