Federal Funding = More Workshops
Federal funding made these developments possible. The 1943 Amendments to the Vocational Rehabilitation Act made people with mental retardation or emotional disabilities eligible for rehabilitation services along with people with physical disabilities.
The 1954 amendments to the Vocational Rehabilitation Act (P.L. 83-565) established research and demonstration project funding, and funding for construction of rehabilitation facilities. The financing arrangements allocated funds to states based on a formula reflecting population and per-capita income.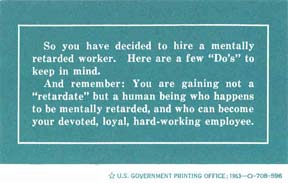 Since 1954, the Office of Vocational Rehabilitation has supported research on all aspects of rehabilitation, including the social and occupational adjustment of people with mental disabilities. Demonstration techniques for rehabilitating these individuals have been undertaken… Community rehabilitation agencies have extended and strengthened their facilities and resources for serving them... From 1954 through 1961… the estimated funds for vocational rehabilitation of people with mental disabilities increased 15-fold (PCMR). That expanded funding led to the rise of over 1,000 workshops across the country.