"We have to get out there and change the old attitudes."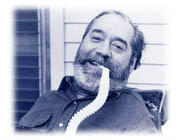 The story of the independent living movement is best told in the words of Edward V. Roberts, who is widely acknowledged as its father. In addition to directing the World Institute on Disability, Ed traveled the globe, using his own story to show people that having a disability is not a barrier to a rich, full life. Rather, it is society that has erected barriers – inaccessible buildings, low expectations, stereotypes – and it is the job of persons with disabilities to take control of their lives and remove all barriers to full and equal access to society.
FOLLOWING ARE HIGHLIGHTS FROM ED'S MANY SPEECHES,
AS RECORDED BY JOHN ODA, A PERSONAL ASSISTANT
"I contracted polio when I was fourteen. I had a serious fever, and within 24 hours I was paralyzed and in an iron lung. Within earshot, my mother asked the doctor whether I would live or die. 'You should hope he dies, because if he lives he'll be no more than a vegetable for the rest of his life. How would you like to live in an iron lung 24 hours a day?' So I decided to be an artichoke – a little prickly on the outside but with a big heart on the inside. You know, the vegetables of the world are uniting, and we're not going away!