Council-Sponsored Grant Activities: Partners in Policymaking®
Partners in Policymaking Class 33
Weekend 1 (September 25-26, 2015)
September 25-26, 2015 was kick off weekend for Class 33 Partners in Policymaking. Participants learned about the history of disabilities, the Parent Movement, Independent Living Movement, and Self Advocacy Movement; and heard from Partners graduates about the benefits of their personal experiences with Partners. A highlight of this weekend session was a presentation by Senator John Hoffman who brought the perspective of a parent as well as an elected official to begin this year's leadership training program.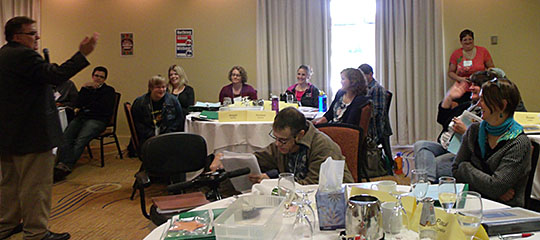 ---
Weekend 2 (October 16-17, 2015)
October 16-17, 2015 was Inclusive Education weekend. Participants learned about the components of school inclusion; the concepts of universal design and differentiated instruction, and how they can maximize the learning experience for all students; and practical adaptations and accommodations in the classroom. Presenters with expertise on a range on special education and post secondary education topics provided participants with new information and resources. After learning how to best navigate difficult meetings, participants assumed character roles, practiced their new skills, and arrived at successful outcomes in a variety of meeting situations.
---
Weekend 3 (November 20-21, 2015)
November 20-21, 2015 introduced the county level of government, the access point for eligibility determinations and the services/supports available to individuals with developmental disabilities and families. Participants worked in small groups to create vision statements for the Year 2020, applied their artistic talents and creativity to show their personal experiences with delivery systems using a bus as a metaphor, and identified items and other critical aspects of their world at high school graduation time – all in preparation for meetings with county commissioners to share concerns and possible solutions about policy issues that can limit their independence and full inclusion in the community.
---
Weekend 4 (January 22-23, 2016)
January 22-23, 2016 presented the guiding principles in housing and home ownership for individuals with developmental disabilities; and the programs, services, and financing options available. People want to work and people can work; participants were involved in small group exercises to think about "why not" and what needs to be in place to make meaningful work and career opportunities a reality.
---
Weekend 5 (February 19 – 20, 2016)
February 19-20, 2016 was devoted to the concept and principles of community organizing - identifying issues; gathering personal stories that help to demonstrate where problems and service gaps exist; and building a network of community members who share similar concerns, and want to work together to bring about positive change. Parliamentary procedure, the rules that govern meetings and help to keep work focused and on track; and data practices were also addressed. Participants also learned how important a role the media and press play in increasing public awareness around issues; and how to work effectively with media types to assure that stories are presented accurately.
---
Weekend 6 (March 4-5, 2016)
March 4-5, 2016 gave participants a wealth of practical knowledge on working through the legislative process at the state level, and practicing their leadership and communication skills during mock hearings. A legislative update on current key issues affecting individuals with developmental disabilities and families was presented; and an overview of the Governor's appointment process provided participants with information about the many boards, commissions, and tasks forces that look for community leaders to serve in a variety of capacities to help shape state government policies and services.