Moments in Disability History 7
"Solidarity Forever"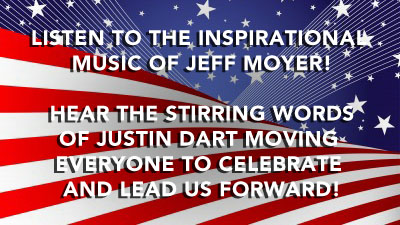 Justin Dart, Jr., a leader of the international Disability Rights Movement and a renowned human rights activist, is widely recognized as the father of the Americans with Disabilities Act. He gave recognition to the "tens of thousands of people who fought for the first civil rights law in the history of the world for people with disabilities."
The background narrative for the CD Solidarity Forever!, created by Jeff Moyer, provides a context for the origins of the music that accompanies Justin Dart's oratory and how this music came to be recorded. Each song relates in some way to disability history and the role that each plays in that history is explained.
The video "Storyville" features Mr. Dart and a few of the people who were a part of the great fight for civil rights: Patty McGill Smith, Jane Smith, Brad Johnson, Jim Dickson, Becky Ogle, Claudia Gordon, Pat Wright, Kyle Glozier and Sarah Reinersten.
Justin Dart died on June 22, 2002.
Audio: "Solidarity Forever" – Justin Dart, with introduction and songs by Jeff Moyer
http://mn.gov/mnddc/ada-legacy/solidarity-forever/index.html
Video: "Storyville"
http://mn.gov/mnddc/parallels2/one/video08/storyville.html