Governor Dayton Visits Minneapolis Community and Technical College's Remodeled Healthcare Facilities
Posted on October 04, 2013 at 11:35 AM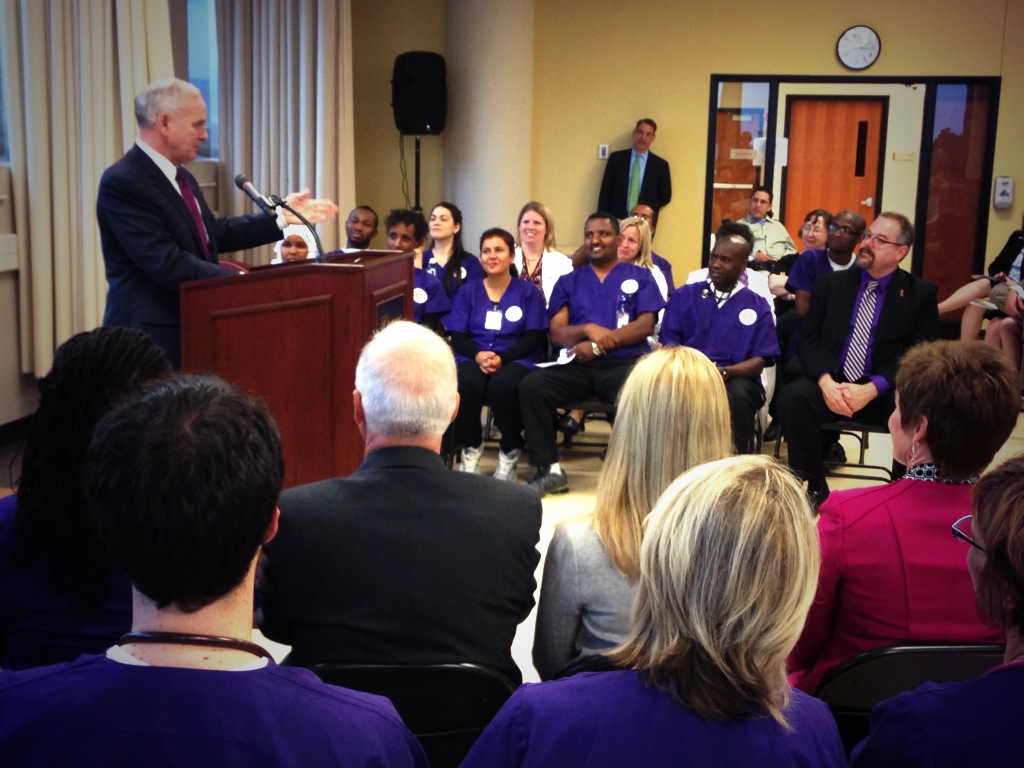 Governor Dayton talks to MCTC students abour their new state-of-the-art training facility.
Yesterday, Governor Mark Dayton visited Minneapolis Community and Technical College's (MCTC) brand new nursing and allied health care facilities. The Governor's 2012 bonding bill provided $13.4 million for the renovation efforts – allowing the school to consolidate and modernize lab space for its nursing, phlebotomy and electroneurodiagnostic technology programs. The new space also emulates a hospital setting to better prepare students for future employment.
When Minnesota invests in infrastructure projects like this one, we also are making critical investments in people. These newly upgraded facilities will provide future nurses and other health care professionals access to state-of-the-art training that will prepare them for success in their careers.
Along with the new facilities, MCTC and Augsburg College penned an agreement that allows students to complete a Bachelor of Science in Nursing (BSN) program in as little as three years. The degree is the first fast-track BSN professional program in Minnesota that is a collaboration between a two-year public and a four-year private college.
Innovative programs like these are critical to filling positions in Minnesota's fast growing health care industry. Currently, there is a large demand for nursing programs and long waiting lists. And between 2010 and 2020, our state's nursing field is expected to grow by more than 20 percent – adding 12,000 good-paying jobs! The new facilities along with the accelerated program will alleviate waiting lists and quickly move graduates into great new nursing jobs.
Since Governor Dayton took office, Minnesota has added more than 120,000 new jobs – fully recovering those lost from the Great Recession. Despite this progress, the Governor remains committed to creating more good-paying jobs for all Minnesotans and this bonding initiative is just one great example.