The Central Corridor is One Step Closer to Completion
Posted on April 29, 2013 at 2:40 PM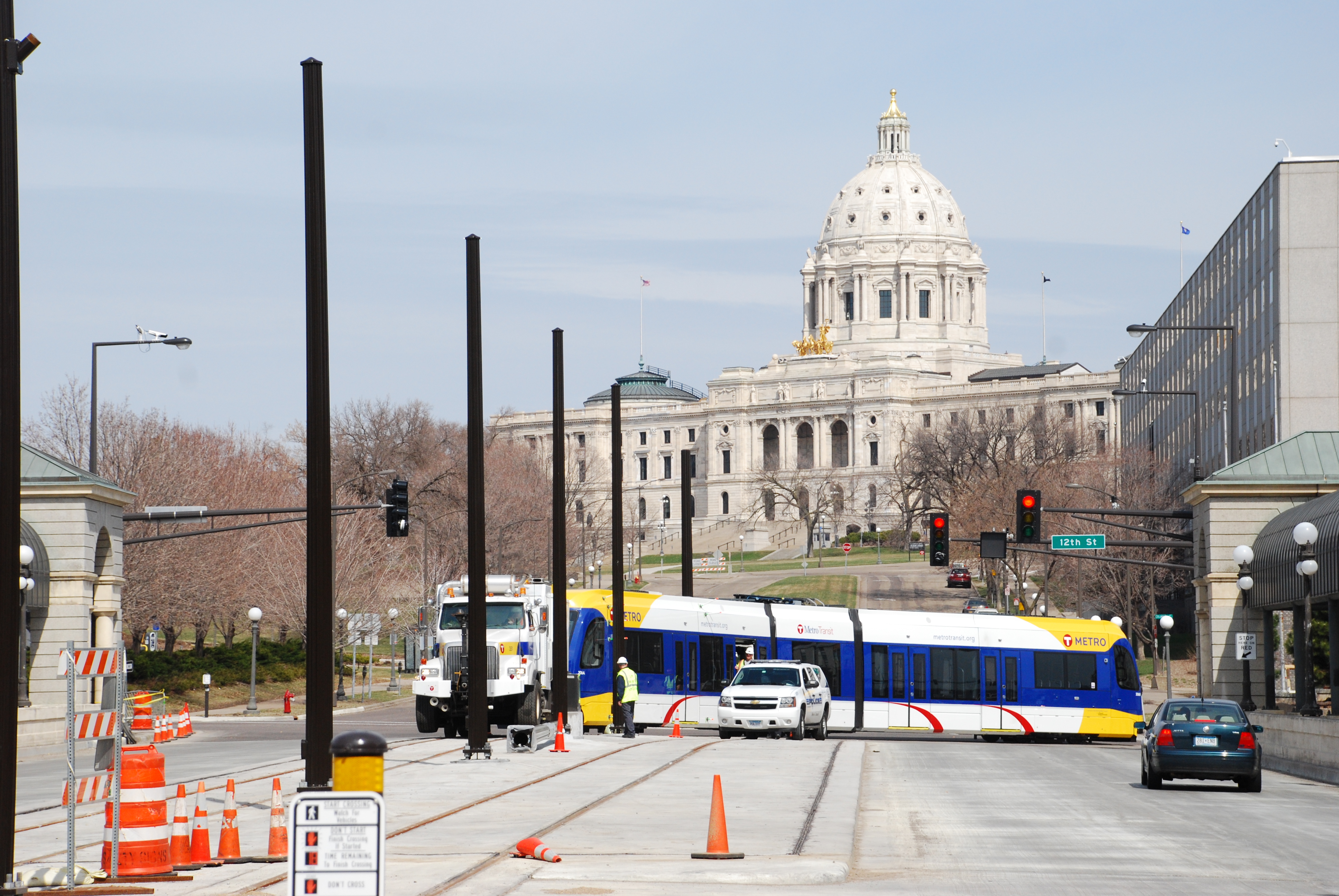 The Green Line LRV made its way past the Minnesota State Capitol.

The first light rail vehicle made its inaugural appearance on the Green Line (Central Corridor LRT) this past weekend, albeit not under its own power. A railcar mover that resembles a semitrailer cab towed a new Green Line LRV at walking speed on the tracks from Minneapolis to the new operations and maintenance facility in St. Paul to verify clearance for the LRVs. Towing the LRV is necessary because crews are still installing the wires and the rest of the systems to electrify the line. The LRV was accompanied by several Metro Transit police and employees.
Before the clearance verification was conducted, a large truck outfitted with attachments that are the same dimensions as the LRVs traveled last week along the tracks to simulate a train. This pre-verification was done to ensure the new LRVs can traverse the corridor without any impediments. Overall construction of the Green Line LRV is now 92 percent complete and is anticipated to open in mid-2014.
The Metropolitan Council is already underway to educate the public about safety around the Green Line.
The four main safety messages to remember are:
Always stay off the tracks.
Stay off station platforms until service begins in 2014. After service begins, a ticket will be required to enter platforms.
Look both ways for oncoming trains once system testing begins
Cross only at intersections and legal mid-block crosswalks.
THE GREEN LINE (CENTRAL CORRIDOR LRT PROJECT)
The 11-mile Green Line will link downtown St. Paul and downtown Minneapolis along Washington and University avenues via the state Capitol and the University of Minnesota. Construction began in 2010 and service will begin in 2014. The line will connect with the Hiawatha LRT line at the Metrodome station in Minneapolis and the Northstar commuter rail line at the Target Field Station.
To learn more about the Central Corridor LRT project, visit the Metropolitan Council's
website
.