Turkey Day at the Minnesota Governor's Office
Posted on November 20, 2012 at 2:31 PM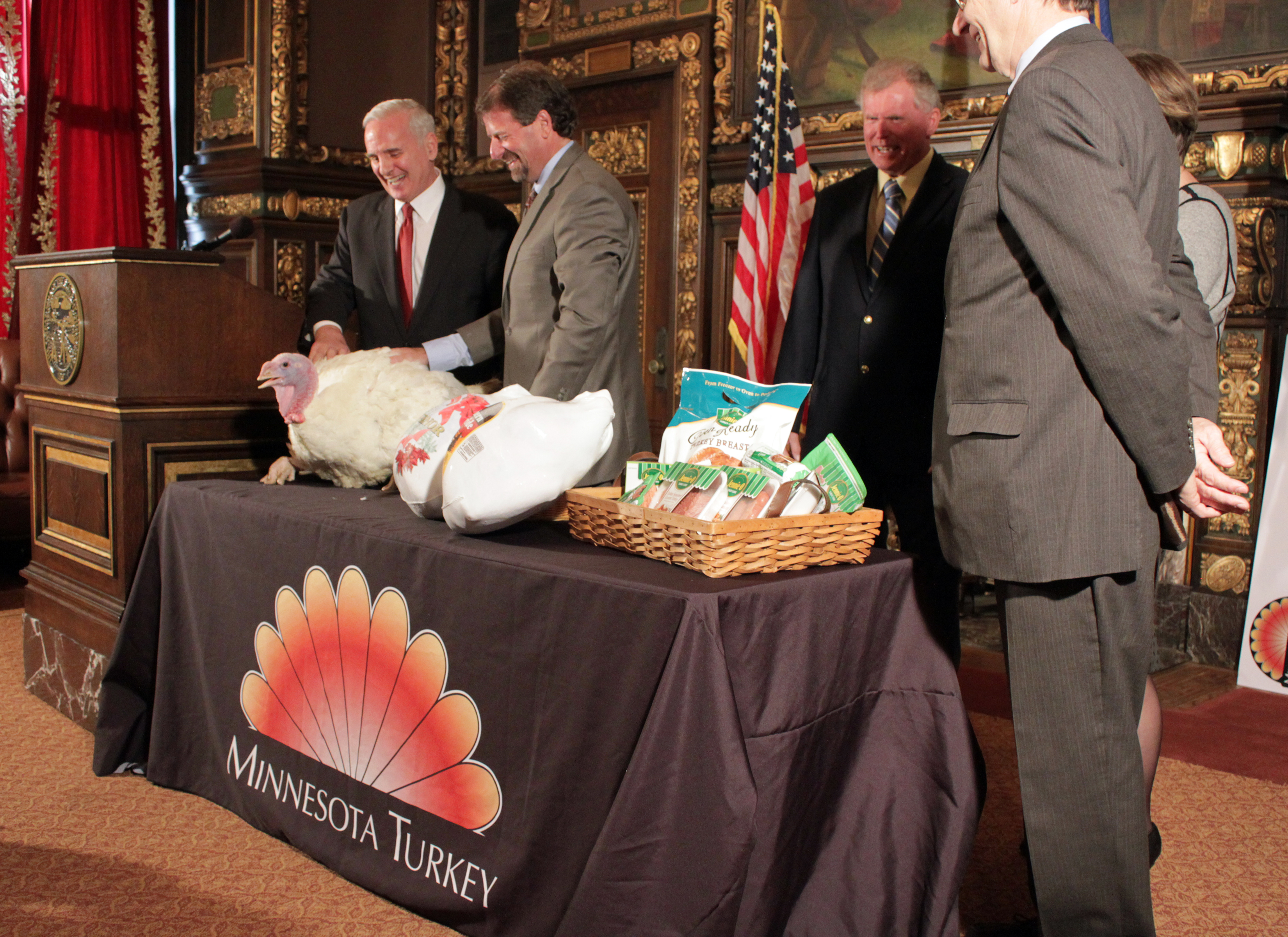 Today, Governor Dayton, Commissioner of Agriculture Dave Frederickson, Minnesota's Turkey Growers Association (MTGA), and Hunger Solutions Minnesota, kicked off Thanksgiving week in Minnesota at the Governor's Office. Minnesota is currently ranked #1 for turkey production in the U.S. with its 250 turkey farmers raising an estimated 47 million turkeys in 2012. Governor Dayton, Minnesota's turkey farmers, and Hunger Solutions Minnesota also addressed ending hunger across the state.

The event was a time-honored tradition, going back more than two decades.

President and turkey farmer Duane Jaenicke announced the donation of 11,150 pounds of turkey - a total of 1,180 whole birds - to Hunger Solutions Minnesota (HSM), which will be distributed to food shelves and food banks across the state.

"It's been a trying and challenging year for many families who are struggling to make ends meet," Jaenicke. "Minnesota's turkey farmers want to do their part in combating hunger with this donation to Hunger Solutions Minnesota," said Jaenicke. "The turkey we donate today will feed nearly 13,000 people."
HSM, a comprehensive hunger relief organization that works to end hunger in Minnesota, will coordinate the purchase and distribution of the turkey.
Said Colleen Moriarty, HSM Executive Director: "Our food shelves really appreciate this donation of quality protein. Families that visit the food shelves during the holidays will benefit greatly. We continue to look for creative solutions so that no one in Minnesota has to skip meals or eat food that is low in quality. We greatly appreciate the many ways the Minnesota Turkey Growers Association supports our work."
Each turkey raised in Minnesota brings $17.46 in economic value to the state - which means Minnesota's turkeys and the farmers who raise them generate over $800 million in economic activity for the state.