Governor Dayton: Working for Minnesota Jobs
Posted on October 30, 2012 at 11:02 AM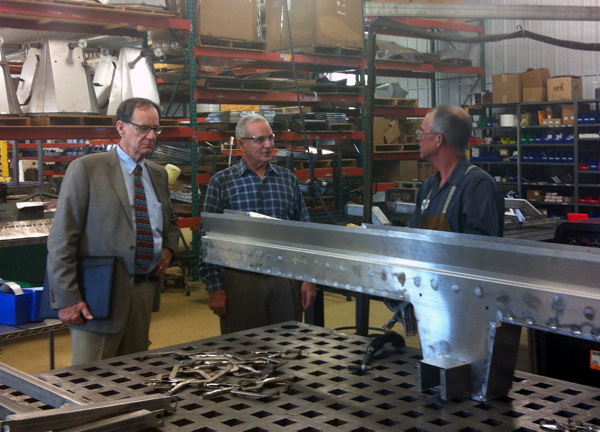 A MinnWest employee shows off innovations to Governor Dayton and Agriculture Commissioner Dave Frederickson
Governor Mark Dayton wrapped up his "Working for Minnesota Jobs" tour last week, after a month of traveling around the state to find out directly from Minnesotans how state government can help their communities get back to work.
"As Minnesota's economy continues to recover from one of the worst recessions in our nation's history, we need to do more to ensure that our state is well positioned to compete in a global economy," Dayton said. "That means investing in our people, ensuring a viable workforce, and fostering the natural resources that have been the foundation of our economy."
On Sept. 28, Governor Dayton visited MinnWest Technology Campus in Willmar, a local center for development of agricultural technology. The Governor hosted a roundtable discussion with area business and education leaders about the future of Minnesota's agriculture technology industry. The state's agriculture and food production industry is responsible for 4,800 jobs and $250 million in wages.
Dayton visited the Iron Range on Oct. 3 where he and IRRRB Commissioner Tony Sertich toured Magnetation Inc., an iron ore producer, and hold held a roundtable discussion with mining industry leaders in at NRRI Colerain Minerals Research Laboratory. Mining is a crucial part of Minnesota's economy. In 2011, the industry contributed over 5,800 jobs in the state paying $474 million in annual wages.
The following week, the governor visited the Hormel Institute in Austin, a bioscience research center specializing in cancer prevention and control. Minnesota's bioscience sector employs 35,000 Minnesotans; roughly 80 percent of those jobs are in the medical device industry.
The Governor's trip coincided with the unveiling of the Institute's new expansion, which will double the facility's size, adding 20 laboratories and 120 research positions. The $27 million expansion was funded in part by Minnesota.
The governor moved on to Worthington on Oct. 12, where he held a public roundtable discussion at the Biotechnology Advancement Center with Agriculture Commissioner Dave Frederickson and agriculture and business leaders from the region.
"[Governor Dayton's] focus is on jobs for all of Minnesota" Fredrickson told the Worthington Daily Globe. "Agriculture is such a bright shining star and a big issue for all of us."
On Oct. 17, Governor Dayton visited Lake Region Medical, a medical device manufacturer in Chaska and held a roundtable discussion with medical technology developers from around the state. There are 585 medical device companies in Minnesota, employing over 29,000 workers.
In Nisswa just three days later, the governor met with local resort owners at the Grand View Lodge. This summer has been the strongest since the recession began for Minnesota resort owners, and the governor canvassed for ideas to keep the momentum going. The $11.3 billion state tourism industry employs roughly 235,000 Minnesotans.
Brooklyn Park marked the Governor's most recent listening session, as Dayton went to at North Hennepin Community College, where he hosted for a meeting with top information technology specialists from the retail sector.
Business leaders said that despite a significant need for IT workers, the state had a shortage of employees trained to use their specific software. As a result, a local retailer group has partnered with North Hennepin Community College to establish the Oracle Retail Center of Excellence, which will train students in the specific software skills sought by employers.
Governor Dayton plans to take the lessons from his tour with him into the 2013 legislative session, as he seeks to promote economic growth and get Minnesota back to work.