Justice Wright Takes Oath
Posted on October 18, 2012 at 11:38 AM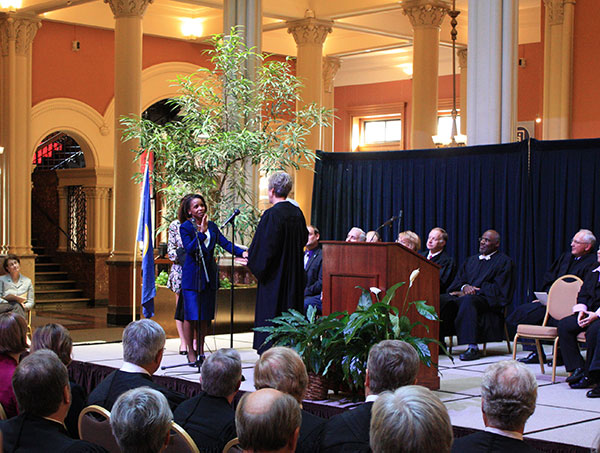 Minnesota's newest Supreme Court justice joined the Court on Tuesday, Oct. 16th as an Associate Justice.
Judge Wilhelmina Wright took her oath as Associate Justice to the Minnesota Supreme Court on Tuesday, October 16 in a swearing-in ceremony with Governor Dayton, fellow Supreme Court justices, and elected officials at the Landmark Center in downtown St. Paul.
Wright was appointed to the Court earlier this year by Governor Dayton. She was selected as the best of thirty-four applicants for the Supreme Court spot, which had been left open when former Justice Helen Meyer announced her retirement earlier in May.
"Judge Wright has proven her exceptional judiciary skills by authoring over 700 opinions during her decade serving on the Minnesota Court of Appeals. I read several of her opinions before making my decision. I was greatly impressed by her exceptional intellect, her written communication skills and, most importantly, her excellent judgment. I believe that she will serve the people of Minnesota with great distinction on our Supreme Court," said Governor Dayton.
In a Statement, Judge Wright said, "I am honored to serve the people of Minnesota as an Associate Justice on the Minnesota Supreme Court. I will work hard to ensure that Minnesotans continue to have a judiciary that is committed to fairness and justice for all who entrust us with their most important affairs. It is my good fortune to devote my life's work to preserving and to promoting the values of freedom and equal justice –values that I believe in so deeply."
Judge Wright earned her Bachelor of Arts degree with honors from Yale College and her Juris Doctorate from Harvard Law School, where she was the Executive Editor of the Harvard Civil Rights and Civil Liberties Law Review. Judge Wright, 48, has served on the Minnesota Court of Appeals since 2002 and prior to that, she served as a Trial Judge in the District Court of Ramsey County and as an Assistant United States Attorney for the District of Minnesota.
Judge Wright lives in St. Paul with her husband Dan Schmechel and their daughter.