First Central Corridor Train Debuts at Target Field Station
Posted on October 10, 2012 at 11:14 AM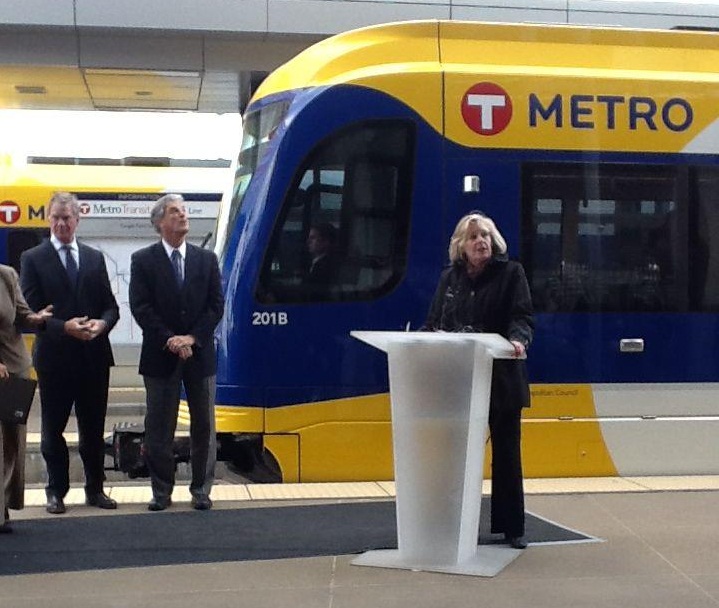 Met Council Chair Sue Haigh speaks at Target Field Station with the first light rail vehicle built for the Central Corridor
Car number 201 rolled into Target Field Station at 1:30 this afternoon, merrily ringing its bell and sounding its horn to celebrate its public debut. The car is the first light rail vehicle built for the Central Corridor Light Rail line that stretches from Union Depot in St. Paul to downtown Minneapolis.
Number 201 glided to a stop next to a recently repainted Hiawatha LRV waiting at the station. Both sported the new METRO logo identifying them as part of the color-coded system of light rail and bus rapid transit (BRT) lines.
Greeting both light rail vehicles today was a Who's Who list of state and local leaders, including Met Council Chair Sue Haigh, U.S. Sen. Amy Klobuchar, Rep. Betty McCollum, the mayors of both cities, commissioners from Hennepin and Ramsey counties and Metro Transit General Manager Brian Lamb.
Haigh used the occasion to announce the Central Corridor LRT Project was 74 percent complete by the end of August and well on its way to achieving the 75 percent completion milestone this fall.
By spring 2014, Metro Transit will take delivery on 46 more cars for Central Corridor and 12 vehicles for the Hiawatha line to meet its growing ridership demands.
Once construction of track and operating systems is complete sometime in 2013, expect to see Car 201 and the rest of the fleet undergoing tests along the Central Corridor. The outcome of those tests will determine the line's opening date in 2014.