Polaris Stays on Track
Posted on September 28, 2012 at 2:07 PM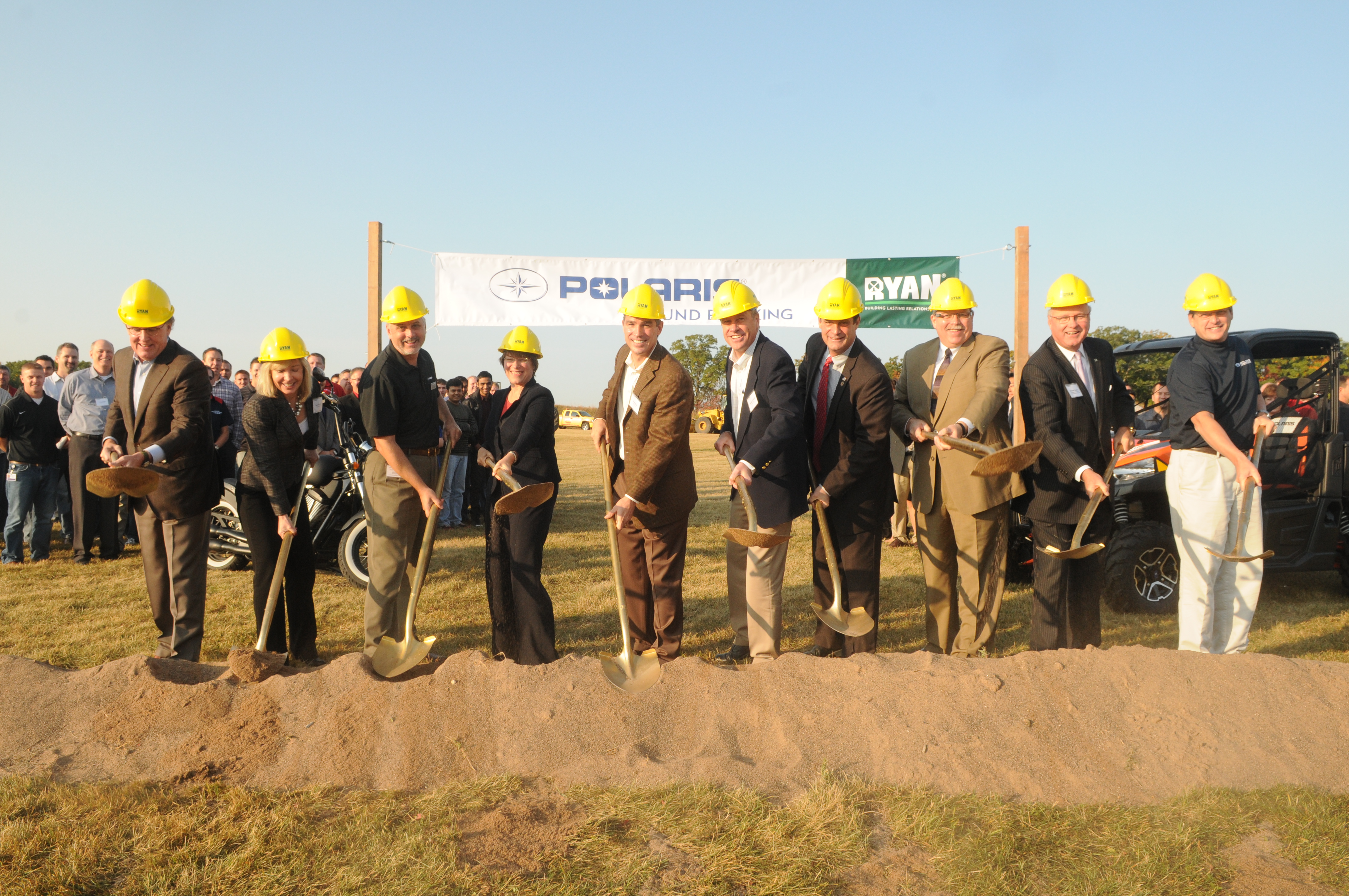 Elected officials and Polaris leadership gathered together for a groundbreaking ceremony
Many people have been recognized for inventing machines that could travel through snow, but credit for the birth of the modern-day recreational snowmobile still goes to Polaris Industries in Roseau in 1954. Employees built a prototype snowmobile using a grain silo conveyor belt for a track and an old Chevy bumper for skis.
Nearly 60 years later, this quintessential Minnesota company is still going strong. Polaris, now based in Medina, has added all-terrain vehicles, side-by-side vehicles and motorcycles to its manufacturing repertoire and employs more than 5,000 people. Revenue last year hit nearly $2.7 billion.
In the latest bit of good news from Polaris, the company broke ground Friday on a 144,000-square-foot expansion project at its research and development facility in the Chisago County community of Wyoming. The project will double the size of the facility and create capacity for up to 350 more jobs, according to company officials.
The Minnesota Department of Employment and Economic Development had a role in making sure the project happened, providing the company with a $400,000 forgivable loan from the Minnesota Investment Fund. Under terms of the loan, Polaris has committed to creating 150 permanent jobs within two years. Polaris is also eligible to receive JOBZ tax exemption benefits
In addition to the Wyoming facility and corporate headquarters in Medina, the company also has operations in Roseau; Spirit Lake, Iowa; Vermillion, S.D.; Osceola, Wis.; and Monterrey, Mexico.
Minneapolis-based Ryan Companies US Inc. was chosen to build the expansion facility.