What's new at the Eco Experience at the Minnesota State Fair?
Posted on August 24, 2012 at 8:00 AM
Getting ready for the seventh year at the Minnesota State Fair, the Eco Experience is better than ever! Every area of the exhibit has added new components to get Minnesotans to take action in their everyday lives.

Energy Solutions Home: This brand new component of the Eco Experience showcases real solutions for your home. Saving energy will not only save you money but makes a difference in the air we breathe and the water quality in our communities. Put together by the Minnesota Department of Commerce and partners from around the state.

The Energy Solutions Home includes these features:


Home performance. How much energy does your home use and what is the environmental impact of a typical Minnesota home? Check out this interactive display. See equipment like blower doors, infared cameras, and other advanced energy audit equipment.


Home lighting. Do you become overwhelmed when you're shopping the lighting aisle? Learn how to choose exactly what you need for many types of rooms.


Home envelope. Have you experienced ice dams? Learn how to seal and insulate your home to prevent them in this interactive display showing all types of insulating and sealing issue.


Saving water. See the latest info on low-flow fixtures, faucets, showerheads and plumbing fixtures. Saving water saves you money


Green materials. Check out the latest finishes, cabinets, high-efficiency appliances and Minnesota-made products.


Renewables. Have you considered solar or wind power for your home? See the latest products and meet professionals who can answer questions on the best options and performance of renewables for your home.


Landscaping. Learn how to implement things like rain barrels, pollinator gardens, drip irrigation, and permeable pavers. Check out our beautiful but eco-friendly mini gardens.


Paying for it. Learn how to pay for your home improvements through affordable financing and loan programs.
Other new highlights: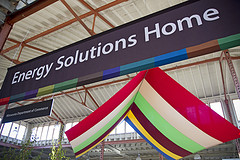 The bugs that live in our waters. Insects tell us a lot about the health of our lakes and streams. There will be dozens of specimens to look at and magnifiers to put them on the big screen in this hands-on exhibit. See which insects indicate a clean lake.

Tap water. Come refill your reusable bottle with our free drinking station located next to the water area.

Bottle Buyology. Did you know over 1.4 billion water and pop bottles are purchased each year in Minnesota? Shockingly, only 24 percent are recycled! Let's recycle more. Come check out Bottle Buyology to learn more about recycling and support Minnesota Jobs.

Kick gas: Basic bicycle maintenance demonstrations which cover safety checks, tire changing, helmet fit, and more will be given from noon to 4 p.m. daily. Pedal Minnesota will have great info to help you get biking all over the state.

Climate change: Minnesotans Making a Difference. This interactive display will show visitors what real people, schools and businesses across the state are doing to reduce energy consumption and greenhouse gases. Check out videos, a real ice core model and a large State of Minnesota display that shows specific examples.

Renewable Energy: Many MN companies will be displaying the latest and greatest solar and wind projects including the Tiny Solar House The 8- by 16-foot, 128-square-foot livable house features solar technology that provides electricity for lights and appliances, hot water for hand washing, and space heating from a solar-powered furnace. It's a home built for Minnesota living.

Daily themes are listed on the Eco Experience website, and include some fun, new topics, such as recycled fashion. We'll also have daily food demos by local chefs, farms and companies in the Healthy Local Food Area. The Sustainability Stage will feature experts from all over the state who will share their knowledge with you for free.

About the Eco Experience: A partnership between the Minnesota State Fair, the Minnesota Pollution Control Agency, and over 150 organizations and businesses across the state, the Eco Experience has become the second most popular exhibit at the fair. The Eco Experience is the largest environmental event of its kind, nationally, in the last two decades. Since 2006, almost 2.5 million visitors have attended the 25,000-square-foot exhibit to learn more about clean air and water, saving energy, climate change, recycling, healthy local food, transportation, green building and remodeling, and other ways to lead more eco-friendly lives. Look for more information on www.ecoexperience.org