Minnesota Department of Commerce at Farmfest
Posted on August 08, 2012 at 1:23 PM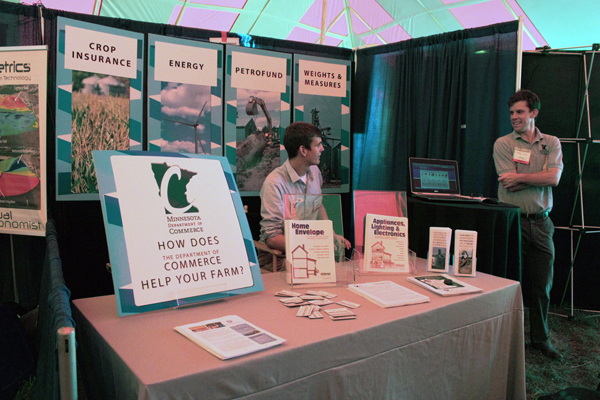 The Minnesota Department of Commerce returned to Farmfest this year, with more information relevant to Greater Minnesota economies than ever before. With an estimated 40,000 visitors over the three-day event, the Commerce Department took this incredible opportunity to host a booth and meet directly with people and businesses in the agriculture sector to discuss the varied services the Commerce Department provides to help support economic growth.

To give visitors a sense of the services provided by the Department to farming families and businesses, Commissioner Mike Rothman spent Wednesday speaking one-on-one with Minnesotans at the pancake breakfast, visiting Farmfest exhibits, and personally answering questions at the Commerce booth in the Agriculture Building on the following topics:

• Weights and Measures – From grain elevators, to grocery stores, to gas stations, the Minnesota Department of Commerce, Weights and Measures Division helps ensure accuracy and fairness in Minnesota's rural marketplace.

• Petrofund – When farmers and rural property owners discover hidden or leaking petroleum tanks on their property, the Minnesota Department of Commerce helps provide the resources and assistance to properly clean and remove the tanks.

• Crop Insurance – The United States Department of Agriculture (USDA) runs the nation's crop insurance program. The Minnesota Department of Commerce can serve as a resource for farmers with questions about crop insurance.

• Energy – The Minnesota Department of Commerce, Division of Energy Resources can help farmers capture savings from energy efficiency improvements on their farms – from home energy efficiency techniques to farm energy audits, the Commerce Department is here to help.

• Health Insurance Exchange – Minnesota's Health Insurance Exchange will help thousands of Minnesota farmers access quality health coverage at a price they can afford. Commerce Department staff will help answer questions about the exchange and how it will affect Minnesota consumers and businesses.

• Broadband – Access to high-speed internet is an important issue for farm families and businesses across Greater Minnesota. Commerce Department staff will be on-hand to discuss the work of the Governor's Task Force on Broadband and the Department's Office of Broadband Development.