Met Council Receives Xcel Energy Award for Energy Efficiency
Posted on July 18, 2012 at 8:00 AM
Metropolitan Council Environmental Services (MCES) recently received an award from Xcel Energy for their continued engagement and success as a partner in Xcel's Conservation Improvement Program. Due to Metropolitan Council Environmental Services' cost- and energy-saving measures, Xcel Energy has awarded MCES its 2012 "Xcel Energy Efficiency Partner". This is the third time MCES has received the award (previously in 2009 and 2010).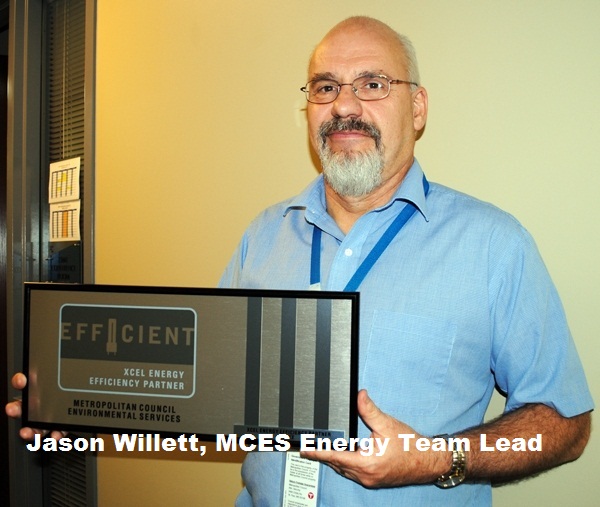 Xcel's Minnesota Efficiency Partner program recognizes customers and trade partners for their substantial energy efficiency efforts, and highlights efforts to help the environment by implementing and promoting energy-efficiency improvements.

MCES, one of three divisions of the Metropolitan Council, collects and treats wastewater at its seven regional treatment plants. It also develops plans to preserve and manage the region's water resources. MCES treatment plants process an average of 260 million gallons of wastewater every day from more than two million residents.

Energy use is a major expense for MCES, amounting to approximately $15 million per year. Through energy conservation and increased use of renewable energy, however, MCES is achieving considerable economic and environmental benefits, lowering costs and reducing harmful air emissions.

In an effort to minimize the economic and environmental impact of MCES's current and future energy demand, the MCES Energy Team was formed in 2006. The Energy Team originally sought to reduce energy costs at the seven wastewater treatment plants (WWTP) by 15% by 2010. MCES worked with Xcel Energy and other partners to achieve that goal, and as a result, new goals have been set.

By 2015, the division hopes to achieve an annual purchased energy reduction of 25%, and by 2020 a reduction of 50% (compared to base year 2006).
Some energy-saving projects that are already underway and anticipated to be completed by year-end 2015 include:

• Installing a non-condensing steam electric generating turbine at Metro Wastewater Treatment Plant (WWTP) to replace a pressure reducing station. This is estimated to save 3 million kWh/yr.

• Installing anaerobic digesters at Blue Lake WWTP to produce enough digester gas to offset most of the drying operation's natural gas load. This is estimated to save 960,000 therms/yr.

• Completing the lighting redesign measures. This is estimated to save 3 million kWh/yr.

• Installing new membrane aeration diffusers which will allow decreased operating header. The initiative, through the energy purchases avoided, is saving ratepayers about $3 million/year. These operating cost savings means lower wastewater rates to the cities and industrial users.

In addition to savings, these measures reduce the use of energy resources, reduce air emissions and increase our energy independence.