Why China?
Posted on June 13, 2012 at 9:25 AM
Minnesota's Largest Market for Agricultural Products
China is the state's top market for agricultural commodities and related food products. In 2010, China purchased $1.35 billion in Minnesota agricultural products, accounting for 27 percent of the state's total agricultural exports, which include bulk and intermediate agricultural commodities as well as processed food.
China was the top buyer and the main market for Minnesota soybeans and related products. Those exports to China were valued at $1.2 billion in 2010 and represented 58 percent of Minnesota's total exports of soybeans and related products.
Between 2009 and 2010, Minnesota's total agricultural exports rose 8.1 percent, while the state's agricultural exports to China increased 49 percent. Over the past decade, Minnesota agricultural exports to China jumped 800 percent, with most growth driven by exports of bulk and intermediate agricultural commodities.
Minnesota exported about $5 billion in agricultural products in 2010 (fiscal year, latest available) and was the sixth-largest agricultural exporting state in the nation. Minnesota was also the third-largest state exporter of soybeans.
(Source: Minnesota Department of Agriculture)
Major Export Market for Minnesota's Manufactured Goods
China is Minnesota's second-largest market for exported manufactured goods ($2.1 billion in 2011) after Canada ($5.0 billion). Between 2001 and 2011, state export growth to China was 242 percent, compared 89 percent growth to all markets. National exports to China grew 256 percent during this period. Despite the recent economic downturn, the state's exports to China continued to grow strongly at 16 percent between 2010 and 2011.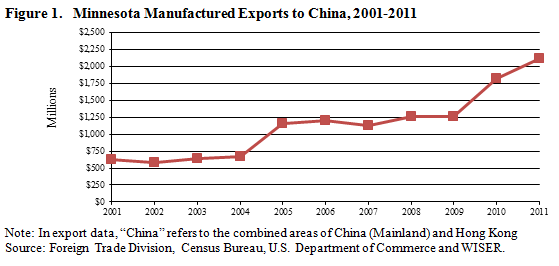 A Leading Exporter to China among U.S. States
China imported $1.7 trillion in goods in 2011, an increase of 25 percent from 2010. After Japan (11 percent) and South Korea (9 percent), the United States was its third-largest source of goods, accounting for 7 percent of Chinese imports. (Note in these import statistics, China is defined as the mainland portion, with other parts of China (e.g. Hong Kong) listed separately as sources of imports.)
Minnesota is a leading source of exported goods from the United States to China. Among all states, Minnesota was a leading exporter to China in 2011:
Miscellaneous (including medical) goods (sixth among all states, $154 million)
Machinery (sixth, $585 million)
Paper (seventh, $171 million)
Plastics and rubber (seventh, $87 million)
Processed food products (9th, $202 million)
Computers and electronics (14th, $475 million)
Machinery and computer and electronics products accounted for 50 percent of Minnesota's manufactured exports to China. (See Table 1.)
A Good Match for Minnesota Products
In 2011, China ranked among the top four buyers in the world for these Minnesota products:
Machinery ($585 million, 2nd )
Computers and electronic products ($475 million, 1st)
Paper ($171 million, 1 st)
Food products ($202 million, 2nd)
Chemicals ($135 million, 2nd)
Plastics and rubber products ($87 million, 2nd)
Fabricated metals ($60 million, 2nd)
Electrical equipment ($55 million, 3rd)
Non-metallic mineral products ($36 million, 2nd)
One of the World's Largest Economies
China's economy is valued at almost $6.2 trillion in 2010, up 18 percent over 2009. China is the world's second- largest economy (based on gross domestic product), after the United States. It is now the largest economy in Asia, having surpassed Japan. With China's acceptance in the World Trade Organization in 2001, market opportunities for Minnesota businesses are unprecedented. China is a very large country with multiple economic sub-regions. Minnesota companies need to compete in all major Chinese economic areas.
Rapidly Growing Market
China is the world's fastest-growing major economy, with an estimated annual average growth rate of over 17 percent between 2001 and 2010. China's flourishing private sector is fueling robust economic performance and a growing demand for foreign goods – especially for the high-tech goods that Minnesota businesses offer.
Opportunities for Foreign Investment
According to the U.S.-China Business Council, non-financial foreign direct investment (i.e. in plant, property and equipment) into China in 2009 was valued at almost $92 billion. Of those investments, 75 percent were in the form of wholly foreign-owned enterprises. In 2008 (the most recent data available), the United States invested almost $3 billion in China. The stock of foreign direct investment in China is valued at $1.45 trillion. Private-equity investment in China is still much lower than it could be, although the risks faced by investors are quite daunting.
Conversely, Chinese investment in Minnesota has been limited to date, but opportunities exist. The most well-known Chinese investment in Minnesota is United Taconite, formerly known as EVTAC, which was acquired by Laiwu Steel Group, a Chinese steelmaker, and Cleveland Cliffs.
Best Prospects for U.S. Companies
The U.S. Department of Commerce's Country Commercial Guide identified the following promising export areas to China for 2012:
Education and Training
Aviation Market
Railway and Metro
Medical Device and Healthcare Service Market
Safety, Security Market
Marine Industries
Travel and Tourism
Franchising
ICT Equipment and Software
Green Industries
Agricultural Sectors
Highlights in some of these areas are:
Education and Training
In the 2010/11 academic year, nearly 158,000 Chinese students travelled to the United States to study. That constitutes a 23.5 percent increase from the previous academic year in the number of Chinese students going to the United States. U.S. institutions should remain active in the promotion of American education in China.
Aviation
China is one of the world's fastest growing civil aviation markets. The industry has grown at double-digit rates for several years. Industry forecasts expect growth to remain strong over the medium term, averaging 7 percent over the next 20 years.
Subsector best prospects include: aircraft parts (for manufacture and repair), airports (infrastructure construction/design), general aviation aircraft.
Railway and Metro
By the end of 2011, China had a total of 91,000 kilometers of railway, which is utilized to meet freight and passenger demand, ranking second in the world in terms of length. By the end of 2010, electrified railway mileage reached 42,000 kilometers, becoming the second longest in the world. China is now the world's largest market for urban rail transit.
Rail Industry technology and equipment best prospects: Rail safety; High speed EMU; Communication, signaling and IT systems; Track maintenance for high speed rail; Traction power supply in high speed rail; Passenger station design and construction; Heavy haul transport; Plateau rail; Energy conservation and environmental protection.
Metro industry technology and equipment: Urban rail vehicles , Communication and signaling; Power supply and distribution; Electromechanical systems; Safety supporting; IT system; Intelligent AFC; Engineering and construction, Survey and design; and Earthquake disaster prevention.
Medical Devices, Healthcare
China is now the world's second largest market for medical equipment. in recent years China's medical equipment market has been growing at 15 percent annually, and 44 reached a total size of RMB 100 billion in 2010 (about US$156 million), ranking second in the world behind the United States.
China's healthcare market is severely underdeveloped and offers significant potential for U.S. companies interested in expanding into the Chinese market. Chinese end-users consider U.S. products to be of superior quality and the most technologically advanced. China's hospitals particularly welcome medical equipment and products with high-technology content.
Best prospects include: in vitro diagnostic equipment and reagents, implantable and intervention materials and artificial organs, therapeutic products, medical diagnostic and imaging equipment, surgery and emergency appliances, healthcare Information Technology related equipment and products.
Safety and Security
Much of the demand in the safety and security industry is related to digital technology, security guard communications systems, network technology for inspection control systems, and emergency warning systems.
Best prospects include: inspection control systems, security guard communication systems, emergency warning systems (e.g. intelligent airport systems), and detection equipment.
U.S. exporters should look for opportunities to provide products and to partner with Chinese engineering firms that often have strong connections with the Chinese Government.
Marine Industries
As the world's largest exporter, China has become a center of maritime activity, and China's major state-owned shipping and shipbuilding companies are among the world's largest.
Best prospects in China's marine industries include shipbuilding and related accessories, recreational marine, and port related accessories and sea transportation.
Strong Green Export Opportunities
Areas related to environmental services, technologies and related products – in particular, air monitoring equipment, green buildings and renewable energy – were identified as key industries with promising prospects for U.S. companies.
Air Pollution Monitoring Equipment

Air pollution is one of the biggest environmental challenges to public health facing China today. The major source of air pollutants in Chinese cities has gradually shifted from conventional coal combustion to a mixture of coal combustion and motor vehicle emissions.
U.S. air monitoring equipment suppliers should focus on the following market opportunities in China from 2011-2015: Expand existing monitoring networks to rural areas; Increase monitoring capacity to achieve total volume monitoring of pollutants; and Establish an environmental monitoring information platform for publishing and releasing relevant information.
The demand for modern environmental monitoring instruments in China remains high, with urgent need for advanced NOx emission reduction equipment, automatic monitoring systems and online continuous monitoring systems.

Green Buildings

China has the world's largest construction market. Over the next decade, China will build half of the world's new buildings and is currently adding 2 billion square meters of floor space annually.

Green building products that meet the new energy efficiency standards in new, unique or economically competitive ways have a potential market in China. Some of the best prospects for China's market are: green-design techniques; HVAC systems; solar products; grey water, water reuse systems, and landscape materials; New building materials; and new technologies and products. Heat preservation, insulation, translucence, and ventilation are very important.
Notable Minnesota Business Presence and Experience in China
While there are many Minnesota companies doing business with China today, some of the more notable ones are 3M, Cargill, Best Buy, Target, General Mills, Medtronic, Hormel, Imation, Ecolab, Thomson Legal & Regulatory, Carlson Companies, Turck, Hutchinson Technologies, Skyline Exhibits, Polaris, Satellite Industries, and Anderson Corporation.
Education Connections
In the 2009-10 academic year, about 128,000 Chinese students travelled to the United States to study, representing an increase of 30 percent increase from the previous academic year.
The University of Minnesota and many other Minnesota state colleges and universities and private colleges host thousands of Chinese students and faculty annually. These institutions offer programs to study and teach in China and collaborate with Chinese universities on curriculum development and research, among other ventures. There are more than 1,400 visiting Chinese scholars and students at the University of Minnesota, the largest population on a North American campus.
The University of Minnesota's Department of Asian Languages and Literature offers undergraduate and graduate students coursework to study Asia and Asian languages, including Chinese, and exchange opportunities to enhance language skills and enrich cultural understanding. In 2004, Robert Bruininks, the university's president at the time, led an official delegation to China to facilitate educational exchange and promote cultural understanding.
In 2009, the University of Minnesota established its first official office abroad in Beijing to assist and advise university faculty, staff, and students traveling to China on official university business.
Minnesota-China Partnership
The Minnesota-China Partnership was inaugurated in 2005 as a statewide initiative to strengthen Minnesota's longstanding relationship with China. Under the leadership of the Minnesota Trade Office, the Minnesota-China Partnership encourages collaboration and coordination among a broad range of public and private partners to create new opportunities for Minnesota and China in trade and investment, science and academia, arts and culture, and friendship and humanitarian endeavors.
Strong and Growing Relationships
A large number of Chinese governmental delegations have visited Minnesota during the past 20 years. The state has hosted top Chinese leaders, including former Vice President Rong Yiren, former Premier Zhu Rongji, former Vice Premiers Wu Yi and Tian Jiyun, Foreign Minister Yang Jiechi, and former Foreign Minister Li Zhaoxing.
Over the years, Minnesota has established solid connections with the Chinese people. Cultural ties between Minnesota and some visiting delegations include a sister-state relationship with Shaanxi (Minnesota), and sister-city relationships with Harbin (Minneapolis), Changsha (St. Paul) and Jiashan (Morris) and Quzhou (Red Wing).
In addition, through organizations such as the U.S.-China Peoples Friendship Association of Minnesota, Chinese American Association of Minnesota, Center for Chinese Culture, Children's HeartLink, Global Volunteers, and numerous adoption and religious organizations, Chinese cultural and humanitarian ties are deep-rooted and extensive in Minnesota.