Severe Weather Awareness Week
Posted on April 16, 2012 at 1:47 PM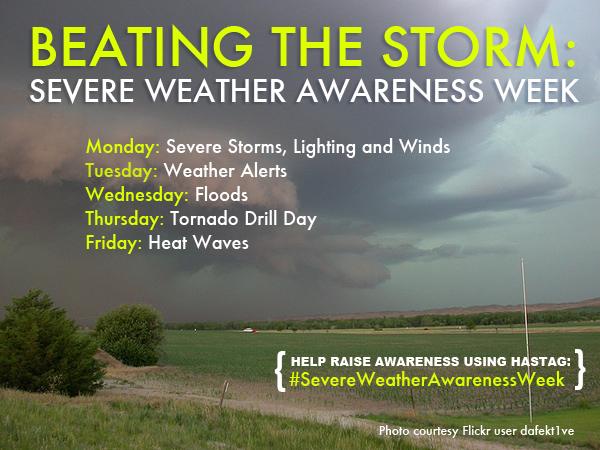 At least three tornadoes touched down in Minnesota this weekend, highlighting the unpredictable and intense nature of Minnesota weather. These extreme conditions are an example of why Governor Mark Dayton has declared this week Severe Weather Awareness Week, underlining the importance for Minnesotans to be prepared for inevitable springtime storms.
This week focuses on helping Minnesotans to understand the dangers of severe weather and to plan for possible emergencies. As part of these initiatives, state emergency services and the National Weather Service have coordinated statewide tornado drills for this Thursday and encourage schools, business and families to participate. Drills are an opportunity to discuss, prepare and practice an emergency plan, ensuring an organized and safe reaction to hazardous weather.
Kris Eide, the director of the Minnesota Department of Public Safety's Division of Homeland Security and Emergency Management, quoted in a recent MPR article, emphasizes the need for all Minnesotans to establish a plan of action. "Even though you may be in an area that hasn't been hit by a tornado or severe weather in a very long time, the probability may be low but the consequences will be really high. That one time it can happen to you."
When storms occur, it is essential that everyone is aware of the dangers and ready to seek shelter if necessary. Governor Dayton is working toward to build a safer Minnesota by dedicating this week to preparing Minnesotans for the turbulence of spring weather.
For more information about Thursday's tornado drills, please visit the Departnemnt of Public Safety Weather Awareness website.