Photo Credit: Flickr user David Lipscomb

Keeping our Kids Safe and Healthy

The health an safety of our youngest Minnesotans is at the center of Governor Dayton's Budget for a Better Minnesota. His budget proposal includes new funding to help prepare Minnesota schools for emergencies, provide expanded mental health services to our students, and prevents child abuse by expanding proven outreach strategies to at-risk families.
Every parent deserves the peace of mind that comes with knowing their child is safe at school. That's why one of Governor Dayton's budget priorities is the reestablishment of the Minnesota School Safety Center. The Center will provide training and education in the areas of emergency preparedness, response and recovery to schools, law enforcement, and outreach to community partners.
Governor Dayton's budget expands access to mental health services for children with complex, high-cost conditions through increased funding to schools. This proposal doubles the percentage of Minnesota schools providing these services, ensuring that more Minnesota students have the resources they need to be healthy in the classroom. Finally, Governor Dayton's budget also invests in the prevention and early detection of child abuse. The proposal expands proven outreach programs to at-risk families.
Governor Dayton is committed to investing in all aspects of public safety. For more information about Governor Dayton's budget, visit http://mn.gov/governor/budget or follow the conversation on Twitter at #BetterMN.
Read more >>
Posted on February 12, 2013 at 2:07 PM

For those of us who call America's Midwest home, we know the Midwest is a great place to live, raise a family, get an education, work and start a business. We rather like this "best-kept secret", but we're ready to share!

For too long, the Midwest has allowed others to define what our region is, who we are and what we are capable of doing. Too often, our region lacks the recognition that makes it a great place- its four distinct season, quality education systems, vibrant cities, hard working and dedicated individuals, cultural and sporting activities, inviting people, and relaxing countrysides.

Thats why the Midwestern Governors Association (MGA) launched the "America's Smartland: Let the Midwest Surprise You!" video contest.
Congratulations to Aaron Johnson of Minneapolis for being one of the top finalists in the contest! You can watch all of the final videos in the MGA contest on their website here: http://www.midwesterngovernors.org/AmericasSmartland
Read more >>
Greater Minnesota faces housing shortages, a major problem when trying to attract and retain workers and their families near employment opportunities. That's why The Governor's Housing and Job Growth budget initiative will provide $10 million through the Minnesota Housing Finance Agency's (MHFA) Economic Development and Housing Challenge initiative to help communities and employers address this issue.
Read more >>
Minnesota needs effective tools to create jobs and make our state more competitive. That's why Governor Dayton's budget invests $25 million in ongoing funding for the Minnesota Job Creation Fund, a new statewide performance based job creation program. This investment will create and support thousands of Minnesota jobs by making our state a more competitive place to do business and leveraging $450 million in additional private investment.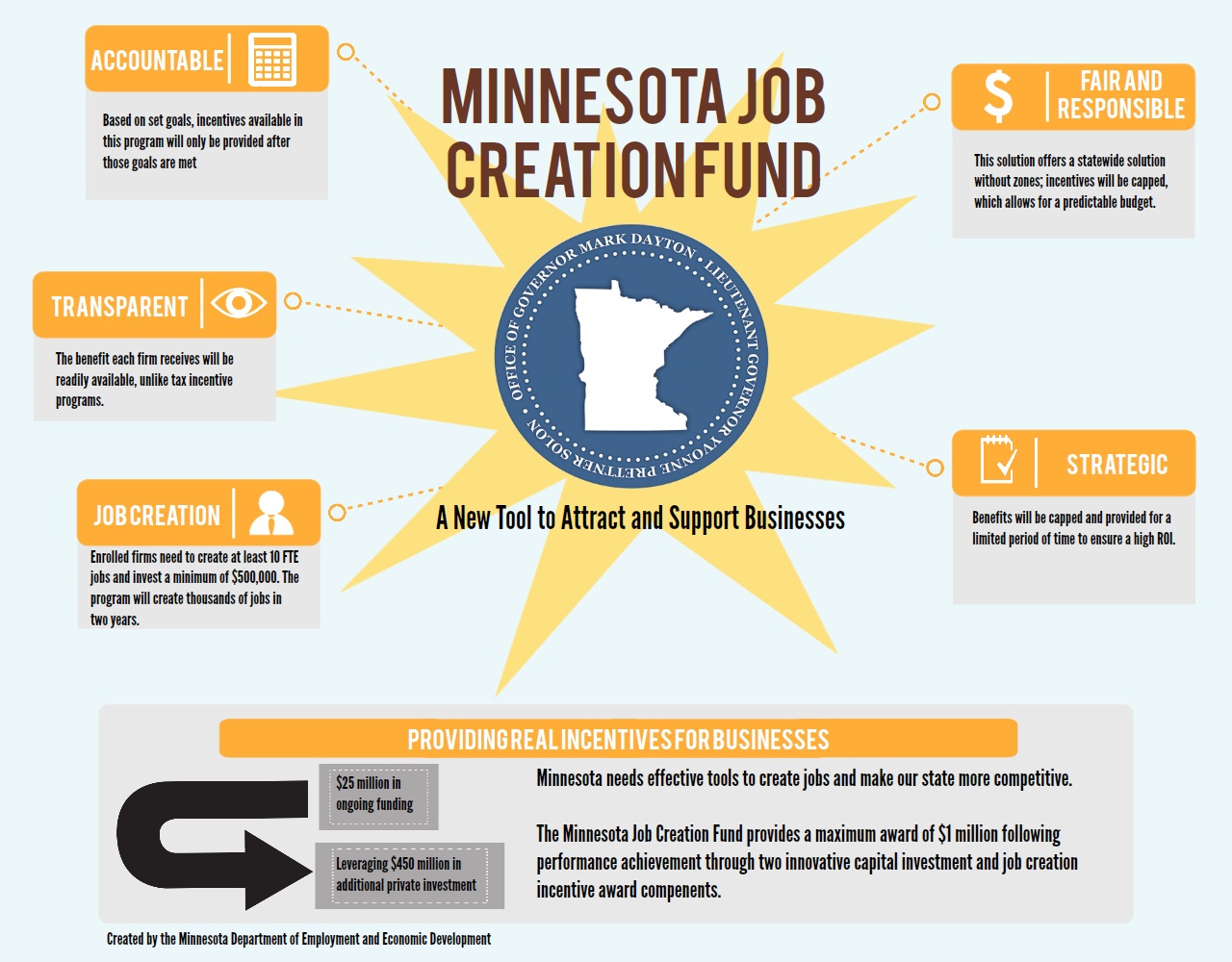 To learn more about the Minnesota Job Creation Fund and Governor Dayton's plans to build a Better Minnesota, click here.

Read more >>
Posted on February 06, 2013 at 8:10 PM

In a State of the State Address, as in life, it's important to assess where we are, remember how we got here, decide where we want to go, and then determine how best to get there.
Comparing the state of our state today with conditions, when I took office two years ago, we have made important progress. We have much more work still ahead of us; however, we are on the way to a better Minnesota.
Read more >>
Posted on February 06, 2013 at 8:29 AM

TONIGHT: Governor Dayton will deliver his third State of the State address to a joint session of the State House and Senate at 7:00p.m.
The State of the State address will be broadcast on local television and radio and can be followed online.
Broadcasts: TPT-TV, MN Channel, Minnesota Public Radio.
Online: Watch from your computer at http://www.house.leg.state.mn.us/htv/liveweb.htm
Social: Stay tuned on Facebook & Twitter for live social media coverage from the Office of Gov. Dayton. Use the Twitter hashtag #BetterMN to discuss the address.
Subscribe to our newsletter for updates.
Read more >>
Building a better Minnesota starts with our kids. That is why Governor Dayton's budget invests $139 million in proven programs that will help Minnesota's children thrive today and in the future.
Minnesota can help our youngest children thrive by investing in better early education to help narrow the state's troubling achievement gap, and prepare children for success in school. In Governor Dayton's budget proposal, Early Childhood Education scholarships will help an additional 11,000 Minnesota children from low-income families afford high quality childcare and preschool. The proposed budget also allows for investments in optional All Day Kindergarten, providing access for 85% of Minnesota families—or nearly 54,000 children.
In addition to providing quality early childhood education, it is important to support strong and healthy Minnesota families. Governor Dayton's budget provides for increased rental assistance to low-income families, ensuring children don't have to endure a potentially disruptive move during the school year. The Governor's budget also increases funding for high quality childcare for children with special needs, and streamlines the adoption process to ensure it best serves the interests of Minnesota children.
Read more >>
Posted on February 04, 2013 at 11:49 AM

Minnesotans need a strong economy we can depend on for good jobs, living wages, and a strong middle class. That's why Governor Dayton's proposed budget includes an additional $86.5 million investment in economic development. Some of the projects proposed include providing loans to bring new businesses to Minnesota, a new state-wide incentive program for businesses that will create thousands of jobs, affordable housing, and road and bridge improvements. These projects will improve the State's economy, create jobs and make Minnesota a more competitive place to do business.
Read more >>
ST. PAUL, MN – Governor Mark Dayton announced today a new reform initiative that will provide better health care for 100,000 Minnesotans and lower costs for taxpayers. In an effort to further improve the state's Medicaid program, the Minnesota Department of Human Services (DHS) is partnering with six health care providers to test a new payment model that prioritizes quality, preventive care and rewards providers for achieving mutually-agreed upon health goals.
Read more >>
Posted on January 31, 2013 at 1:27 PM

Wondering how Governor Dayton's budget proposal impacts your community? You can to check out
local fact sheets
for communities across Minnesota. Each fact sheet provides information about his proposed investments in education, the fair tax system for every Minnesotan, and direct property tax rebates for homeowners and businesses.
Read more >>
Pages
1
-
2
-
3
-
4
-
5
-
6
-
7
-
8
-
9
-
10
Next