Posted on May 27, 2014 at 11:36 AM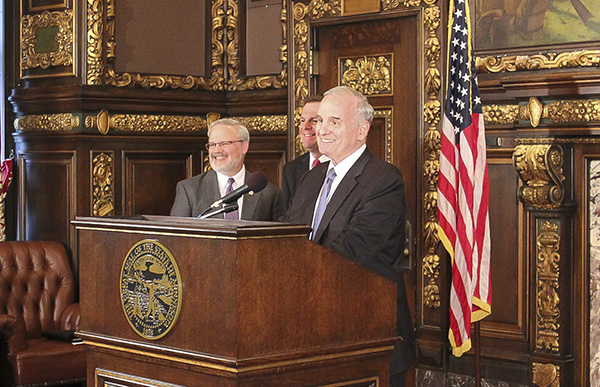 Governor Dayton, IRRRB Commissioner Tony Sertich, and Pollution Control Commissioner John Linc Stine discuss the Unsession at a state Capitol news conference.

During the 2014 Unsession, Governor Mark Dayton and the Legislature successfully enacted nearly 1,200 ways to make state government work better. These reforms – both large and small – will make state government work better, faster, and smarter for the Minnesota citizens and businesses it serves.

From making taxes simpler, to streamlining the permitting process for businesses, to eliminating unnecessary and outdated laws, the Dayton Administration delivered on its promise to make meaningful reforms that will improve the lives of Minnesotans. The Unsession also included the state's first-ever Plain Language executive order, which requires all state agencies to communicate in clear, concise language that Minnesotans can easily understand.

"This year's Unsession was a phenomenal success," said Governor Dayton. "Working together, we revised, reduced, or eliminated nearly 1,200 outdated laws and cumbersome regulations. I commend the Legislature for their work, and I thank Commissioner Tony Sertich and members of my cabinet for leading this important effort."

The Unsession eliminated unnecessary and outdated laws that defied common sense. The Unsession eliminated telegraph regulations, repealed a law that made it a misdemeanor to carry fruit in an illegally sized container, eliminated state statutes that make phone bills long and confusing, and eliminated a 75-year-old law that made it illegal to drive in neutral.

In addition to eliminating the ridiculous, the Governor and the Legislature also worked together to pass bipartisan reforms that cut red tape. Below are examples of how the Unsession will benefit all Minnesotans.
Making Sense of State Government. This March, Governor Dayton signed an Executive Order directing all state agencies to use commonly-used language, write in clear and concise sentences, and present information in a format that is easy-to-understand for Minnesotans. Since signing that Executive Order, thousands of state employees have received Plain Language training and numerous Plain Language projects are underway across the administration.

Improving Efficiency, Reducing Wait Times. Because of major reforms implemented by the Dayton Administration in 2011, 97 percent of all job-creating business permits are approved by state agencies in less than 150 days. This session, the Governor signed new legislation reducing those wait times for most businesses to just 90 days. An estimated 11,000 of the 15,000 permit requests the state receives from businesses each year are expected to be completed within the new 90-day goal.

Making Taxes Simpler. New tax cuts signed into law by Governor Dayton are saving taxpayers time and money. Aligning state tax law with new federal credits and deductions for students, families, and seniors has made taxes simpler for more than one million middle class Minnesotans.

Cleaning Up the Books. State government agencies are responsible for implementing, interpreting, and enforcing thousands of pages of Minnesota laws. But many of those pages were filled with outdated, unenforceable laws, and technical jargon that was nearly impossible to understand. To make government easier to understand, this session Governor Dayton and the Legislature eliminated over 1,100 obsolete, redundant, and incomprehensible statutes.
More information about the Unsession provisions signed into law by Governor Dayton are available his website at http://mn.gov/governor/unsession.


Read more >>
Irrigation System at a farm in Rosholt, Minnesota

'Unsession' initiative streamlines permitting and payment process for Minnesotans


A newly designed web-based system that simplifies the steps to getting water permits and paying for them online is being rolled out by the Minnesota Department of Natural Resources. The new MNDNR Permitting and Reporting System (MPARS) is part of Gov. Mark Dayton's initiative to streamline state government services. 


The new application at www.mndnr.gov/mpars will save an anticipated $255,000 annually and allows DNR employees to devote more time to technical assistance and field work. 


"DNR employees will have 5,000 more hours every year to protect and improve our environment, thanks to this 'Unsession' reform," Dayton said. "I thank Commissioner Tom Landwehr and his staff for making these commonsense changes that will dramatically reduce the time to process more than 10,000 water permit applications each year."

The old paper application process was time consuming and inefficient with department staff spending hours hand-sorting applications and on manual data entry.

"We've tried to make it as easy and as pain-free as possible for water users while giving us a way to more precisely manage and conserve a precious natural resource," said Landwehr. "We'll be able to better track our water use, identify permit violations and increase compliance."


The department processes more than 10,000 permit applications and transactions each year, including reports on annual water use. Cities, farmers, businesses and landowners that use 1 million gallons of water each year, or more than 10,000 gallons a day, or work in public waters are required to get a water use permit or permit to work in public waters.

Applicants now have access to maps and can track the progress of their applications online. They are also automatically alerted if they don't need a DNR water permit.

Read more >>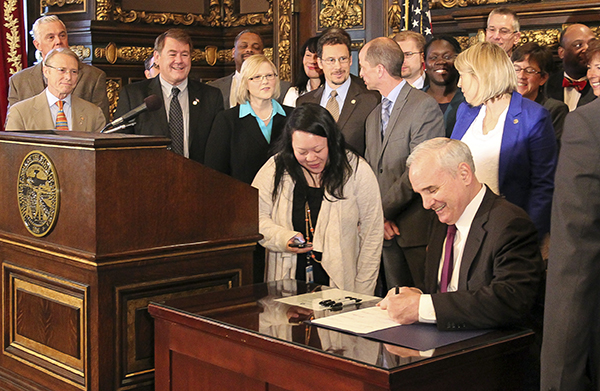 Governor Dayton signs the Second Chance Expungement Bill into law.
Governor Dayton has signed a bill that will give a second chance to thousands of Minnesotans who are taking honest steps to support themselves and their families. The new law (Chapter 246, HF2576) creates a more thorough expungement mechanism that allows judges to permanently seal the criminal records of reformed offenders – making it easier for these Minnesotans to secure good jobs, access quality housing, and provide for their families.

"People can't turn their lives around and become law-abiding citizens, if they have no hope of finding a decent job or a place to live," said Governor Dayton. "This law provides a chance for them to put their pasts behind them and live better lives. I commend Senator Champion and Representative Melin for their leadership."

State law allows judges to expunge criminal records of certain offenders. But a Minnesota Supreme Court decision ruled that under previous law, judges could only wipe out court records, not those collected by state agencies such as the Bureau of Criminal Apprehension or Department of Human Services. As a result, offenses were still showing up in certain background checks, which made it difficult for many offenders to obtain housing or secure employment. The new law enacted today will give judges in Minnesota the authority to expunge all criminal records for reformed offenders.

"Nearly one in five Minnesotans have an arrest or criminal record," said Sen. Bobby Joe Champion, who authored the bill in the Senate. "The use of online criminal record checks by employers and landlords has skyrocketed as they evaluate candidates for employment and housing. Unfortunately, online records are often inaccurate, incomplete or misinterpreted."

One important provision in the bill will help correct that problem by requiring business screening services to delete records if they know a criminal record has been sealed, expunged, or is the subject of a pardon.

"This legislation gives Minnesotans who made mistakes in the past a second chance so they can move on and become productive members of our communities," said Rep. Carly Melin, who authored the bill in the House. "It is an important step toward removing barriers to employment, housing, or a post-secondary degree – the kinds of things that allow Minnesotans to support themselves and their loved ones."

The new law also improves long-standing juvenile record expungement law by clarifying that records related to juvenile delinquency – not just an order of adjudication – can be expunged. Additionally, it provides clear standards for consideration in juvenile records expungement, and easier access by criminal justice agencies to juvenile records.

Finally, the legislation provides for easier exchange of expunged records between criminal justice agencies for use in investigations, prosecution, and sentencing for all records expunged. The law also requires agencies to notify the petitioner when their criminal records are sealed.

Supporters of the bill included the County Attorney Association and the MN Second Chance Coalition, as well as the MN Coalition of Battered Women and the MN Coalition Against Sexual Assault.



Read more >>
Posted on May 14, 2014 at 2:23 PM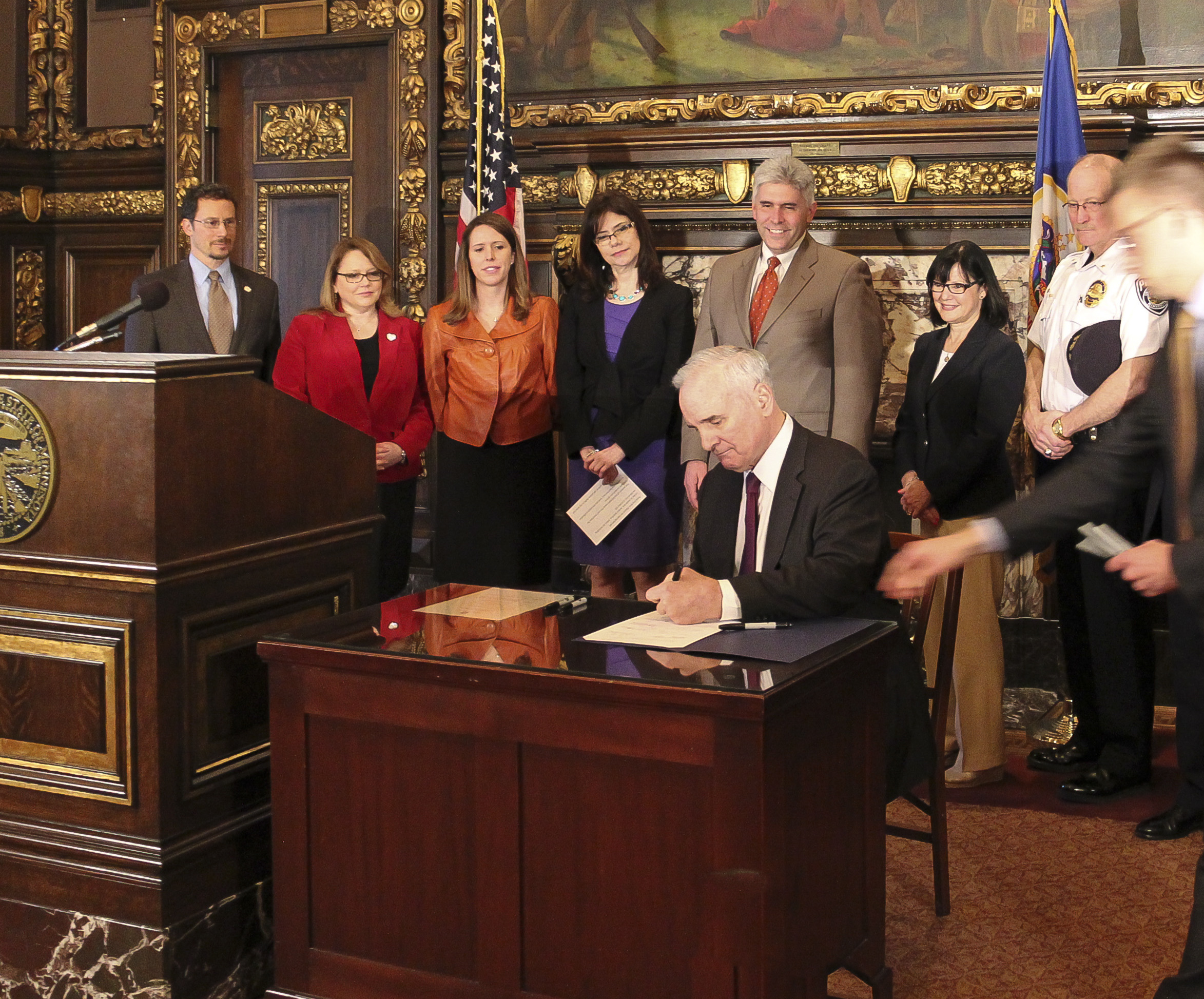 Governor Dayton Signs Smartphone "Kill Switch" Legislation , New consumer protection law is first of its kind in the nation

Today, Governor Mark Dayton signed nation-leading legislation (Chapter 241, SF1740) requiring all new smartphones sold in Minnesota after July 1, 2015, to have an anti-theft "kill switch" function. This new kill switch function will allow smartphone owners to remotely disable their smartphone if it is lost or stolen, rendering the devices useless to thieves and reducing the incentive for a growing wave of violent cell phone thefts.

"This law will help combat the growing number of violent cell phone thefts in Minnesota," said Governor Dayton. "I thank Representative Atkins, Senator Sieben, Senator Dziedzic, law enforcement officials, and the many student advocates who championed this legislation."

The desirability, resale value, and personal and financial information on smartphones makes them a prime target for thefts and robberies. During legislative hearings, University of Minnesota police testified that up to 62 percent of robberies on campus are cell-phone related.

"With this new law, Minnesota is leading the way and acting on this growing threat to public safety," said Rep. Joe Atkins, who authored the bill in the House. "I want to thank the University of Minnesota students and law enforcement who worked to make this law a reality. This kill switch law is another piece of the many consumer protection measures enacted over the last two years."

Nearly 1 in 3 U.S. robberies involve phone theft, according to the Federal Communications Commission. Lost and stolen mobile devices cost consumers more than $30 billion last year.

"Cell phone theft is a major concern here in Minnesota and around the country," said Sen. Katie Sieben, who authored the bill in the Senate. "This legislation, which is the first of its kind in the country, will help reduce the likelihood that people will be robbed of their smart phones."

Sen. Kari Dziedzic authored provisions that prohibit device dealers from using cash to purchase used electronic devices. Under the new language, a retailer would pay for the device through a mailed check, electronic transfer or store credit.

Read more >>
Posted on May 11, 2014 at 12:00 PM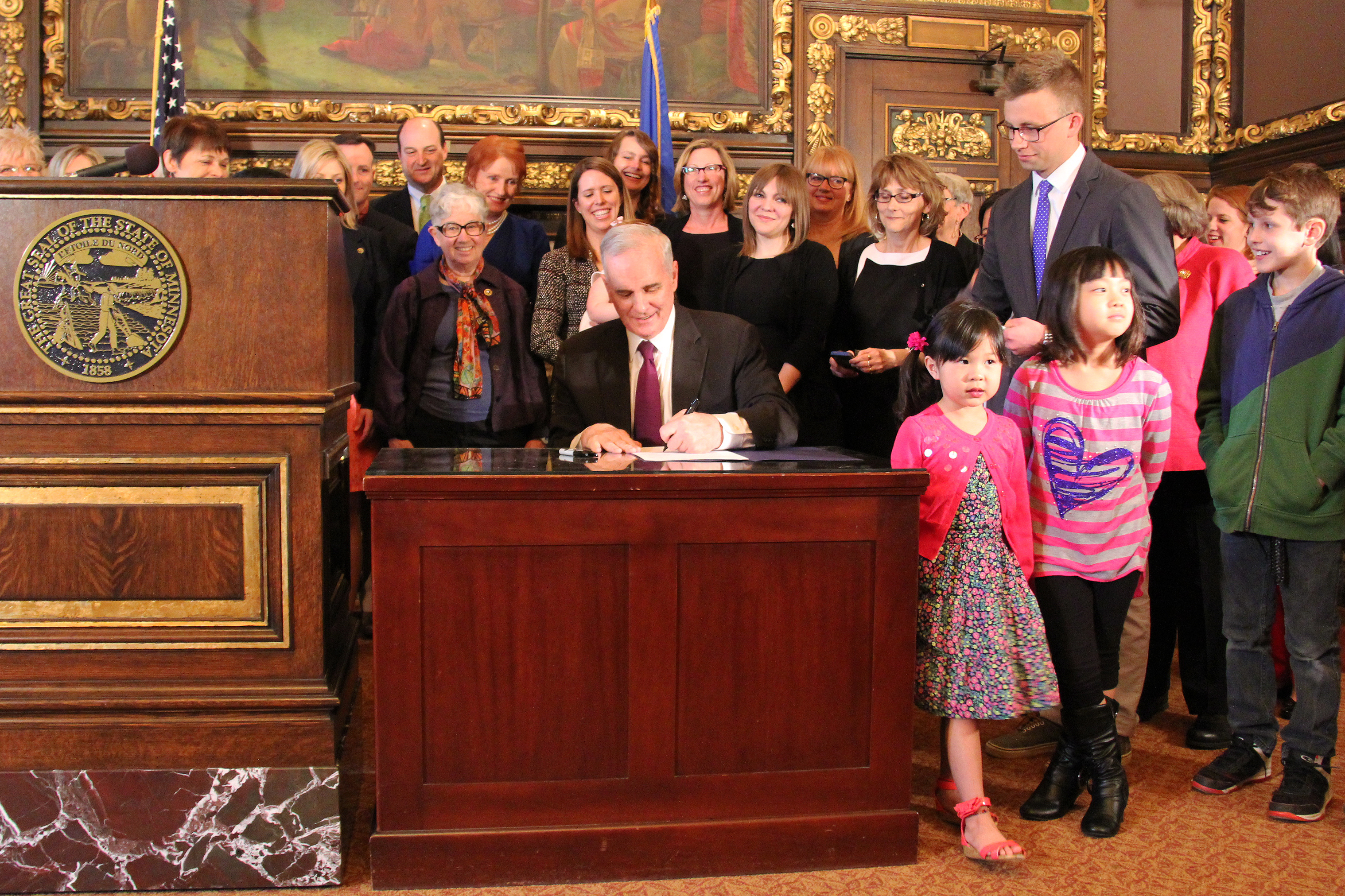 Lawmakers and advocates joined Governor Mark Dayton on Mother's Day to sign the Women's Economic Security Act (WESA) into law.
Women in Minnesota make up half the workforce, but earn on average just 80 cents for every dollar paid to men. WESA is nation-leading legislation designed to break down barriers to economic progress for women. WESA strengthens workplace protections and flexibility for pregnant women and nursing mothers, expands employment opportunities for women in high-wage, high-demand occupations, and reduces the gender pay gap through increased enforcement of equal pay laws.

"Today, as we honor our Mothers and Grandmothers, we have taken a giant step forward for Minnesota's working women and their families" said Governor Mark Dayton. "It should not require a law to ensure that women are treated fairly in the workplace, or that they are paid equally for their work. However, too many women still experience serious economic disparities, unfair gender barriers, and other workplace discrimination in our state. For all of them, this law is vitally important and long-overdue. I thank the bill's authors, Senator Sandy Pappas and Representative Carly Melin, for their leadership on behalf of all Minnesota women."

"When future generations look back at the barriers facing working women today, we will be able to look them in the eye and tell them we took action to make our state a better place to live, work and raise a family," said chief author State Representative Carly Melin (DFL – Hibbing). "This legislation strengthens working families and grows the middle class by ensuring that our mothers, sisters, daughters, and grandmothers have equal opportunities for economic security."

"While Minnesota's economy continues to grow, progress for women's economic prosperity has lagged woefully behind," said Senator Sandy Pappas (DFL – St. Paul), chief author of the Senate bill. "WESA will move us in the right direction and ensure women finally receive equal pay for equal work, that we don't face discrimination for being mothers, and that we are treated fairly in the workplace."

"When women succeed, Minnesota succeeds," said Speaker of the House Paul Thissen. "Minnesota's economy is headed in the right direction, but not everyone is sharing in the gains. And when you dig underneath the first layer of economic challenges facing Minnesotans, we find that the people struggling to stay or step-in to the middle class are disproportionately women. The Women's Economic Security Act aims to break down barriers to economic progress so that women and all Minnesotans have a fair opportunity to succeed."

The Women's Economic Security Act takes the following steps to break down barriers to success for women:

Stronger Workplace Protections
Requires employers to provide reasonable accommodations to an employee for health conditions related to pregnancy or childbirth.
Improves the law that requires employers to provide reasonable unpaid break time each day to an employee who needs to express breast milk for her infant child.
Enhances protections for employees seeking to assert rights or remedies if a violation occurs in the workplace

Closing the Gender Pay Gap

Reduces the gender pay gap through increased enforcement of equal pay laws for state contractors by requiring businesses with 40 or more employees seeking state contracts over $500,000 to certify they are paying equal wages to workers regardless of gender.
Ensures the rights of employees to voluntarily discuss their compensation without fear of retaliation from their employers.
Decreases the gender pay gap by addressing the "motherhood penalty," requiring businesses to make hiring, promotion, and termination decisions regardless of an employee's "familial status" (Pregnant women and parents and legal guardians of children under 18 who live with them).
Read more >>
Posted on May 08, 2014 at 10:13 AM

FOLLOW THE FISHING OPENER ON INSTAGRAM

In conjunction with the Fishing Opener, Governor Dayton is launching his official Instagram page. Follow @GovMarkDayton and use the hashtag #GFO2014 throughout the event for photos and updates.
How to participate:
Download the Instagram app and create an account.
Take photos using the Instagram app. Or upload a previously taken photo from your mobile photo gallery to Instagram.
Write a photo caption. Use the hashtag #GFO2014 if you would like your fishing opener photos to be included on Governor Dayton's Social Media Round Up.
A hashtag is a phrase prefixed with the "#" symbol. Hashtags are used to search and group the same phrases together on each specific social platform.
Select to share the photo/video directly to other social channels.
Publish the photo to your followers' feeds.

Read more >>
Posted on May 08, 2014 at 10:01 AM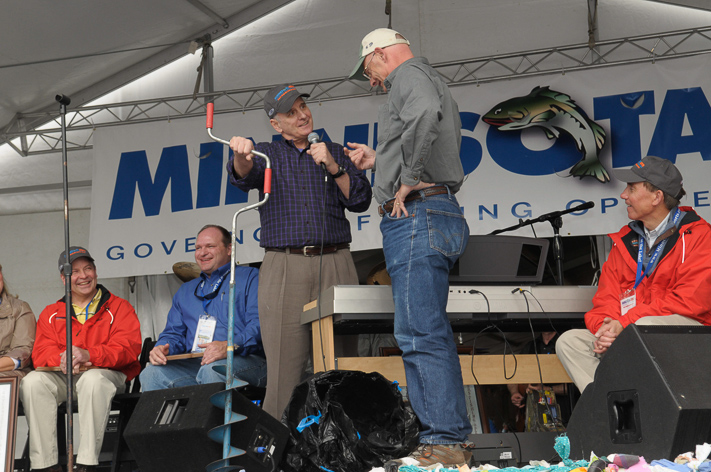 As nearly 500,000 Minnesotans gear up to go fishing this weekend, Governor Mark Dayton is getting ready to host Minnesota's 67th Annual Governor's Fishing Opener in the Brainerd Lakes Area. Headquartered at Grand View Lodge, the weekend's events will feature fishing, family fun activities, a live concert with the Gear Daddies, and a community picnic in downtown Nisswa that is expected to draw a crowd of more than 5,000 Minnesotans.

"I thank the Brainerd and Nisswa communities, and Grand View Lodge, for their tremendous work in hosting this year's Governor's Fishing Opener," said Governor Dayton. "Lt. Governor Prettner Solon and I are looking forward to this weekend's events. With help from my great fishing guide Ray Gildow, and a little bit of luck, I hope to catch a fish this weekend."

The Governor's Fishing Opener has been a tradition in Minnesota since 1948. The event was designed to promote the development of Minnesota's recreation industry, and in recent years, it has served as a kick-off celebration for the summer tourism season. Fishing generates an estimated $2.4 billion in direct retail sales annually in Minnesota, supporting 35,000 jobs statewide. Minnesota has the second-highest angler participation rate of any state in the nation (32 percent).

"The Brainerd Lakes Area is home to some of the finest fishing in the world. This weekend, I look forward to catching plenty of fish and promoting the great recreational experiences that our state offers," said Lt. Governor Prettner Solon. "I also want to extend my gratitude to the people of Nisswa and Brainerd for their hospitality and for organizing the 2014 Opener."

For more information about the 2014 Governor's Fishing Opener, including a full list of public events, visit this website. Photos of Governor Dayton, Lt. Governor Prettner Solon, and various Fishing Opener activities will be posted online at this link throughout the weekend.

Read more >>
Posted on May 07, 2014 at 4:53 PM
Categories:
Bonding
Photo: "The Cost of Higher Education" at Central Lakes College-Brainerd by MSCSA
Governor Dayton understands the importance of investing in Minnesota's future. Just like a homeowner who maintains their property – making smart investments in Minnesota's infrastructure will ensure our state remains a great place to live for decades to come. That's why the Governor's bonding bill proposes to invest $986 million in critical infrastructure projects across our state. These projects will produce more than 27,000 jobs for Minnesotans and improve facilities essential for job creation, education, and transportation.

The Brainerd Lakes region would benefit from several projects proposed in the Governor's bonding bill, including:
Central Lakes College. Governor Dayton recommends $3.05 million for improvements of Central Lakes College. These new resources will help pay for upgrade research facilities, an improved library and computer center, and better study spaces. The campus renovations will help ensure students get the world-class education they need for a great job after graduation.


Little Falls Snow Plow Facility. Every day, Minnesotans depend on safe roads to quickly and efficiently travel to their destinations. The Governor's bonding proposal would invest $3.6 million in the Little Falls snowplow facility to ensure that Minnesotans in the Brainerd Lakes area have safe, snow-free roads. These new resources would pay for modern salt-brine making facilities to keep the roads clean and an improved mechanic shop to keep plows on the road.
You can learn more about the Governor's bonding proposal here.

Read more >>
Posted on May 07, 2014 at 10:33 AM

As nearly a half-million Minnesotans get ready to go fishing this weekend, the DNR today rolled out a new mobile website that anglers can use to more easily find and understand the state's fishing regulations.

Previously, these regulations were only available in a 92-page brochure. But thanks to the Governor's Plain Language initiative (part of his Unsession package), this new mobile solution will help Minnesota's 500,000 anglers access the fishing information they need more easily, in a user-friendly format.

"I have been fishing in Minnesota for my entire life," Dayton said. "But even the most experienced anglers couldn't possibly know all of the state's many fishing regulations, which are essential for responsible wildlife management. This new mobile site will help all Minnesotans more easily find and understand the state's fishing rules and regulations."

Read more >>
On Wednesday, April 9, Governor Dayton
signed the Safe and Supportive Schools Act
into law. The new measure provides local school districts the guidance, support, and flexibility to adopt clear and enforceable school policies to help protect all children from bullying, and to reinforce the principles of tolerance and respect in our schools. Watch the video to see how students reacted to the bill signing.
Read more >>
Pages
1
-
2
-
3
-
4
-
5
-
6
-
7
-
8
-
9
-
10
Next