Posted on May 07, 2014 at 4:53 PM
Categories:
Bonding
Photo: "The Cost of Higher Education" at Central Lakes College-Brainerd by MSCSA
Governor Dayton understands the importance of investing in Minnesota's future. Just like a homeowner who maintains their property – making smart investments in Minnesota's infrastructure will ensure our state remains a great place to live for decades to come. That's why the Governor's bonding bill proposes to invest $986 million in critical infrastructure projects across our state. These projects will produce more than 27,000 jobs for Minnesotans and improve facilities essential for job creation, education, and transportation.

The Brainerd Lakes region would benefit from several projects proposed in the Governor's bonding bill, including:
Central Lakes College. Governor Dayton recommends $3.05 million for improvements of Central Lakes College. These new resources will help pay for upgrade research facilities, an improved library and computer center, and better study spaces. The campus renovations will help ensure students get the world-class education they need for a great job after graduation.


Little Falls Snow Plow Facility. Every day, Minnesotans depend on safe roads to quickly and efficiently travel to their destinations. The Governor's bonding proposal would invest $3.6 million in the Little Falls snowplow facility to ensure that Minnesotans in the Brainerd Lakes area have safe, snow-free roads. These new resources would pay for modern salt-brine making facilities to keep the roads clean and an improved mechanic shop to keep plows on the road.
You can learn more about the Governor's bonding proposal here.

Read more >>
Posted on May 07, 2014 at 10:33 AM

As nearly a half-million Minnesotans get ready to go fishing this weekend, the DNR today rolled out a new mobile website that anglers can use to more easily find and understand the state's fishing regulations.

Previously, these regulations were only available in a 92-page brochure. But thanks to the Governor's Plain Language initiative (part of his Unsession package), this new mobile solution will help Minnesota's 500,000 anglers access the fishing information they need more easily, in a user-friendly format.

"I have been fishing in Minnesota for my entire life," Dayton said. "But even the most experienced anglers couldn't possibly know all of the state's many fishing regulations, which are essential for responsible wildlife management. This new mobile site will help all Minnesotans more easily find and understand the state's fishing rules and regulations."

Read more >>
On Wednesday, April 9, Governor Dayton
signed the Safe and Supportive Schools Act
into law. The new measure provides local school districts the guidance, support, and flexibility to adopt clear and enforceable school policies to help protect all children from bullying, and to reinforce the principles of tolerance and respect in our schools. Watch the video to see how students reacted to the bill signing.
Read more >>
Posted on May 05, 2014 at 8:00 AM

On Friday, May 2, Minnesota Office of Higher Education Commissioner Larry Pogemiller and Department of Employment and Economic Development (DEED) Commissioner Katie Clark Sieben visited Itasca Community College to receive a tour of the campus's facilities.

Governor Dayton's higher education bonding bill continues to be the focus of a statewide tour, with visits this week at campuses in Ely, International Falls, Hibbing and Grand Rapids.

Larry Pogemiller, Commissioner of the Office of Higher Education (OHE), and Commissioner Katie Clark Sieben from the Department of Employment and Economic Development (DEED, spent time visiting four campuses in the Northeastern Minnesota.

In his State of the State Address, Governor Dayton outlined the need for increasing support for Minnesota's state colleges and Universities. "The State's current bonding levels do not adequately support the improvements that both MnSCU and the U of M must make in their existing physical plants, in new buildings, and in state-of-the-art equipment and technologies -- to continue to attract the best students and give them the best possible educations."

The Governor has recommended $3.34 million for projects at these four campuses, including the renovation of classroom and lab spaces, as well as the installation of a biomass boiler system at Itasca.

"The colleges of the Northeast Higher Education District not only provide strong academic programs for their students, they are also integral to the economic viability of the region," said Pogemiller. "These recommended investments will allow them to continue to educate their students in up-to-date classrooms and labs, as well as address pressing infrastructure issues."

"Our highly-educated and productive workforce is our greatest asset in Minnesota, and we must continue to provide learning environments for continued growth," said DEED Commissioner Katie Clark Sieben. "The proposed funding for the Northeast Higher Education District will provide infrastructure support for the classroom and lab spaces needed for our future workers."

Upcoming visits include Minnesota State College – Southeast Technical in Red Wing, and Winona State University, among others.

Governor Dayton's Capital Investment bill includes $233 million for higher education projects at the University of Minnesota and MnSCU campuses.


Read more >>
Posted on May 01, 2014 at 10:30 AM

02:27 - Gavel and entrance of Governor Mark Dayton.
03:48 - Governor Mark Dayton's presents his 2014 State of the State Address.
Runs 52 minutes.

You can read Governor Dayton's remarks as prepared for delivery here. Check out the Flickr gallery for more photos from the event.
Read more >>
Governor Dayton addresses a joint convention of the Minnesota legislature at his 2014 State of the State Address

Remarks of Governor Mark Dayton – As prepared for delivery
State of the State Address
Wednesday, April 30, 2014


When I ran for Governor four years ago, I promised "A Better Minnesota." Tonight, I can report that the state of our State is better – much better -- than before. It's better for us, and it's better for those who will inherit it from us. But the economic growth and social progress we have achieved, also reminds us of the work we still have left to do.

Becoming a parent introduces a longer-term perspective. We begin to consider the effects of our actions not only on our own lives, but also on lives that will extend beyond ours.

Becoming a grandparent, as I did a year-ago, thanks to my terrific son and wonderful daughter-in-law, Eric and Cory Dayton, who are in the gallery tonight, adds another generation to that timeline. It also raises the stakes.

Somewhere down the road, my grandson and his generation will assess the state of the state we have left to them. They will decide whether we, through our actions or inactions, made their lives better. Let's keep them in mind, as we choose our state's path.

In my first State of the State, three years ago, I said, "I know what we must do to create that better future for all of us. To progress, we have to invest.

"We have to invest in more jobs. Invest in better education. In improved transportation. In the health of our citizens, our communities, and our environment. In the transformation of government services."

In other words, we have to invest in growth, quality, and effectiveness.


JOBS & ECONOMIC DEVELOPMENT

Well, we invested in jobs. Minnesota's private sector and public sector both invested in jobs. We are blessed with so many outstanding businesses, located everywhere in our state, operating everywhere in the world – and who, during the past three years, rediscovered that they can be successful and profitable here in Minnesota. As a result, we have the 5th fastest growing economy in the country.

There are more than 2.8 million jobs in Minnesota today. More jobs than ever before in our state's history. 150,000 more jobs than when I became Governor three years ago.

This economic growth is happening all over our state. A recent newspaper story was entitled, "Lots of jobs find a home on the prairie in southwestern Minnesota." It said that, for example, Jackson County reported a 5 percent increase in jobs during 2013. The City of Jackson's economic development coordinator is quoted saying that, "Everybody who is able to work, and willing, is probably employed."

Jackson's largest employer, AGCO, has doubled its workforce to more than 1,300. Nearby, HitchDoc, which manufactures automotive and farm equipment for 300 customers, has grown from a dozen employees to 140. "And I'm looking for another 30," said the company's owner, Brad Mohns. "I'm turning down work, because I can't find enough employees."

Some people believe there is no role for government in private sector expansion and job creation. To see that they're mistaken, just look around Minnesota.

There would not be a new stadium under construction in Minneapolis without the financial support of the City and the State of Minnesota. 7500 construction workers will have jobs building that stadium over the next couple years. Over one-third of them will be people of color.

Located right next to the stadium will be a $400 million private sector development, the largest in a generation. It will provide office space for 5000 Wells Fargo employees, residential apartments, stores and shops, a hotel, and a new, two-block public park. Its construction will employ another 1000 Minnesotans. And that is just the beginning of the area's revitalization.



Read more >>
Posted on April 29, 2014 at 12:03 PM

On Wednesday, April 30, Governor Mark Dayton will deliver his State of the State Address before a joint session of the Minnesota Legislature. Governor Dayton will deliver his speech in the Chamber of the Minnesota House of Representatives beginning at 7:00pm.

Minnesotans can watch or listen to Governor Dayton's State of the State Address on the following outlets:
House Public Information Services
House Public Information Services will be live-streaming video of the Governor's remarks online at this link. After the speech, video of the speech will be posted online here.

PBS Stations
The Governor's remarks will be broadcast live on PBS television stations statewide on the Minnesota Channel.

MPR Stations
Minnesota Public Radio will broadcast the Governor's remarks live on affiliated radio stations statewide. The speech will also be re-broadcast at noon on Thursday, May 1, 2014.

Minnesota News Network Stations
The Minnesota News Network will offer a live broadcast of the Governor's remarks for its affiliated radio stations statewide.

WCCO Radio
The Governor's remarks will be broadcast live on WCCO Radio AM830.

StarTribune.com
The Star Tribune will be live-streaming video of the Governor's remarks on their website.

Pioneer Press (TwinCities.com)
The Pioneer Press will be live-streaming video of the Governor's remarks on their website.
Minnesotans can also follow the conversation on Facebook and Twitter using the hashtag #MNSOTS.

Read more >>
A storm cloud looms over Minnesota water. Photo credit to Flickr user JCK.
When severe weather is in the forecast, are you prepared? Governor Dayton declared this week to be "Severe Weather Awareness Week" to ensure that Minnesotans know how to protect themselves and their property during severe weather events.
Severe weather such as tornadoes, hail, winds, floods, and heat waves take physical, emotional and financial tolls on Minnesotans each year. In 2010, Minnesota set a state record with 104 tornadoes across the state, many of which left behind disastrous wreckage. Understanding the threat of severe weather and knowing how to react is essential and can even save lives.
In alignment with the goals of the "Unsession," Governor Dayton supports legislation that would eliminate unnecessary special sessions during times of disaster. The Disaster Relief Reform initiative would avoid costly special legislative sessions and shift the focus to a swift distribution of aid where disaster strikes.

Read more >>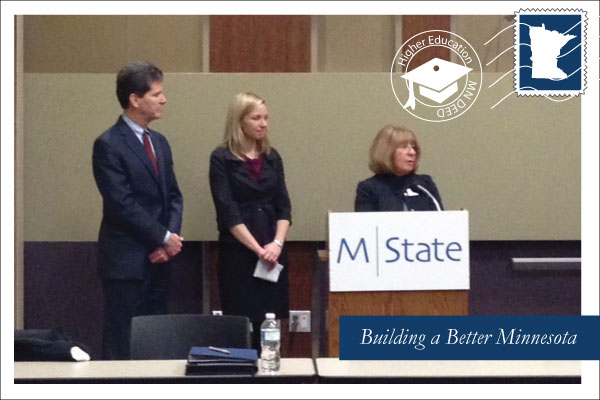 Katie Clark Sieben, commissioner of DEED, and Larry Pogemiller, commissioner of the Office of Higher Education, visited the Moorhead campus to highlight the governor's support for expanding and improving the college's Transportation Center.
Commissioners from two Minnesota state agencies visited Moorhead to show their support for $6.54 million in bonding that Gov. Mark Dayton is recommending for Minnesota State Community and Technical College (M State). M State is a member of the Minnesota State Colleges and Universities System.

Katie Clark Sieben, commissioner of DEED, and Larry Pogemiller, commissioner of the Office of Higher Education, visited the Moorhead campus to highlight the governor's support for expanding and improving the college's Transportation Center. Plans call for new and larger diesel technology labs that will accommodate modern diesel agriculture, construction and transportation equipment.

The upgraded and expanded center will enable automotive students to work on vehicles in groups of two instead of in groups of four, providing more hands-on training opportunity. Programs space focused on alternative fuels and hybrid power sources will also be created.

"The proposed improvements to the Transportation Center at M State will provide students with the up-to-date knowledge and hands-on experience they need to be successful in a rapidly changing job market," Pogemiller said.

The Transportation Center upgrades are part of $233 million in bonding that Gov. Dayton is proposing in this legislative session for improvements at higher education institutions in Minnesota. The proposal includes funding for world-class labs and expanded classroom space at campuses around the state, including Lake Superior College in Duluth, Southeast Technical in Red Wing and Bemidji State University.

"The governor's proposals are a wise investment that will help ensure that Minnesota keeps its competitive edge when it comes to preparing students for the jobs of tomorrow," Commissioner Sieben said.

Read more >>
Posted on April 21, 2014 at 2:12 PM

Governor Mark Dayton has proclaimed today "Go Wild! Day" in Minnesota to rally fans as they Minnesota Wild return to the Xcel Energy Center to take on the Colorado Avalanche in Game 3 of the NHL Playoffs.

"As Minnesotans, we are proud to live in the great State of Hockey. The Wild had two tough games in Colorado. Now they're playing two games in Minnesota, where they can even up the series." said Governor Dayton.

To show their support for the Wild, the Governor, who was an All-State high school goalie, and Department of Education Commissioner Cassellius, who still moonlights as a forward for the Penalty Box Hockey Team, wore their jerseys to the Capitol today.

You read the Governor's proclamation here: http://ow.ly/w00ns

Read more >>
Pages
1
-
2
-
3
-
4
-
5
-
6
-
7
-
8
-
9
-
10
Next