Posted on August 27, 2014 at 4:20 PM

We all know that education is critical to a bright future. In fact, by 2018 an estimated 70 percent of Minnesota jobs will require some education beyond high school. And right now, only 40 percent of Minnesotans hold post secondary degrees. Closing this higher education gap is critical to helping all Minnesotans get great jobs in the future and growing our economy.
However, the rising cost of higher education is putting college out of reach for many. Currently, Minnesota has the third highest student debt rate in the United States with the average graduate leaving school with $29,800 in debt. This year, Governor Mark Dayton and the DFL legislature expanded Minnesota's State Grant Program to an additional 15,000 students so that more students could get an affordable education.
Read more >>
Posted on August 27, 2014 at 1:31 PM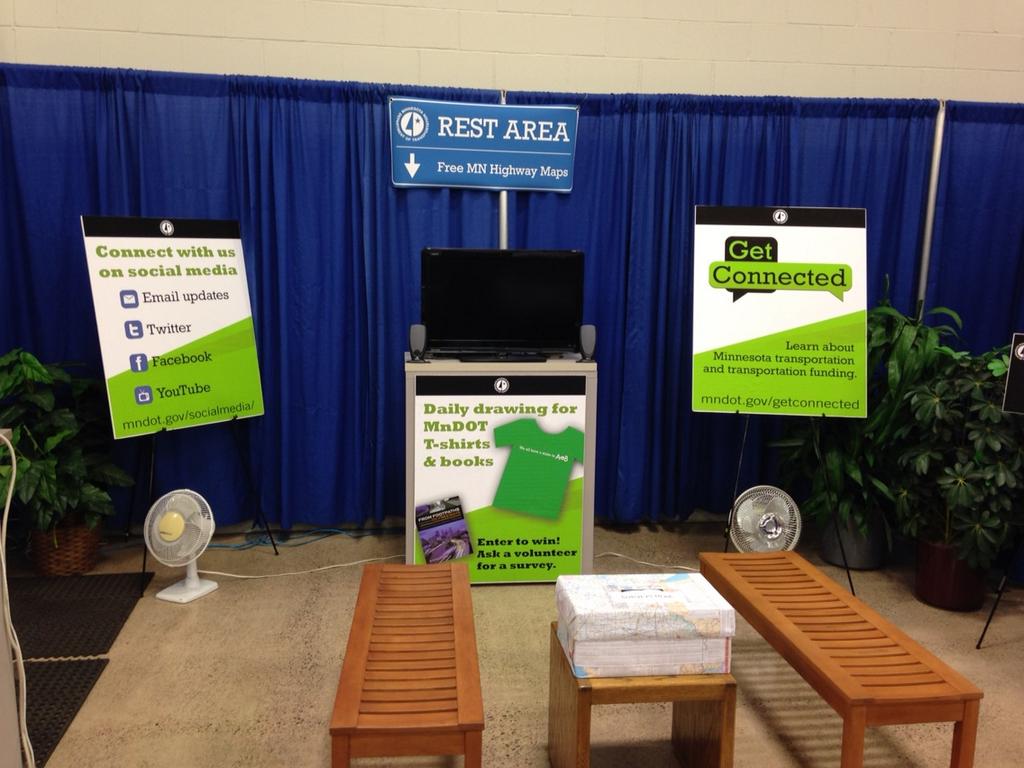 Minnesota's Department of Transportation booth at the State Fair

The Minnesota State Fair is an incredible event. People from all over the state travel to Falcon Heights to eat new foods, learn a few things and to watch people.
Getting to the fair is probably the most important step. And there are many options, buses, bicycles, cars and even on foot. All of those modes use some part of Minnesota's large and diverse transportation network.
In Minnesota, each of us interacts with the transportation system each and every day. We go to work or to school. We stop at the store, buy fuel and maybe go to a restaurant. There are kids' soccer games and movies to see.
Read more >>
Posted on August 25, 2014 at 1:27 PM

Governor Dayton presents the proclamation to the Minnesota State Patrol
Governor Dayton proclaimed today to be "
Minnesota State Patrol Day
" in conjunction with State Patrol Day at the State Fair. The proclamation recognizes Minnesota's state troopers for their commitment to public safety. Every day, state troopers work to keep our highways safe, while also assisting other law enforcement agencies, carrying out search and rescue missions, and leading Minnesota's homeland security efforts.
Read more >>
Posted on August 24, 2014 at 3:10 PM

Incoming college students not only face academic challenges, but also struggle to navigate the required paperwork. New students must fill out forms for financial aid, registration, housing, courses, and meal plans. For first-generation college students without a parent or guardian already familiar with the system – the mounting paperwork can present a major barrier to higher education.
To help our incoming college students, the Minnesota Office of Higher Education started its "Summer Nudging" initiative to help guide students through the process. Students who sign up for the program get regular text message reminders with dates and deadlines for critical registration paperwork.

Read more >>
Posted on August 19, 2014 at 11:58 AM

Stop by and visit us at the Great Minnesota Get together! Follow #Didyouknow to learn more about the work Minnesota state agencies are doing to make users' experiences better, and simpler. You can find out more at the #MNStateFair

This week marks the beginning of the 2014 Minnesota State Fair! At more than a dozen state agency booths across the State Fair, fair-goers will be able to find more information about the work State Agencies are doing to make government better, faster, and simpler.

These reforms have saved Minnesotans time and money – including reducing expensive and time-consuming paperwork, and creating new online solutions for permit applications. Over the last four years, Minnesota state agencies have reduced waiting times for vehicle registrations from 90 days to just 10 days, cut environmental permit waits by over 40 percent, and made hunting and fishing licenses available on smartphones. To learn more about these and other initiatives, come and find us at the fair!

Read more >>
The expansion of the Mankato Civic Center has been six years in the making. And thanks to the 2014 Jobs Bill passed by the Legislature and signed into law by Governor Mark Dayton last May, the project is finally on track to be completed. The Jobs Bill enacted during the last session provided $14.5 million to add an auditorium, additional meeting rooms, and renovate the ice arena. The Civic Center expansion is expected to create more than 450 new construction jobs and generate an annual $50 million economic impact.
"This project was long overdue," said Governor Dayton. "The expansion of the Mankato Civic Center will add hundreds of new jobs, and bring thousands more visitors to Mankato every year. I congratulate the many community leaders who worked for years to complete this important project."
Read more >>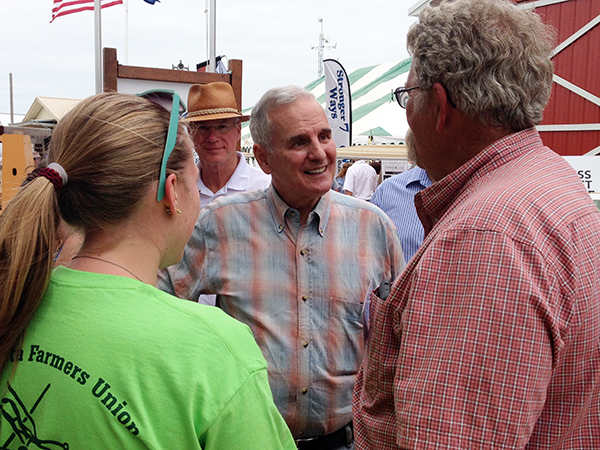 Today Governor Dayton traveled to Redwood, MN to speak in a forum at Minnesota's annual Farmfest. To recognize the contributions to our state and their community, Governor Dayton has proclaimed August 7, 2014 Farm Family Recognition Day in honor of the 66,000 family-owned and operated farms across the state.

Family farms make up the backbone of Minnesota's economy. From raising livestock to maintaining crops, Minnesota relies on farm family communities to build and sustain Minnesota agriculture and economy. Farm Families of Minnesota generate over 3 billion dollars in exports and are in strong support of renewable energy efforts.

"Minnesota is the fifth largest producer of agricultural products in the nation," said Department of Agriculture Commissioner Dave Frederickson. "Agriculture generates an estimated $90 billion in economic activity in this state."

Farmfest is an annual agricultural fair that celebrates these accomplishments. With a packed schedule, this gathering offers livestock handling, panel discussions, crafts, seminars and entertainment. Each year the University of Minnesota presents the Farm Family of the Year Award which recognizes 70 Minnesota farm families who have contributed to our state's' agricultural economy and their communities.

It is important to acknowledge Minnesota Farm families not only for their fundamental role in Minnesota agricultural economy, but also as community members that make Minnesota a better place. Governor Mark Dayton fully supports and promotes local farming here in Minnesota. Since taking office in 2011, Governor Dayton and the Department of Agriculture have implemented the following initiatives:

Read more >>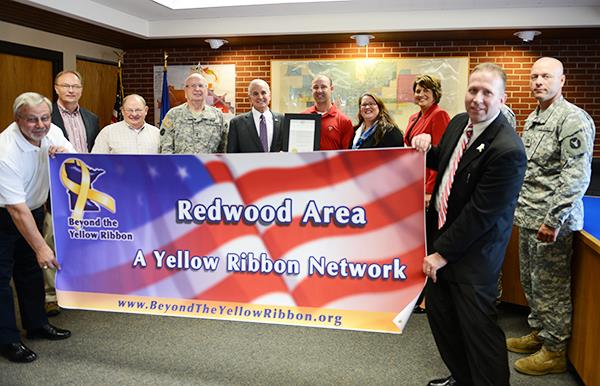 Redwood Falls is now recognized as a Yellow Ribbon city.
Redwood Falls, Minnesota was recognized as a Yellow Ribbon city during the Yellow Ribbon Proclamation ceremony today, August 7, 2014. The Yellow Ribbon Recognition Program pays tribute to communities and companies with an exceptional record of caring, commitment, and compassion for service members, veterans, and their families through various programs and public works.
"The men and women of the Minnesota National Guard, other U.S. Forces, and their families, have earned our admiration and appreciation," said Governor Mark Dayton. "They have also earned our continuing assistance. I thank the Redwood Falls community for joining nearly 300 Yellow Ribbon cities, counties, and businesses, who have committed to support our Minnesota heroes, when they return home."
Because of the efforts of the people of Redwood Falls, service members, veterans, and their families enjoy peace of mind knowing they have the appreciation, love, and support of people in Minnesota and the nation.

Read more >>
Posted on August 07, 2014 at 8:00 AM
Categories:
Education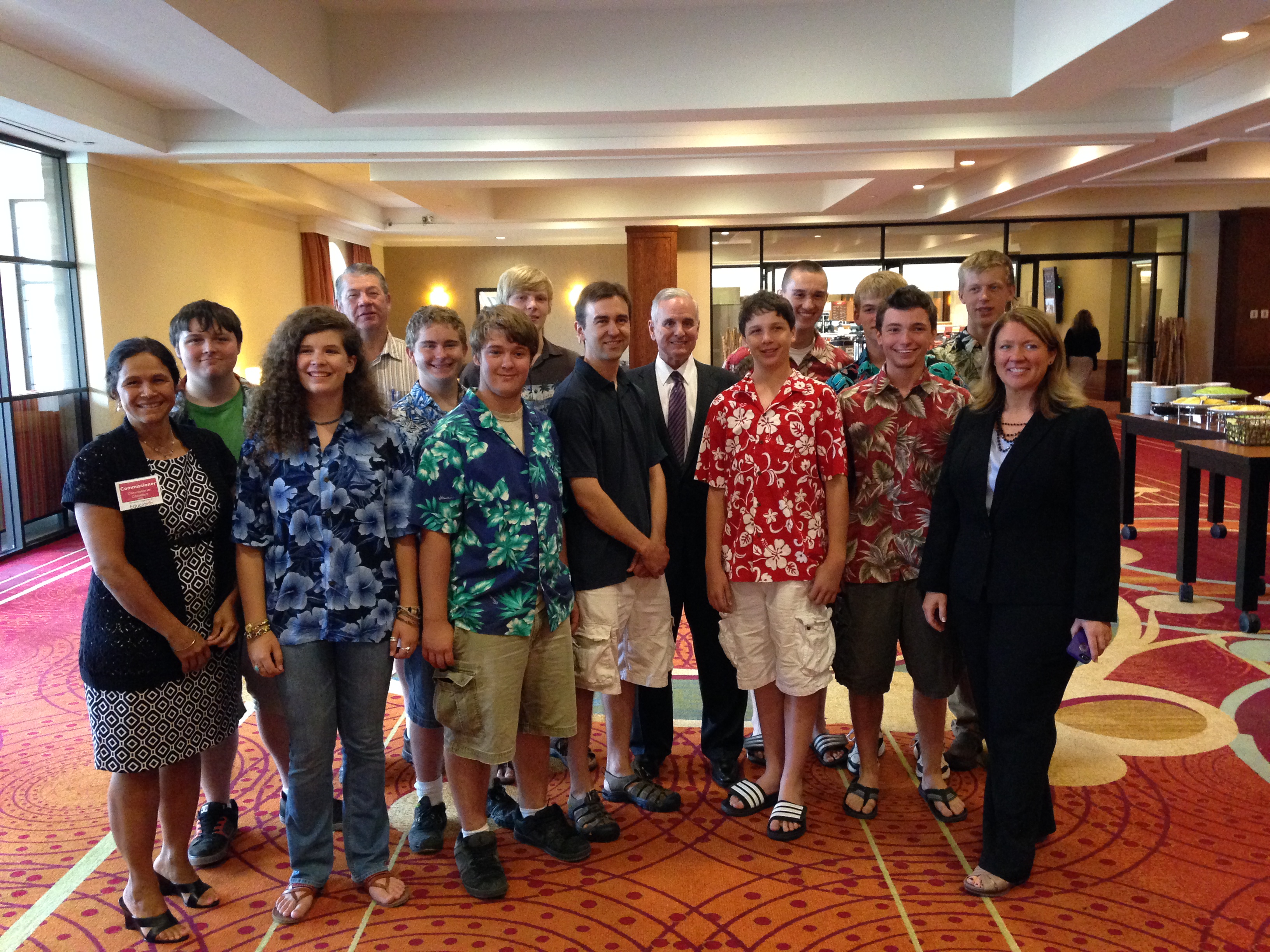 Governor Dayton meeting with the Cannon Falls High School Band

With the first day of school just weeks away for many districts, Governor Mark Dayton met yesterday with nearly 300 school superintendents from across Minnesota to discuss the status of education in our state. Governor Dayton reviewed the progress Minnesota has made over the last four years to reinvest in our schools, support our students and teachers, and ensure that all children have access to a world-class education.

"When I campaigned four years ago, I talked about a better Minnesota in general," said Governor Dayton. "In particular, with education I said that I would set aside money and increase spending in real dollars for education every year, with no excuses and no exceptions. I'm proud and pleased to say that I've kept that promise."

After a decade of stagnant funding and budget cuts, Governor Dayton has reinvested in our schools. Since taking office in 2011, Governor Dayton has invested $895 million in E-12 education, paid back all the $2.8 billion previously borrowed from our schools, and frozen tuition or increased financial aid for more than 482,000 Minnesota college students and graduates. These major investments will give Minnesota students the high-quality education they need to succeed in school and life and compete in today's global economy.


Read more >>
Posted on August 06, 2014 at 2:55 PM

Groundbreaking of two new business expansions in Brooklyn Park made possible by new state investments in the Minnesota Job Creation Fund and the Corridors of Commerce initiative.

This afternoon, at the intersection of Highway 169 and Highway 610, Governor Mark Dayton and DEED Commissioner Katie Clark Sieben broke ground on the site of two new business expansions in Brooklyn Park. When the new North Cross Business Park is completed, it will be home to the newly-expanded PERBIX Machines and Wurth Adams Nut & Bolt, employing 345 Minnesota workers and creating dozens of new jobs.

These new business expansions were made possible in part by Governor Dayton's investments in the Minnesota Job Creation Fund and the Corridors of Commerce initiative:
Read more >>
Pages
1
-
2
-
3
-
4
-
5
-
6
-
7
-
8
-
9
-
10
Next