Posted on September 04, 2014 at 10:34 AM
Categories:
Education
View on YouTube
KEYC 12 News in Mankato reports on impact of all-day Kindergarten

As Minnesota students return to the classroom, our littlest learners are set to benefit from some big new investments. In 2013, we made a historic investment in all-day Kindergarten, ensuring every Minnesota student has access, free of charge. After a year to get ready, all Minnesota schools are now offering all-day Kindergarten to our families this fall.

This investment is sure to make a big difference for our students. All-Day Kindergarten has a proven track record of success, preparing young learners for success in school.


Read more >>
Posted on September 02, 2014 at 2:22 PM

This morning Governor Dayton visited Garden City Elementary in Brooklyn Center to wish students and teachers success in school.

This year, more than 55,000 of Minnesota's youngest learners will benefit from free all-day Kindergarten. Students will also benefit from additional efforts designed to increase literacy and close the achievement gap.

"As Minnesota's students and teachers return to the classroom, I wish them all a successful school year," said Governor Dayton. "During the past four years, the Legislature and I have worked to make high-impact investments that will increase academic achievement and prepare our students for future success."

Investments in E-12 Education

These historic investments, and other important reforms, will give Minnesota students the world-class education they need to succeed in school and prepare for bright futures. Below are some of the initiatives that are helping Minnesota students succeed.

Read more >>
Posted on August 30, 2014 at 11:45 AM
Categories:
Education
"I'm in college because I'm doing it for me. I'm doing it for my future, my kids, years from now. I'm also doing it because my family back home wants me to succeed. So it's about me, it's about my future, and it's about my family back home."
This is just one of the many voices represented in "Shaping your Future: Why Minnesota Families Choose College." The Minnesota Department of Education partnered with Twin Cities Public Television (tpt) to produce this series of videos about the importance of planning for career and college. College students from all over Minnesota were interviewed about their experiences growing up, the challenges they faced, how they wanted their lives to be different from their parents' lives, and how they felt they wanted more for themselves. Their stories are featured in individual 2-3 minute videos, and there are also stories on the importance of parental support when planning for college and career. Stop by MDE's booth at the fair to check out the videos, or watch them on our YouTube page at http://bit.ly/mndeptedtv.


Read more >>
Posted on August 28, 2014 at 11:07 AM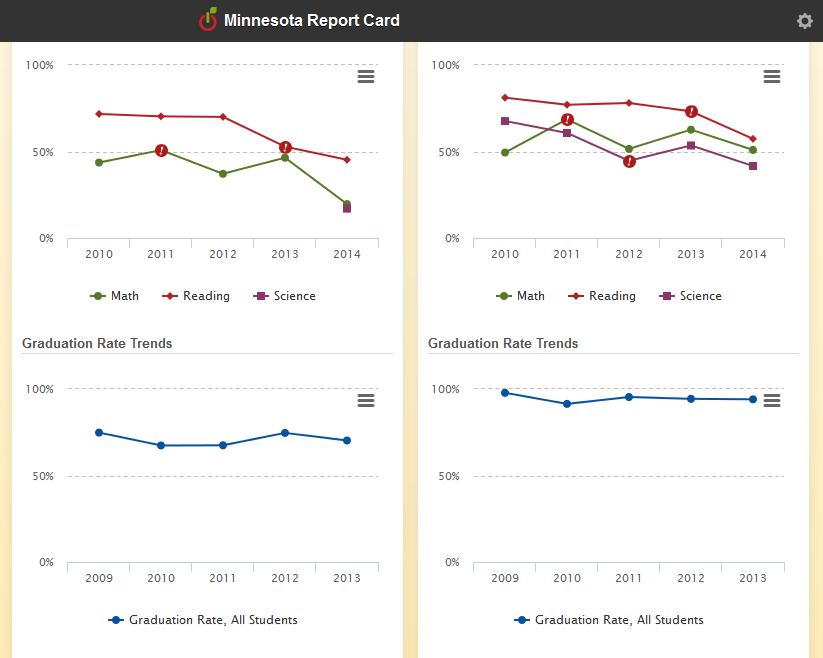 The Minnesota Report Card is a new website that gives you easy access to understandable district and school data. This tool is designed to provide parents, educators, schools, districts and citizens with easy access to district and school information, test results, revenue and expenditure data, demographic information and other critical data in a centralized location
Read more >>
Posted on August 28, 2014 at 10:12 AM
Categories:
Seniors
Cliff Vrieze of Spring Valley began looking into Medicare enrollment just before his 65th birthday four years ago. Without help, this proved to be a frustrating and confusing experience. But Katie, certified Medicare counselor and aging expert at Senior LinkAge Line®, explained Medicare and answered all of Cliff's questions.
This August, the Senior LinkAge Line® celebrates 20 years of serving older Minnesotans and their families by connecting them at no cost to the resources they need. The Senior LinkAge Line® is marking this milestone by unveiling a new 20-year anniversary logo, which will be prominently featured at the Minnesota Board on Aging's booth in the Education Building at the Minnesota State Fair.

The Senior LinkAge Line®, 1-800-333-2433, has grown in breadth and depth of services since it was first established by the Minnesota Board on Aging in 1994. Most recently, under the Dayton-Prettner Solon Administration, the Senior Linkage Line® has become a One Stop Shop for Minnesota Seniors, helping callers to access services in other state agencies, find out about volunteer and employment opportunities and information about "Own Your Future" so they can plan for long-term care as they age.

Read more >>
Posted on August 27, 2014 at 4:20 PM

We all know that education is critical to a bright future. In fact, by 2018 an estimated 70 percent of Minnesota jobs will require some education beyond high school. And right now, only 40 percent of Minnesotans hold post secondary degrees. Closing this higher education gap is critical to helping all Minnesotans get great jobs in the future and growing our economy.
However, the rising cost of higher education is putting college out of reach for many. Currently, Minnesota has the third highest student debt rate in the United States with the average graduate leaving school with $29,800 in debt. This year, Governor Mark Dayton and the DFL legislature expanded Minnesota's State Grant Program to an additional 15,000 students so that more students could get an affordable education.
Read more >>
Posted on August 27, 2014 at 1:31 PM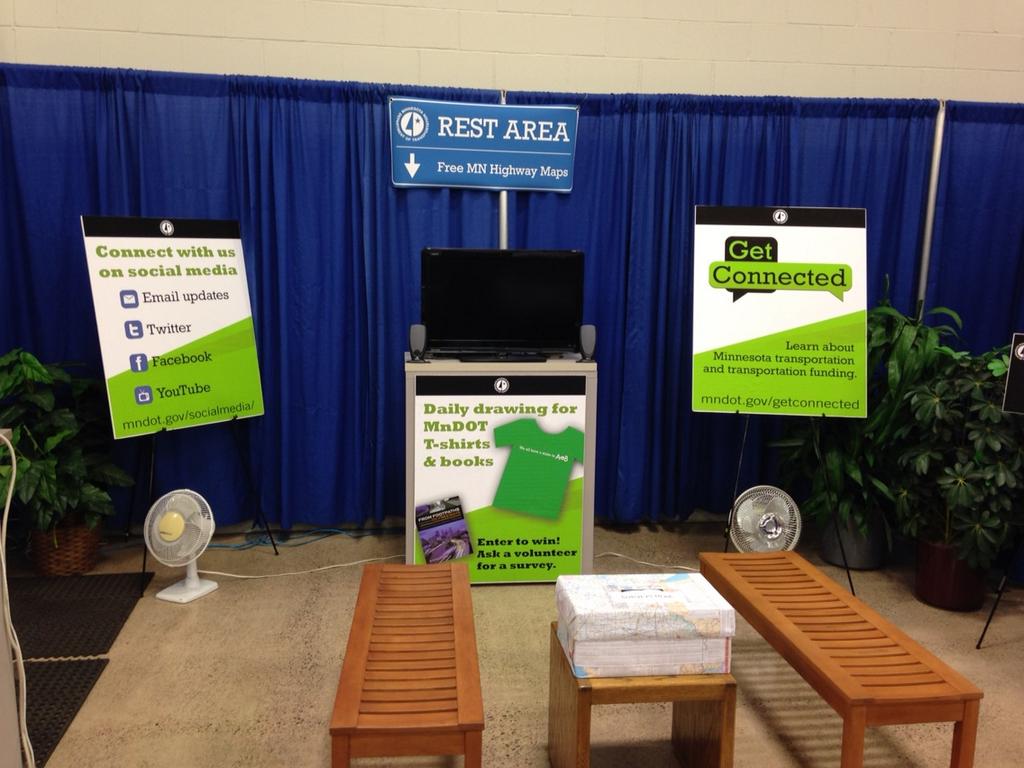 Minnesota's Department of Transportation booth at the State Fair

The Minnesota State Fair is an incredible event. People from all over the state travel to Falcon Heights to eat new foods, learn a few things and to watch people.
Getting to the fair is probably the most important step. And there are many options, buses, bicycles, cars and even on foot. All of those modes use some part of Minnesota's large and diverse transportation network.
In Minnesota, each of us interacts with the transportation system each and every day. We go to work or to school. We stop at the store, buy fuel and maybe go to a restaurant. There are kids' soccer games and movies to see.
Read more >>
Posted on August 25, 2014 at 1:27 PM

Governor Dayton presents the proclamation to the Minnesota State Patrol
Governor Dayton proclaimed today to be "
Minnesota State Patrol Day
" in conjunction with State Patrol Day at the State Fair. The proclamation recognizes Minnesota's state troopers for their commitment to public safety. Every day, state troopers work to keep our highways safe, while also assisting other law enforcement agencies, carrying out search and rescue missions, and leading Minnesota's homeland security efforts.
Read more >>
Posted on August 24, 2014 at 3:10 PM

Incoming college students not only face academic challenges, but also struggle to navigate the required paperwork. New students must fill out forms for financial aid, registration, housing, courses, and meal plans. For first-generation college students without a parent or guardian already familiar with the system – the mounting paperwork can present a major barrier to higher education.
To help our incoming college students, the Minnesota Office of Higher Education started its "Summer Nudging" initiative to help guide students through the process. Students who sign up for the program get regular text message reminders with dates and deadlines for critical registration paperwork.

Read more >>
Posted on August 19, 2014 at 11:58 AM

Stop by and visit us at the Great Minnesota Get together! Follow #Didyouknow to learn more about the work Minnesota state agencies are doing to make users' experiences better, and simpler. You can find out more at the #MNStateFair

This week marks the beginning of the 2014 Minnesota State Fair! At more than a dozen state agency booths across the State Fair, fair-goers will be able to find more information about the work State Agencies are doing to make government better, faster, and simpler.

These reforms have saved Minnesotans time and money – including reducing expensive and time-consuming paperwork, and creating new online solutions for permit applications. Over the last four years, Minnesota state agencies have reduced waiting times for vehicle registrations from 90 days to just 10 days, cut environmental permit waits by over 40 percent, and made hunting and fishing licenses available on smartphones. To learn more about these and other initiatives, come and find us at the fair!

Read more >>
Pages
1
-
2
-
3
-
4
-
5
-
6
-
7
-
8
-
9
-
10
Next