Today, Governor Mark Dayton introduced a bonding proposal that would invest $750 million in infrastructure projects statewide, creating an estimated 21,000 Minnesota jobs. The plan – which builds on the Governor's proposed budget measures to get Minnesotans back to work – would address many of the state's needed infrastructure improvements and strengthen Minnesota's economy.
Read more >>
Posted on April 03, 2013 at 1:59 PM
Categories:
Environment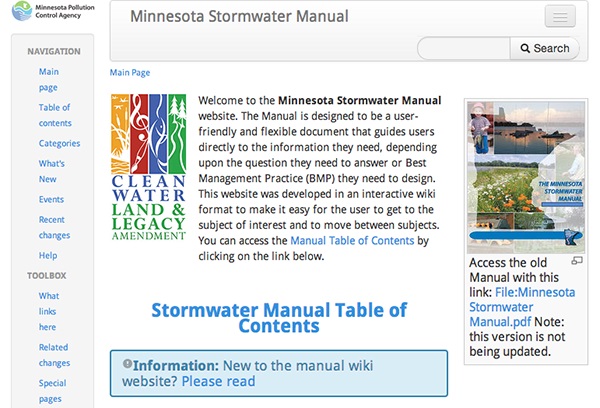 Screenshot: PCA Stormwater Manual Wiki
The Minnesota Pollution Control Agency launched a wiki version of the Minnesota Stormwater Manual that will serve as an invaluable reference for controlling urban stromwater pollution of lakes and streams.
Read more >>
Posted on April 03, 2013 at 8:52 AM
Categories:
Education
Earlier this week, Governor Mark Dayton and U.S. Senator Al Franken sat down with students from around the metro at St. Paul College to discuss access and affordability to higher education in Minnesota.
Read more >>
Posted on April 02, 2013 at 2:57 PM
Categories:
Health
Governor Dayton presents proclamation to families who are working to raise autism awareness across the state of Minnesota.
Today, Governor Mark Dayton met with parents and children with autism at the
Autism Speaks, "Light It Up Blue," awareness event in the Governor's Reception Room.
Governor Dayton has proclaimed April as Autism Awareness Month. One in every 110 children in the United States are diagnosed with autism, and similar levels are seen around the world. The number of children diagnosed with autism appears to be rising each year.
Autism Spectrum Disorder, which includes Autistic Disorder, Asperger's Syndrome, and Pervasive Development Disorder, is a series of neurologically-based developmental disabilities that affect brain development in children, disrupting their ability to communicate and interact with others. Autism is the fastest growing serious developmental disability in the United States and typically appears in early childhood, usually before the age of three. There is no cure for autism, however intensive and early treatment can make a big difference in many children's lives.
In 2007, World Autism Awareness Day was adopted by the United Nations to raise autism awareness and to promote early diagnosis and early behavioral interventions.
Read more >>
Posted on April 01, 2013 at 3:18 PM

Last week, Higher Education Commissioner Larry Pogemiller spoke to Duluth area college students about Governor Dayton's proposed Budget for a Better Minnesota.
Read more >>
Posted on April 01, 2013 at 11:25 AM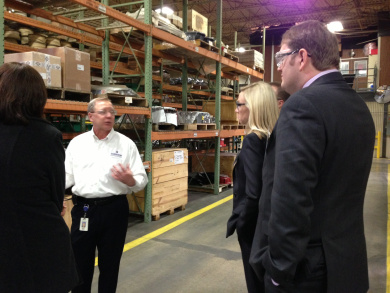 Commissioner Sieben visits Kato Engineering during her March 26 tour of Mankato
A full agenda that included six Mankato company tours made its mark with DEED Commissioner Katie Clark Sieben: The network of interconnected businesses allow companies in Greater Mankato to better serve their customers in Minnesota and around the world.
One stop on the March 26 tour was Kato Engineering, a subsidiary of Emerson Electric, which employs 500 people at its North Mankato facility. The company specializes in designing and manufacturing generators (alternators), motor-generator sets and controls for multiple industries.
Kato Engineering is a major supplier in a rapidly expanding global market for electrical power, especially in developing countries. Kato generators power tankers, freighters, locomotives, aircraft and mass transit. Kato equipment is used by hospitals, communication industries, in remote areas of the world and any other place where dependable controllable electrical power is needed.
Another stop was El Microcircuits, a manufacturer of custom and standard microcircuits for the electronics industry. With manufacturing facilities in Mankato and St. Peter, the company mainly serves the medical device and industrial controls sectors and employs about 160 people.
Commissioner Sieben also visited Coughlan Companies, a diversified holding company; Taylor Corporation, one of the largest privately held companies in the country, specializing in interactive printing and marketing; Kato Cable, producer of cable assemblies, wire harnesses and electro–mechanical assemblies for a variety of industries; and MTU OnSite Energy, manufacturer of diesel-powered and natural gas-powered generators.
Greater Mankato Growth, the combined chamber of commerce and economic development group serving the region, organized the Mankato tour.
Mankato has the second highest employment growth in the state. Job gains rose 2.2 percent in the past 12 months in the Mankato-North Mankato Metropolitan Statistical Area, Minnesota's newest MSA. Mankato's mix of industries and flexible, diverse workforce create a balanced regional economy.
DEED's Labor Market Information office reports that historically, the Mankato-North Mankato MSA unemployment rate is at its lowest at two times during the calendar year: Holidays and the start of summer. This suggests that students are returning to work service sector jobs during their breaks between spring and fall semester and fall and winter semester.
Local media reports include State jobs commissioner touts Mankato area's strengths from the Mankato Free Press and KEYC TV story DEED commissioner visits city businesses.
Read more >>
Posted on March 27, 2013 at 2:49 PM

Photo Credit: Flickr User cursedthing
Over the last week, more than 500 Minnesotans gathered at town hall meetings hosted by Governor Mark Dayton in Duluth, Moorhead, and St. Cloud. The Governor's 'Meetings with Mark' are an effort to engage Minnesotans in personal conversations about his proposed investments in education, job creation, and improving the lives of middle-class families. Another Meeting with Mark has been scheduled for next week in Rochester at the following time and location:
Thursday, April 4 at 6:00pm
Heintz Center Common Area
Rochester Community and Technical College
1926 College View Road East
Rochester, MN
Read more >>
Posted on March 27, 2013 at 8:00 AM
Categories:
Health
An estimated 1.3 million Minnesotans will benefit from legislation recently signed into law by Governor Mark Dayton, including nearly 300,000 Minnesotans who are currently uninsured. The bill establishes a new marketplace where Minnesotans can choose quality, affordable health coverage, and will save Minnesota families and businesses an estimated $1 billion in health care costs by 2016. Explore the infographic below to learn how the new MNsure marketplace will benefit Minnesota.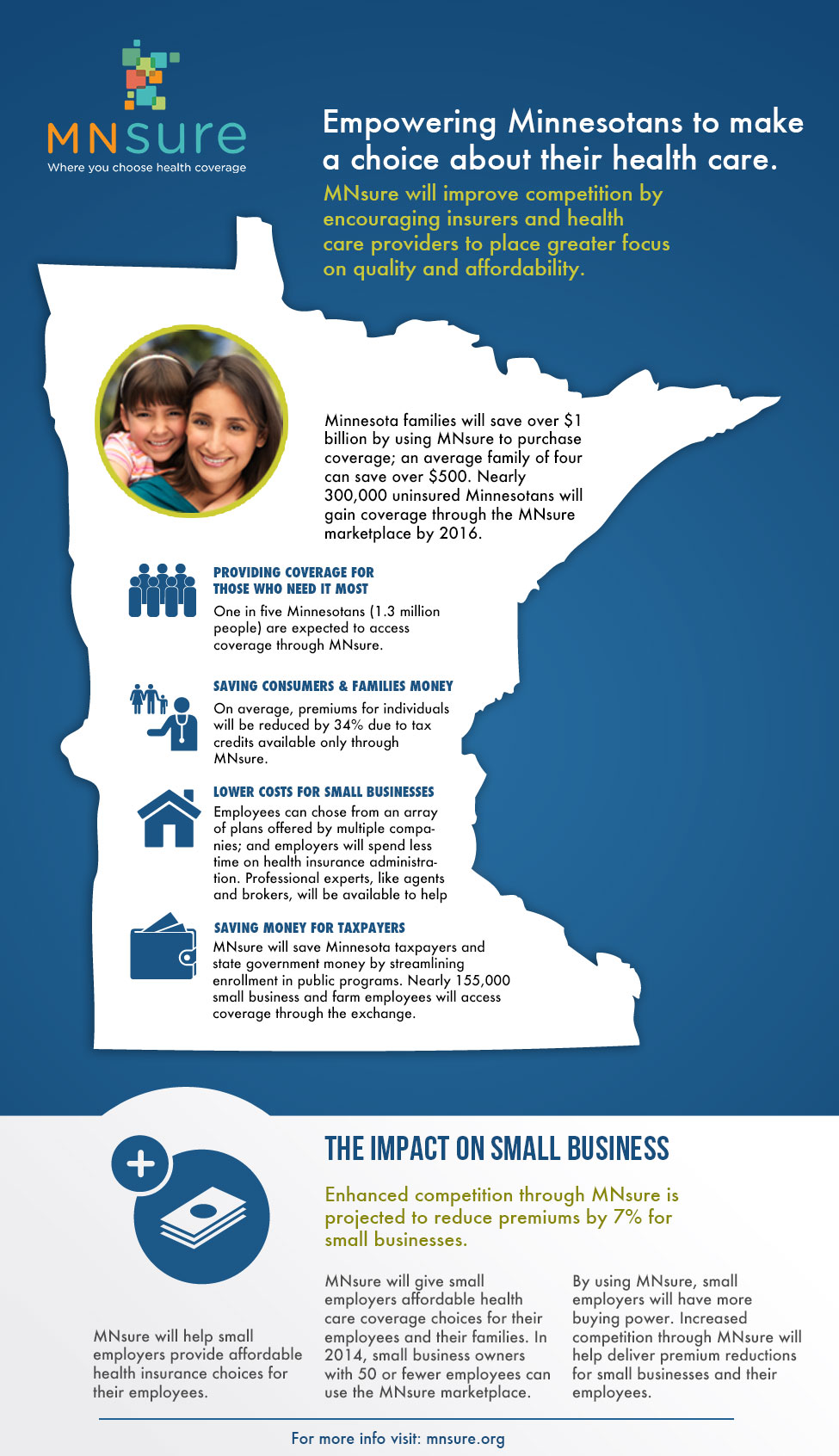 Read more >>
Posted on March 26, 2013 at 2:59 PM

Governor Dayton announced his appointment of David Lillehaug to Minnesota's Supreme Court on Tuesday, March 26, 2013, at the state capitol.

Today, in a press conference at the State Capitol, Governor Mark Dayton announced his appointment of David Lillehaug to the Minnesota Supreme Court. Mr. Lillehaug will replace Justice Paul Anderson, who will be retiring from the Bench at the end of May.

Governor Dayton thanked Justice Anderson for his dedicated service to the State of Minnesota, especially for his service on the Supreme Court, where he has served as Associate Justice since 1994.

About the appointment, Governor Dayton said:

"Mr. Lillehaug served our state admirably as the United States Attorney, after being confirmed unanimously by the US Senate. In the following years, he has served as lead counsel for cases involving some of the most complex legal and constitutional questions of our time. They include: establishing the rights of Minnesota's religious institutions under the "conceal-carry" firearms law; challenging Governor Pawlenty's unallotment of appropriated funds in 2009-2010; and representing my office on constitutional issues regarding the 2011 state government shutdown.

"In 2008 and 2009, Mr. Lillehaug served as Senator Al Franken's chief Minnesota counsel in the recount following his US Senate contest with Senator Norm Coleman. When faced with my own recount after the 2010 gubernatorial election, I also turned to Mr. Lillehaug for his expertise. In both the 2010 recount and 2011 shutdown cases, Mr. Lillehaug's representation was superb. He has one of the most brilliant minds I have ever encountered; yet he can also put very complex legal issues into very understandable writings. His diligence, preparation, and professionalism were always impeccable.

Read more >>
Posted on March 25, 2013 at 12:51 PM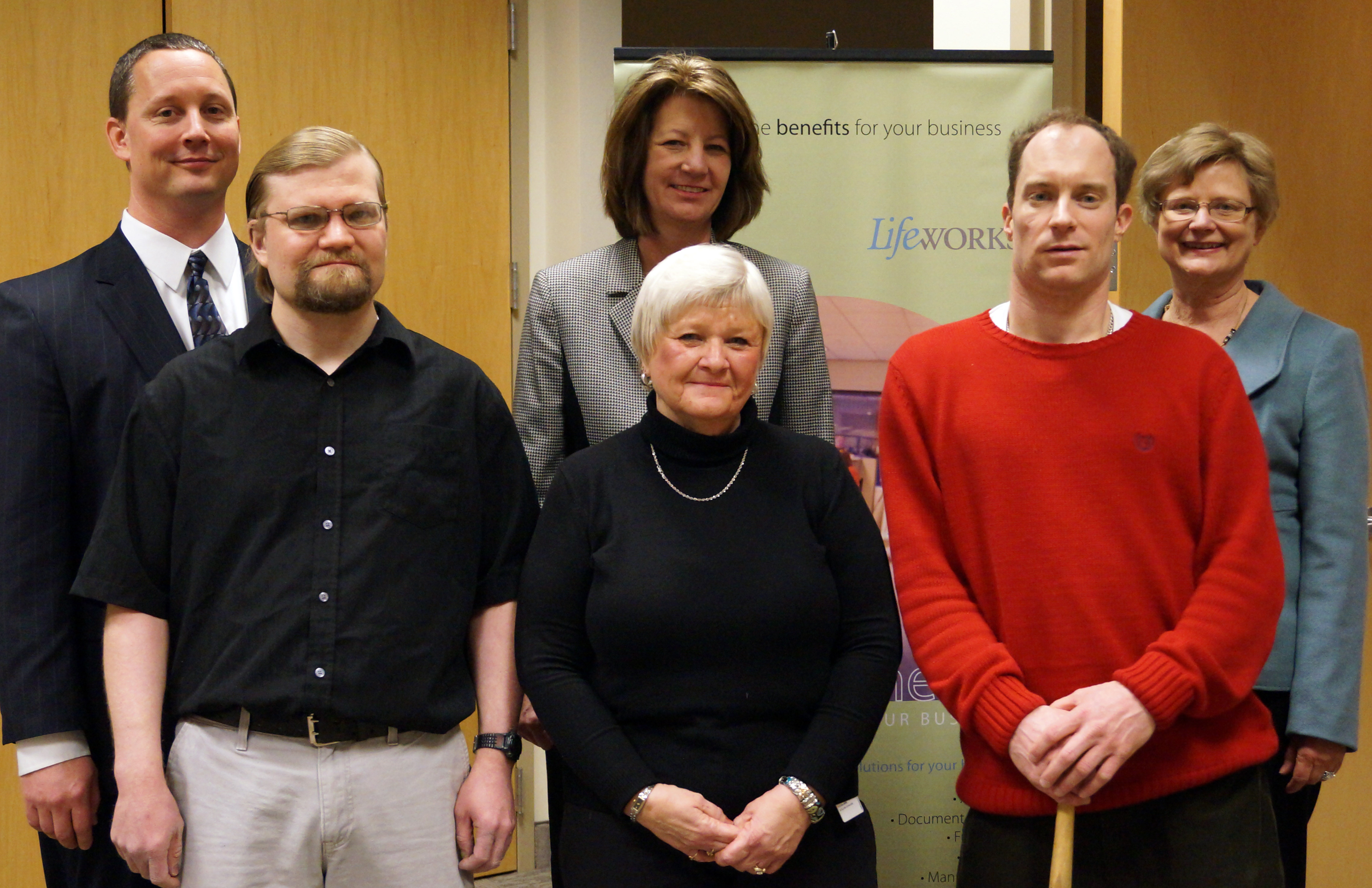 Human Services Commissioner Lucinda Jesson met with Securian Financial Group staff and Lifeworks Services employees and clients Friday, March 8, to discuss a proposal in Gov. Mark Dayton's budget that provides employment support for people with disabilities.
Scott Strohman had a word of advice for Human Services Commissioner Lucinda Jesson when she visited his workplace Friday, March 8.


"Don't be afraid to take chances, because if you don't, you'll never know what the end result could be," he said, encouraging her to continue pushing for proposals in Gov. Mark Dayton's budget that support employment for Minnesotans with disabilities.


The governor's Reform 2020 budget package invests close to $400,000 in the next biennium to help young Minnesotans age 18-26 with disabilities maintain employment, and is projected to save the state more than $500,000 in the following budget cycle. Through the proposal, navigators employed by community organizations will help participants with job issues, benefits planning, including health insurance benefits, and integration of other services they receive.


Read more >>
Pages
1
-
2
-
3
-
4
-
5
-
6
-
7
-
8
-
9
-
10
Next