Posted on April 16, 2014 at 8:00 AM

To make state government work better for the people it serves, Governor Dayton has implemented Minnesota's first-ever Plain Language policy. Watch this video to learn how the Minnesota Department of Veterans Affairs has made their website easier to use for Veterans like Michelle Ambrose.


Read more >>
Posted on April 14, 2014 at 7:18 PM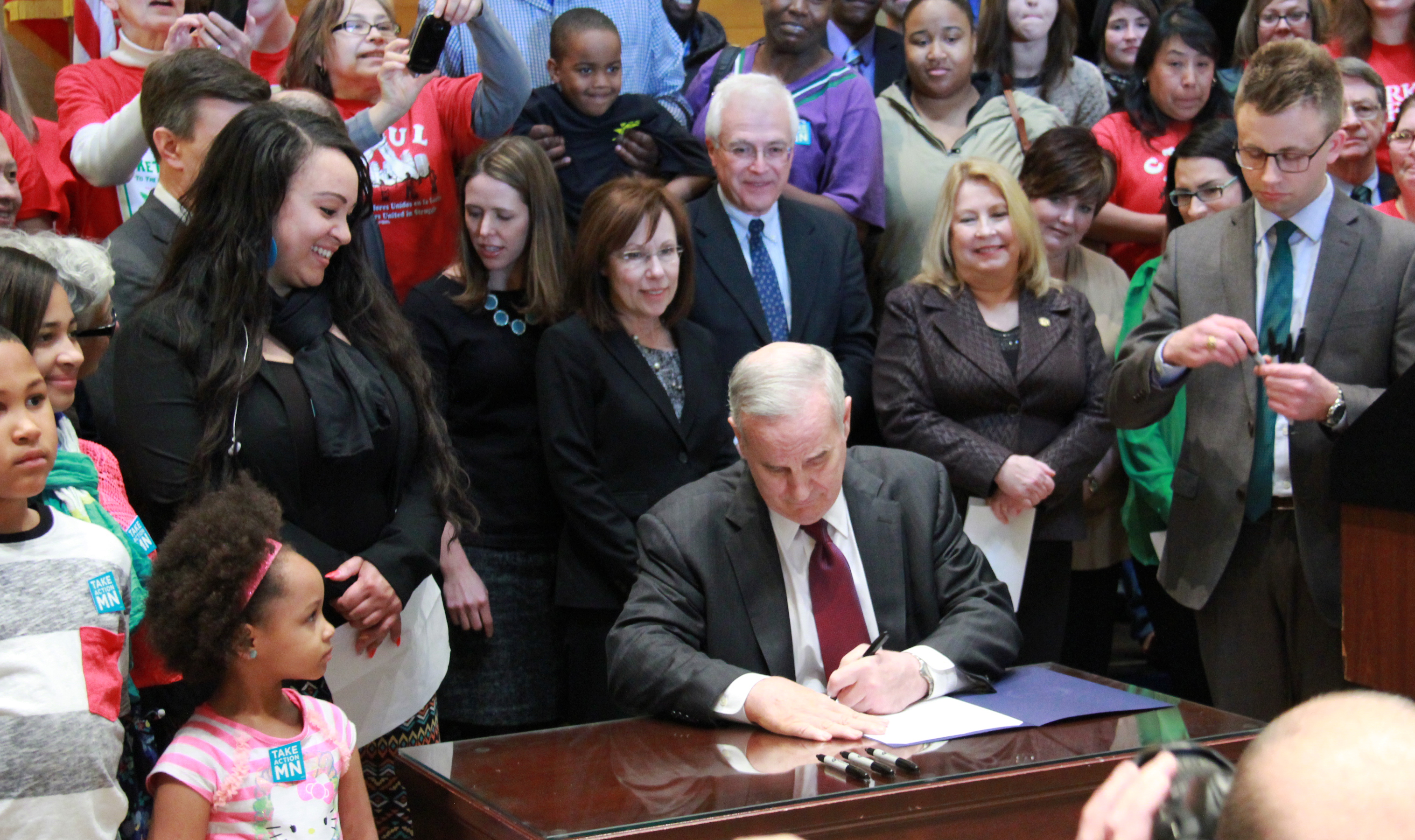 More than 325,000 of Minnesota's lowest-wage workers just got a raise. Joined in the Capitol Rotunda this afternoon by legislators, advocates, and hard-working Minnesotans from across the state, Governor Mark Dayton signed a bill into law raising Minnesota's minimum wage for the first time since 2005. The bill increases the minimum wage to $9.50 per hour by 2016, and indexes it to inflation to help ensure Minnesotans' wages keep up with the cost of living.
Before today, at $6.15 per hour Minnesota had one of the lowest minimum wages in the nation – lower than neighboring Wisconsin, Iowa, North Dakota, and South Dakota. In fact, Minnesota was one of only four states in the country with a minimum wage below the national rate of $7.25 per hour.
Read more >>
Posted on April 09, 2014 at 5:24 PM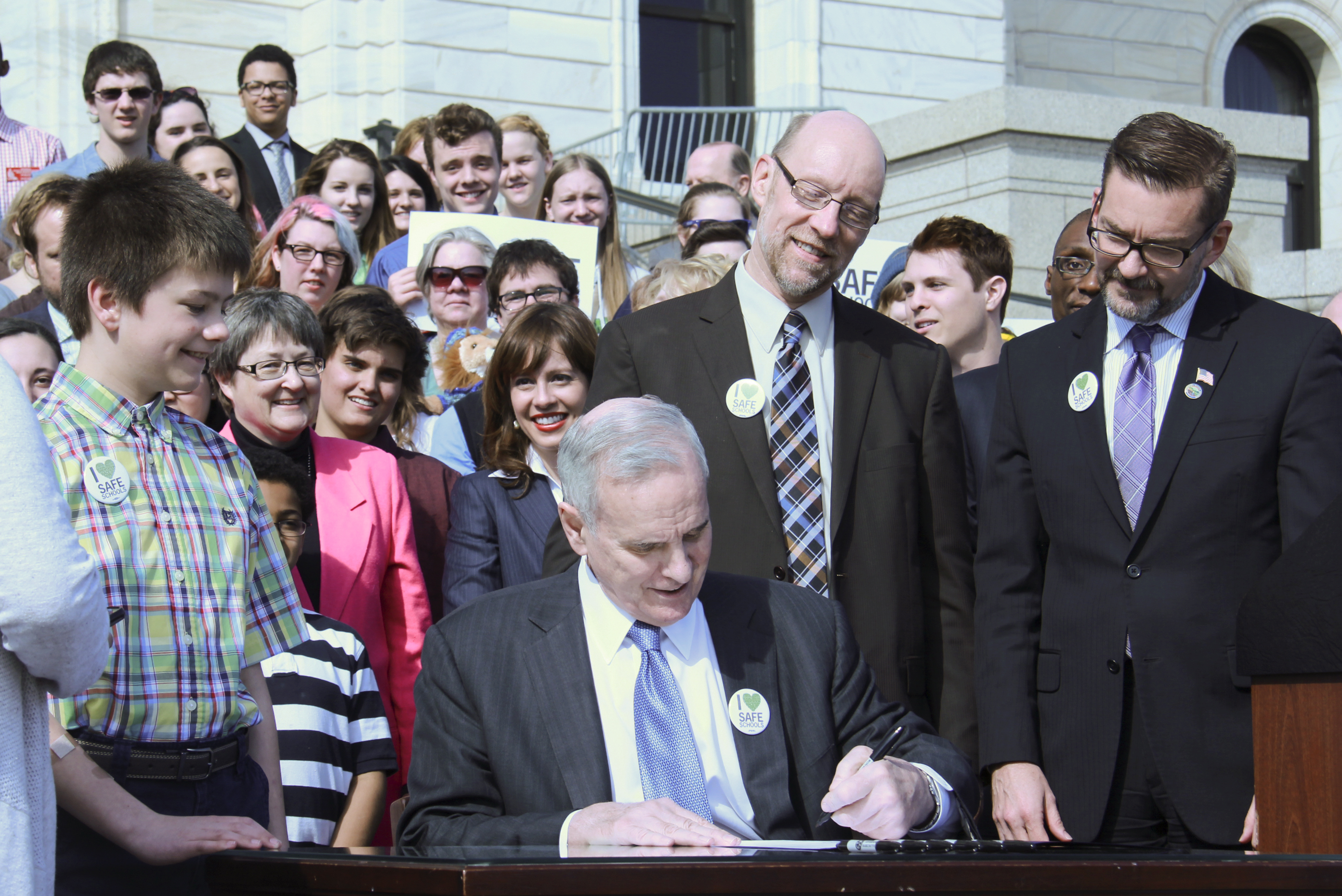 Surrounded by students, parents, teachers, and school administrators, Governor Mark Dayton today signed the Safe and Supportive Schools Act (HF826/SF783). The new law, authored by state Sen. Scott Dibble and state Rep. Jim Davnie, strengthens protections against the threat of bullying in Minnesota schools. The new measure provides local school districts the guidance, support, and flexibility to adopt clear and enforceable school policies to help protect all children from bullying, and to reinforce the principles of tolerance and respect in our schools.

"Minnesota's schools should be safe and supportive places for everyone," said Governor Mark Dayton. "This anti-bullying legislation will make it very clear that bullying is not to be allowed in our schools. I thank Senator Dibble, Representative Davnie, Commissioners Cassellius and Lindsey, and the many parents, students, teachers and advocates, who worked tirelessly to write and pass this law."

Read more >>
Posted on April 09, 2014 at 7:01 AM

Students, teachers, parents, and families invited to Minnesota State Capitol for bill signing ceremony

Joined by legislators, parents, students, and teachers, Governor Mark Dayton plans to sign the Safe and Supportive Schools Act (HF826/SF783) into law at a public bill signing ceremony on Wednesday, April 9, at 4:00pm. The bill signing ceremony will take place on the steps of the Minnesota State Capitol. Minnesota students, parents, teachers, and families are invited to attend the event.

The Safe and Supportive Schools Act, which was passed by the Minnesota Legislature, strengthens protections against the threat of bullying in Minnesota schools. The new law will provide local school districts the guidance, support, and flexibility to adopt policies that will help protect all children from bullying, and reinforce the principles of tolerance and respect in our schools.

This event is free, and open to the press and public.

WHO:
Governor Mark Dayton
State Sen. Scott Dibble
State Rep. Jim Davnie
11-Year-Old Boy Scout Jake Ross
Farmington Schools Superintendent Jay Haugen

WHAT:
Bill signing ceremony for the Safe and Supportive Schools Act

WHERE:
Steps of the Minnesota State Capitol

WHEN:
Wednesday, April 9
4:00pm


Read more >>
Posted on April 07, 2014 at 3:21 PM
Categories:
Reform
Just two weeks ago, Governor Mark Dayton signed new tax cuts into law that are already saving Minnesotans time and money, and making filing taxes simpler for more than 1 million middle class Minnesotans and thousands of businesses. Watch this video to learn more about how Governor Dayton's tax reforms are saving time, money, and hassle for small business owners like Ravi Norman of Thor Construction.

Read more >>
Posted on April 03, 2014 at 10:53 AM
Categories:
Education
Human Services Commissioner Lucinda Jesson finger paints with children at Amanda Rupar's Family Child Care in Sartell, Minn., to highlight growing participation in the Parent Aware quality rating system and recent investments in early childhood education
For Minnesota's children, school begins in Kindergarten, but learning starts long before that. According to cognitive scientists, the first five years of brain development can make or break future learning outcomes. Parents play a vital role in stimulating their children's minds, but when they leave for work, this responsibility also falls on daycare providers.
Last year, Governor Dayton and the legislature worked together to invest in high-quality early learning opportunities. One of these newly implemented initiatives is Parent Aware, a program designed to rate different pre-k educational services. Based on a four star rating system, the program relies on voluntary evaluations of different day-care providers, and, through educational workshops, equips them with information on how to create a safe and stimulating day care environment. When looking for place to send their kids parents can simply go to the Parent Aware Website, and look up ratings.

The minimum standard for a 1 star ratting requires ongoing documentation of a child's learning progress, while achievement of a four star rating takes much more: including sensitivity to cultural differences among children, evidence that lesson plans are tailored to the learning needs of individual students, and training for pre-k care for students with disabilities.

Minnesota's Parent Aware rating system will help parents assess their options for childcare, but also encourage providers to become up to date on the latest techniques for encouraging early cognitive development.

The process of accreditation requires that providers frequently participate in workshops to learn about the latest research in early childhood education. This ensures that they remain up to date about the best approaches to early learning, and can continually revise their curriculum.

Read more >>
Posted on April 02, 2014 at 1:42 PM

Governor Dayton and Revenue Commissioner Myron Frans encourage Minnesota Taxpayers to file their taxes now

Minnesota Department of Revenue officials today told all taxpayers to file their tax returns NOW. The news comes one day before the original target date. For over one million taxpayers who have not yet filed, they can file now with forms and software that include the new tax law changes passed on March 21.

"Many thousands of Minnesotans will benefit from the tax cuts that were passed by the Legislature just over one week ago. I urge Minnesotans to file their taxes now, and claim all the tax cuts and credits for which they are eligible," said Minnesota Governor Mark Dayton.

"Completing the update one day early was a big accomplishment for Revenue staff working closely with our partners in the private sector" said Revenue Commissioner Myron Frans.
All taxpayers should begin filing their taxes NOW and file on or before April 15, 2014, which is the deadline unless taxpayers ask the IRS for an extension.
Software Providers: All Department of Revenue-certified tax software providers have updated their software to reflect the new tax law changes. Updated tax forms and schedules are also on our website here. The department advises taxpayers using desktop tax software on their personal computers to accept and install updates from their software provider so they are filing with the most up-to-date software.

Change of Address: Taxpayers who have changed addresses since their last filing should notify the department of their new address so refunds and correspondence from the department reach the correct destination.

Who Qualifies? About 300,000 taxpayers qualify for the new 2013 middle class tax breaks. These changes match the Minnesota tax forms more closely with federal forms and rules. If you properly claim these deductions on your federal return, they will be included in determining your Minnesota income tax. View a list of the benefits on our website to see if they apply to you.

Already filed your return? We will review it. If you qualify for a new deduction or credits, one of three things will happen after our review:
We will adjust your return, if possible. We will send you a letter explaining the adjustment and send you a refund.
We will request more information from you. We will use that information to adjust your return, if possible. We will send you a letter explaining the adjustment and send you a refund.
If we cannot adjust your return, we will notify you that you will need to file an amended return to get the benefits of these tax law changes. We advise you to not amend your return for these new deductions or credits until we notify you. You (or your tax preparer) may decide to amend your return for other reasons.

Learn more about tax changes on the Minnesota Department of Revenue's website here.

Read more >>
Posted on April 02, 2014 at 11:59 AM
Categories:
Education
Getting ready for college or career school can be easier than you think. Visit the FAFSA website for more information.

Governor Dayton knows that providing all of our students access to affordable post-secondary education is vital to preparing all Minnesotans for great jobs for generations to come. Last year, Governor Dayton worked with the Legislature to increase financial aid for our students and freeze tuition at public colleges and universities. Now, the Minnesota Office of Higher Education encourages students to take advantage of the recently improved Free Application for Federal Student form (FAFSA) to access additional student aid.

The U.S. Department of Education improved the FAFSA by adding two new features to make the application simpler to complete and to encourage more Americans to get the education they need for bright futures. The new FAFSA Completion Tool and Financial Aid Toolkit make the application process straightforward, and help high school principals and counselors identify students who should complete the form. Here in Minnesota, the Office of Higher Education has ratcheted up its outreach efforts to help students and families complete the form.

FAFSA Reform – By the Numbers
23 minutes Time it takes to complete the FAFSA online

58% High school seniors completed the FAFSA in 2012-2013

70% High school seniors who completed the FAFSA that enrolled in college or university
Increasing educational opportunity for all Minnesotans is critical creating good jobs and bright futures. The Governor is dedicated to ensuring that Minnesotans have access to post-secondary education – making it easier to get financial aid will help achieve this important goal.


Read more >>
Posted on April 01, 2014 at 1:18 PM
Categories:
Education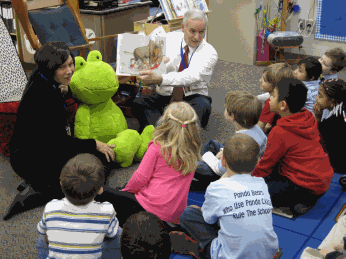 This blog post originally appeared on the Minnesota Department of Education website blogg[ed]MN.
Since taking office, Governor Mark Dayton has made a number of critical investments in early education. One significant investment came in 2011 when Governor Dayton and the Legislature invested $5.45 million in the Minnesota Reading Corps to expand the program and help more students gain access to one-on-one tutoring.

In fact, 30,000 students benefited from the Minnesota Reading Corps AmeriCorps individualized, one-on-one tutoring to kindergarten through third grade students and using proven literacy interventions last year.

And the best part is: It's working.

Today, a new report shows that this work is resulting in big improvements for the state's youngest learners.

The study, conducted by the Corporation for National and Community Service, analyzed the impact of the Minnesota Reading Corps on improving student achievement in reading. It looked at a sample of 1,350 Minnesota students from Kindergarten through 3rd Grade, and followed their performance over a 16-week period in the 2012-2013 school year.

Check out some of these amazing highlights from the report:
The average Minnesota Kindergarten student with a Minnesota Reading Corps volunteer tutor performed twice as well as students without one
Minnesota Reading Corps tutors helped the average first grade student perform 26 percent better than the expected level for on-track students
Students with higher risk factors who received Minnesota Reading Corps tutoring significantly outperformed students who did not
Interested in reading more about the study? Here are some links to materials from today's report:
Read more >>
Posted on April 01, 2014 at 10:00 AM

Last summer, Governor Dayton asked Minnesotans to send him their "Unsession suggestions." Thanks to your good ideas, Governor Dayton delivered over 1,000 Unsession proposals to the Legislature. Some of these proposals have already become law and the Governor hopes to sign hundreds more Unsession provisions into law in the coming weeks.

This is the first video in a series focused on the Unsession. Check it out and stay tuned in the coming weeks to see how Governor Dayton is working to make better government for a better Minnesota.
Read more >>
Pages
1
-
2
-
3
-
4
-
5
-
6
-
7
-
8
-
9
-
10