Posted on April 21, 2014 at 2:12 PM

Governor Mark Dayton has proclaimed today "Go Wild! Day" in Minnesota to rally fans as they Minnesota Wild return to the Xcel Energy Center to take on the Colorado Avalanche in Game 3 of the NHL Playoffs.

"As Minnesotans, we are proud to live in the great State of Hockey. The Wild had two tough games in Colorado. Now they're playing two games in Minnesota, where they can even up the series." said Governor Dayton.

To show their support for the Wild, the Governor, who was an All-State high school goalie, and Department of Education Commissioner Cassellius, who still moonlights as a forward for the Penalty Box Hockey Team, wore their jerseys to the Capitol today.

You read the Governor's proclamation here: http://ow.ly/w00ns

Read more >>
Thanks to new tax cuts enacted by Gov. Mark Dayton and the MN legislature, the Zuzeks family are expected to save about $160 this year and another $220 on their state taxes in 2014.
Paying for college tuition can cost Minnesota students and families tens of thousands of dollars every year. But a new college tuition tax deduction signed into law by Governor Dayton will help reduce that financial burden, saving 40,000 Minnesota college students an average $140 per year.
The Zuzeks of Hastings, Minnesota, were born to be teachers.
"From a young age, I always knew I wanted to be a teacher," said Katie Zuzek, a senior at St. Mary's University in Winona. "And in order to realize that dream, I knew I had to go to college – there wasn't any other option."
Read more >>
Because of the middle class tax cuts signed by Governor Dayton, the Norman family will not have to pay $700 to $800
in state taxes they would have otherwise owed for the adoption assistance they received from Aaron's employer in 2013.

Kristi and Aaron Norman of Rochester have always dreamed of raising a family. And thanks to adoption, they are now the proud parents of two young children.
Raising children can be expensive, especially for a young family. Costs for child care, medical care, and clothing can add up quickly. But there is one expense the Normans did not expect when they adopted their daughter last year: state adoption taxes.
When the Normans adopted their daughter in July 2013, Aaron's employer helped defray half of the $20,000 it took to complete the adoption process. The Normans were grateful for the generous help Aaron's employer.
Read more >>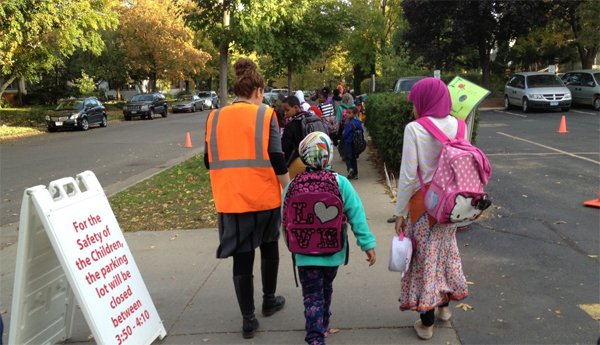 International Walk to School Day at Lyndale Community School in Minneapolis

The Minnesota Department of Transportation has announced the recipients of $4.8 million in federal grants for Safe Routes to School. The grants will support Safe Routes to School at 138 schools in 50 communities.

"These projects will help communities increase opportunities for children to walk and bike to school," said MnDOT Commissioner Charlie Zelle. "More students walking and biking means less traffic on the road and in front of schools, improving safety and promoting healthier kids."

Schools received grants in two categories:
Planning – Funding to complete a Safe Routes to School plan to help analyze existing conditions, gather public input and identify potential infrastructure and non-infrastructure solutions at K-8 schools. Plans will be completed by the Regional Development Commission or a planning consultant hired by MnDOT.
Infrastructure – Funding for improving the environment and infrastructure around the schools such as crosswalks and trails.


MnDOT announced the available grants in December 2013. It received 85 applications and funded 60 applications. The total amount requested was $11.3 million.

All Safe Routes to School grants in this solicitation are federal funds. The infrastructure grant includes a 20 percent local match. Each infrastructure grant includes a resolution of support from the local governing body to ensure community support. No local match is required for planning assistance grants.

Since 2005, MnDOT awarded nearly $15.5 million in federal funds to communities to support Safe Routes to School. The majority of funding—$13.1 million—was awarded for infrastructure projects. The remainder was allocated for non-infrastructure items and activities.

This solicitation used the remaining federal Safe Routes to School funds. Federal funding for the program is now available through the new Transportation Alternatives Program. Safe Routes to School projects occur in all 50 states.

The list of grant recipients is below. More information is available at www.mndot.gov/saferoutes.

Read more >>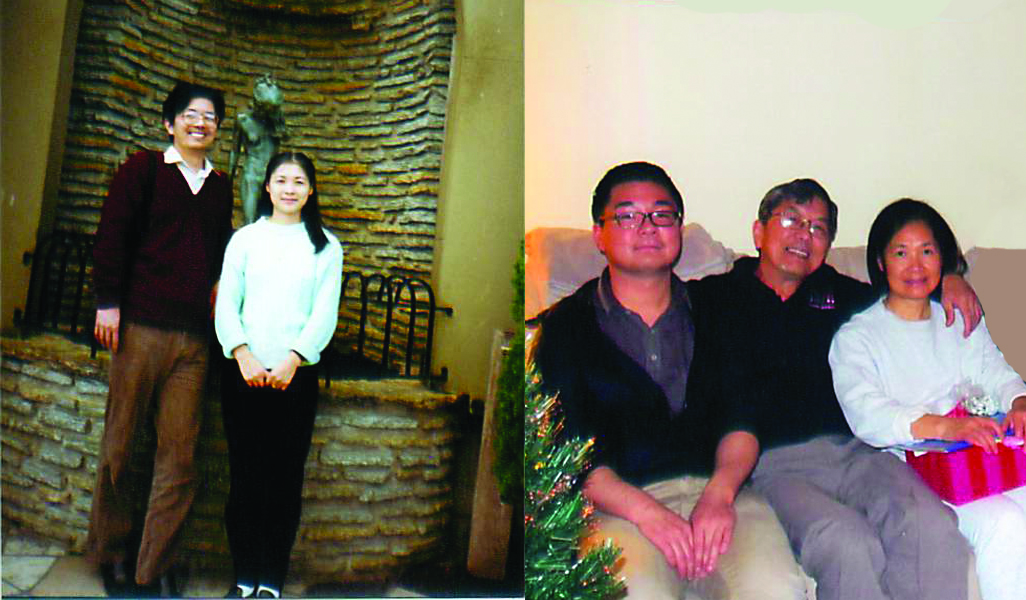 The new tax cuts will provide Ching and Pi Lee an estimated $180 that they can save or spend in our local economy.

By 1986, Ching Lee decided it was time to leave Taiwan and join his extended family, who had already immigrated to the Twin Cities. Trained as mechanical engineer in Taiwan, Ching was able to find work as a manufacturing technician for a high-tech company in the West Metro.

A new country and a new job were not the only changes for Ching in 1986. He also fell in love with and married a fellow Taiwanese transplant, Pi Liu. Not strangers, Pi and Ching first met in Taiwan before becoming reacquainted in Minnesota.
Read more >>
Posted on April 16, 2014 at 1:00 PM

Because of the middle class tax cuts signed into law by Governor Mark Dayton,
Brenda Scandin was able to avoid up to $35,000 in taxes after selling her home at a loss in a short sale.

In 2013, more than 11,800 Minnesota families lost their homes to foreclosure. Thousands more sold their homes at a loss in a short sale. But thanks to new tax cuts signed into law by Governor Dayton, Minnesotans who lose their home to foreclosure or sell their homes at a loss will not face the added burden of paying thousands of dollars in state taxes.
Like tens of thousands of Minnesotans who lost their jobs during the Great Recession, Brenda Scandin of Mound, Minnesota, never thought it could happen to her. Brenda had a good job working as a finance professional, and with decades of business experience, she had an excellent understanding of money management. But after losing her job during the recession, Brenda and her husband began having a difficult time making their mortgage payments.

Read more >>
Posted on April 16, 2014 at 8:00 AM

To make state government work better for the people it serves, Governor Dayton has implemented Minnesota's first-ever Plain Language policy. Watch this video to learn how the Minnesota Department of Veterans Affairs has made their website easier to use for Veterans like Michelle Ambrose.


Read more >>
Posted on April 14, 2014 at 7:18 PM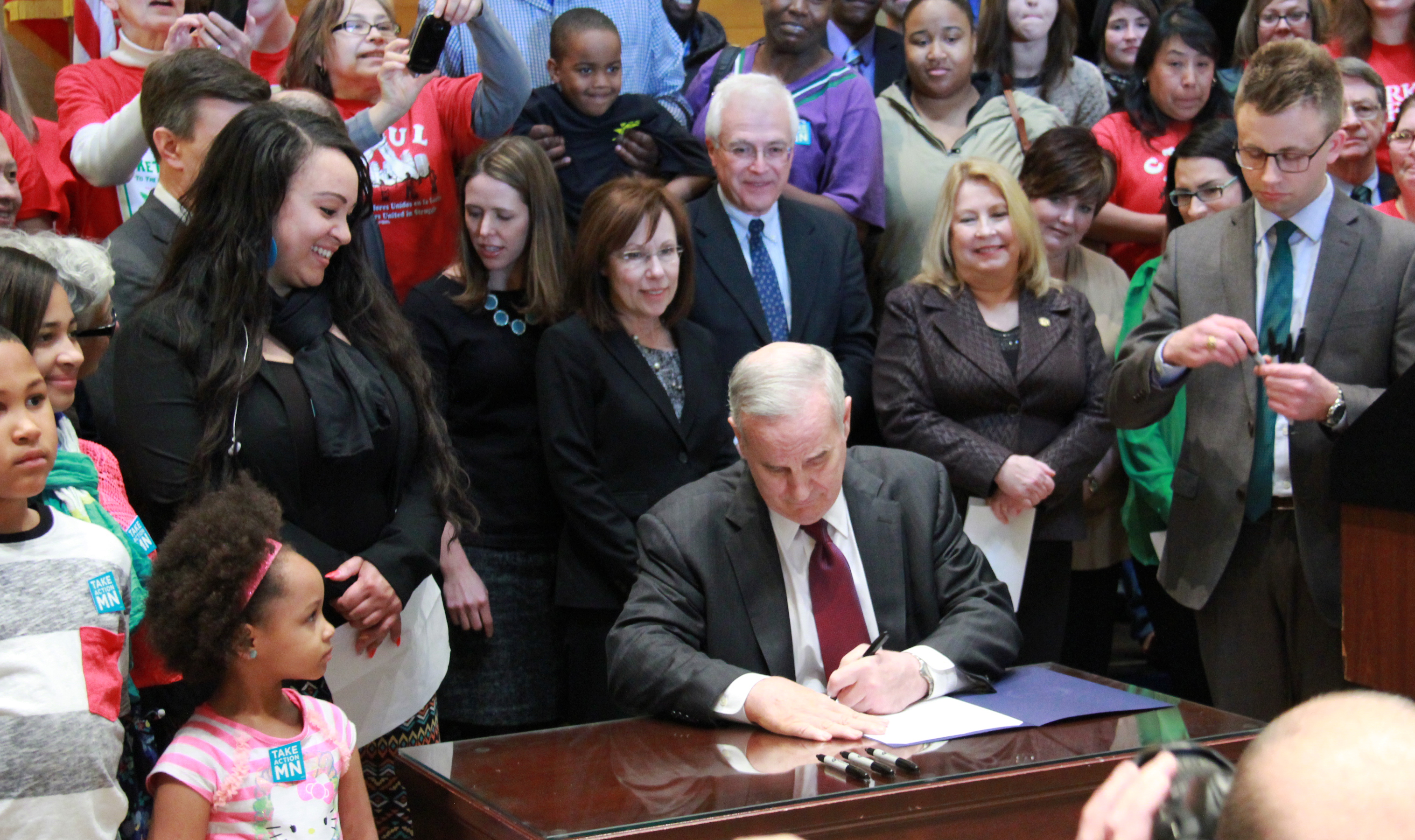 More than 325,000 of Minnesota's lowest-wage workers just got a raise. Joined in the Capitol Rotunda this afternoon by legislators, advocates, and hard-working Minnesotans from across the state, Governor Mark Dayton signed a bill into law raising Minnesota's minimum wage for the first time since 2005. The bill increases the minimum wage to $9.50 per hour by 2016, and indexes it to inflation to help ensure Minnesotans' wages keep up with the cost of living.
Before today, at $6.15 per hour Minnesota had one of the lowest minimum wages in the nation – lower than neighboring Wisconsin, Iowa, North Dakota, and South Dakota. In fact, Minnesota was one of only four states in the country with a minimum wage below the national rate of $7.25 per hour.
Read more >>
Posted on April 09, 2014 at 5:24 PM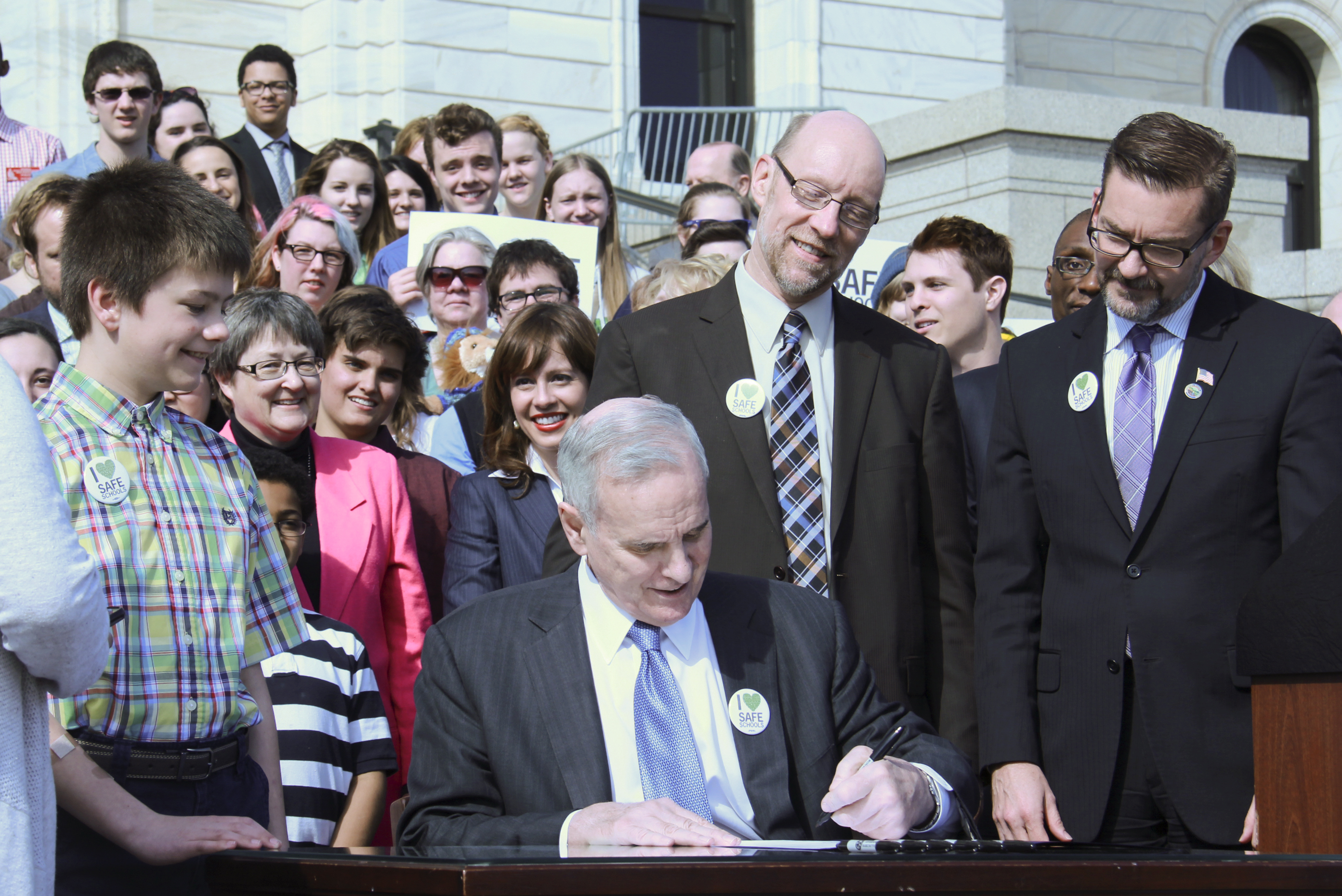 Surrounded by students, parents, teachers, and school administrators, Governor Mark Dayton today signed the Safe and Supportive Schools Act (HF826/SF783). The new law, authored by state Sen. Scott Dibble and state Rep. Jim Davnie, strengthens protections against the threat of bullying in Minnesota schools. The new measure provides local school districts the guidance, support, and flexibility to adopt clear and enforceable school policies to help protect all children from bullying, and to reinforce the principles of tolerance and respect in our schools.

"Minnesota's schools should be safe and supportive places for everyone," said Governor Mark Dayton. "This anti-bullying legislation will make it very clear that bullying is not to be allowed in our schools. I thank Senator Dibble, Representative Davnie, Commissioners Cassellius and Lindsey, and the many parents, students, teachers and advocates, who worked tirelessly to write and pass this law."

Read more >>
Posted on April 09, 2014 at 7:01 AM

Students, teachers, parents, and families invited to Minnesota State Capitol for bill signing ceremony

Joined by legislators, parents, students, and teachers, Governor Mark Dayton plans to sign the Safe and Supportive Schools Act (HF826/SF783) into law at a public bill signing ceremony on Wednesday, April 9, at 4:00pm. The bill signing ceremony will take place on the steps of the Minnesota State Capitol. Minnesota students, parents, teachers, and families are invited to attend the event.

The Safe and Supportive Schools Act, which was passed by the Minnesota Legislature, strengthens protections against the threat of bullying in Minnesota schools. The new law will provide local school districts the guidance, support, and flexibility to adopt policies that will help protect all children from bullying, and reinforce the principles of tolerance and respect in our schools.

This event is free, and open to the press and public.

WHO:
Governor Mark Dayton
State Sen. Scott Dibble
State Rep. Jim Davnie
11-Year-Old Boy Scout Jake Ross
Farmington Schools Superintendent Jay Haugen

WHAT:
Bill signing ceremony for the Safe and Supportive Schools Act

WHERE:
Steps of the Minnesota State Capitol

WHEN:
Wednesday, April 9
4:00pm


Read more >>
Pages
1
-
2
-
3
-
4
-
5
-
6
-
7
-
8
-
9
-
10