Showing posts from
January 2013
.
Show all posts
Posted on January 31, 2013 at 1:27 PM

Wondering how Governor Dayton's budget proposal impacts your community? You can to check out
local fact sheets
for communities across Minnesota. Each fact sheet provides information about his proposed investments in education, the fair tax system for every Minnesotan, and direct property tax rebates for homeowners and businesses.
Read more >>
Posted on January 28, 2013 at 12:54 PM
Categories:
Budget
Revenue Commissioner Myron Frans and Minnesota Management & Budget Commissioner Jim Showalter discuss Gov. Mark Dayton's proposed budget and tax reform plan for FY 2014-15. The governor's budget covers our $1.1 billion deficit, pays back $1 billion we borrowed from our schools and invests in our state's greatest resource: Minnesotans. He proposes to pay for these investments by making our tax system fair and balanced, and by reforming how government works so we deliver better services at a lower cost.
Read more >>
Posted on January 23, 2013 at 3:17 PM
Categories:
Budget
Minnesotans responded yesterday to Governor Dayton's plan for a balanced budget that strengthens Minnesota's middle class.
Education Minnesota President Tom Dooher praises Dayton for 'investment mentality' in education

"This is the first time in many years that the Legislature has started with an investment mentality toward public education, from preschool to college," Dooher said. "That's good for our students and for our economy. We'll continue to work with the governor and the Legislature on a final budget that's best for Minnesota schools. Gov. Mark Dayton deserves credit for presenting a budget without shifts from schools or other gimmicks," Dooher said. "He's building a strong fiscal foundation for Minnesota."
Read more >>
Governor Mark Dayton today released a budget proposal focused on improving the lives of Minnesotans through major investments in education, new initiatives for a stronger economy, and a fair tax system.
"If the investments in my budget proposal are made, they will yield returns in new jobs, private investments, vibrant communities and additional state and local tax revenues; and they will help keep our economy moving forward," said Governor Dayton. "They represent my best judgment about what Minnesota needs to grow our economy, expand our middle class, improve our quality of life and take care of those most in need."
Governor Dayton's budget delivers on his promise to increase funding for education every year he is governor: no excuses, no exceptions. The governor's budget provides quality early education for 11,000 young children, optional All-Day Kindergarten for 46,000 kids, and increases K-12 funding by $52 per student. His budget also delivers a significant increase in direct student aid for higher education and makes needed investments in the MnSCU system and the University of Minnesota to train our workforce for the jobs of the future.


Read more >>
Posted on January 21, 2013 at 1:19 PM
Categories:
Budget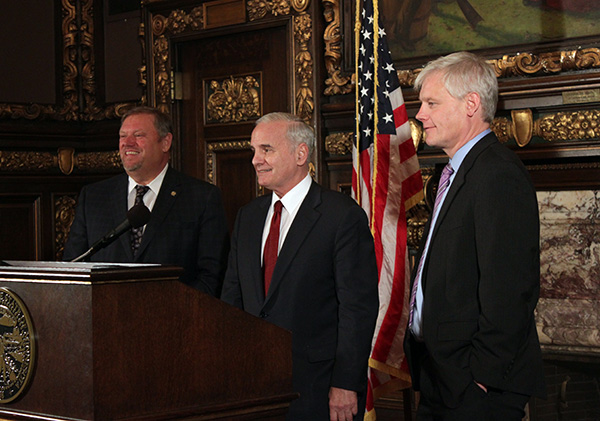 Op/Ed by Governor Mark Dayton, Senator Tom Bakk, and Representative Paul Thissen Originally published in The Pioneer Press on Saturday, January 19, 2013 at 3:33 pm

Minnesotans were given a clear choice between two very different visions for the future of our state in this last election, and the results speak for themselves. Now, with a DFL governor and two DFL majorities in the Legislature for the first time in 22 years, we are focused on our shared responsibility to govern well for all the people of Minnesota and to lead our state forward together.

And with so much at stake, we know that Minnesotans are watching closely.

Our commitment is not only to give you a government that works, but a government that works for you. That means balancing the budget responsibly without gimmicks and borrowing. It means making our tax system fair in order to invest in education, job creation and property tax relief. And it means continuing to reform state government to make it work better for all Minnesotans.

Read more >>
In Minnesota, infrastructure improvement is one of the most critical issues facing the state's transportation system. Extreme weather, the age of the system and competing investment needs results in roads that are in great need of maintenance and improvement. In 2011, approximately 700 miles of Minnesota's highways were classified as being in "poor" condition. Despite dedicated pavement investments, the miles in "poor" condition were projected to steadily increase to 1,900 by the year 2020.
In response, the Minnesota Department of Transportation worked with Governor Mark Dayton and the Minnesota Legislature to establish Better Roads for a Better Minnesota.
Read more >>
The Minnesota Department of Natural Resources (DNR) tackled important issues in 2012 and accomplished major successes – achievements which touched the lives of Minnesotans across the state. From responding to historic flooding in east-central Minnesota and Duluth, to the destructive July winds in the state's northern forests, to a drought which culminated in severe wildfire conditions, DNR staff worked with Minnesota communities to minimize impact, complete emergency infrastructure repairs and to respond to disasters as they were unfolding.
"Gov. Mark Dayton has directed all his agency commissioners, including me, to make Minnesota work for Minnesotans," said DNR Commissioner Tom Landwehr. "DNR's accomplishments in 2012 show what we can achieve when we collaborate with others and address hard issues."
Read more >>