The Minnesota Department of Employment and Economic Development (DEED) has awarded a $147,739 grant to St. Cloud State University to train 84 employees of Netgain.
The grant was awarded under the agency's
Minnesota Job Skills Partnership Program
. The program works strategically with both businesses and educational institutions to train or retrain workers, expand work opportunities and keep high-quality jobs in the state. In this grant, the program leverages nearly $162,000 from Netgain, an IT provider for the health care industry.
"The Minnesota Job Skills Partnership Program has responded to business workforce needs by training more than 260,000 Minnesotans," said DEED Commissioner Katie Clark Sieben. "In this collaborative project, the entire Netgain workforce will gain the technical and leadership skills necessary to provide the highest level of service possible, advance their careers and keep the company competitive in the rapidly changing health care industry."
With support from Governor Mark Dayton and the Minnesota Legislature, the Minnesota Job Skills Partnership Program has awarded $23.5 million since 2011 to train 30,535 workers and has leveraged $56.4 million in private funding.
MJSP funding will partner with SCSU to provide training in five main topics: Health Care in the United States, Building Business Communication Skills in the Health Care Industry, Netgain Client Experience, Advancing Netgain Technical Knowledge and Skills, and Netgain Management/Leadership in Health Care IT. An Interactive Presentation System will be purchased for in-class and distance learning. SCSU will also use the system for future onsite training and special events.
For information on the grant, contact Tammy Anhalt-Warner, SCSU, 320-308-4252.
Read more >>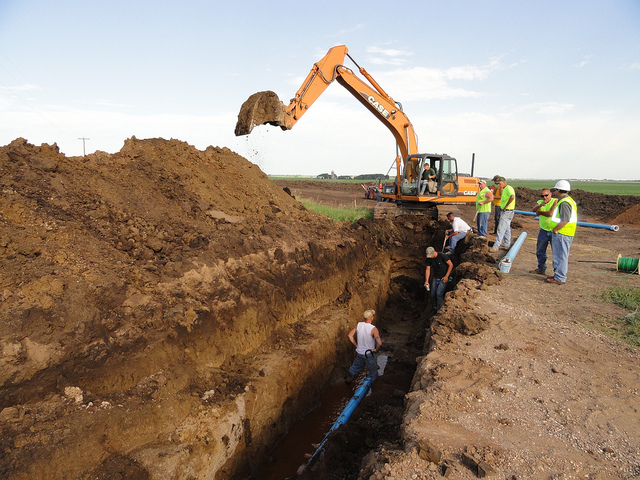 A section of the Lewis and Clark Regional Water System being constructed in South Dakota
Governor Mark Dayton traveled to Luverne last week to meet with local officials and area legislators to discuss next steps in advancing the construction of the Lewis & Clark Regional Water System. Governor Dayton listened, asked questions, and offered his continued support to ensure the project continues on course toward completion. The Governor stressed that the project is essential to maintaining a high quality of life in southwestern Minnesota, and in supporting the continued economic growth of the entire region.

"This project is critically important to the people and businesses of southwestern Minnesota," said Governor Dayton. "Without it, business growth would be stifled, new jobs would be lost, and residents would continue being forced to buy bottled water. I will continue doing everything possible to see this project through to completion."

A shortage of water in communities across southwestern Minnesota is stifling economic growth in the region, and diminishing the quality of life enjoyed by its citizens. Luverne's isobutanol plant has expressed wishes to expand, but that expansion has been hampered due to a lack of available water in the area. The quality of aquifer water in many communities is so poor that residents have been forced to drink bottled water.

Read more >>
Posted on July 17, 2014 at 9:04 PM

Minnesota received more good economic news today. Today's jobs report, released by the Minnesota Department of Employment and Economic Development (DEED), showed the state added 8,500 jobs in June. And the state's unemployment rate dropped to 4.5 percent last month – the lowest it has been in seven years. In total, Minnesota has added nearly 160,000 new jobs since Governor Dayton took office in January 2011.

Governor Dayton, members of his Cabinet, and other key stakeholders gathered today at the University of Minnesota to discuss how the state can continue adding jobs in Minnesota's growing clean energy sector. Tens of thousands of Minnesotans are employed already in clean energy jobs. As Minnesota builds on our nation-leading renewable energy policies, the Governor and his Administration are committed to growing the jobs that come along with it.

Read more >>
Posted on July 16, 2014 at 3:13 PM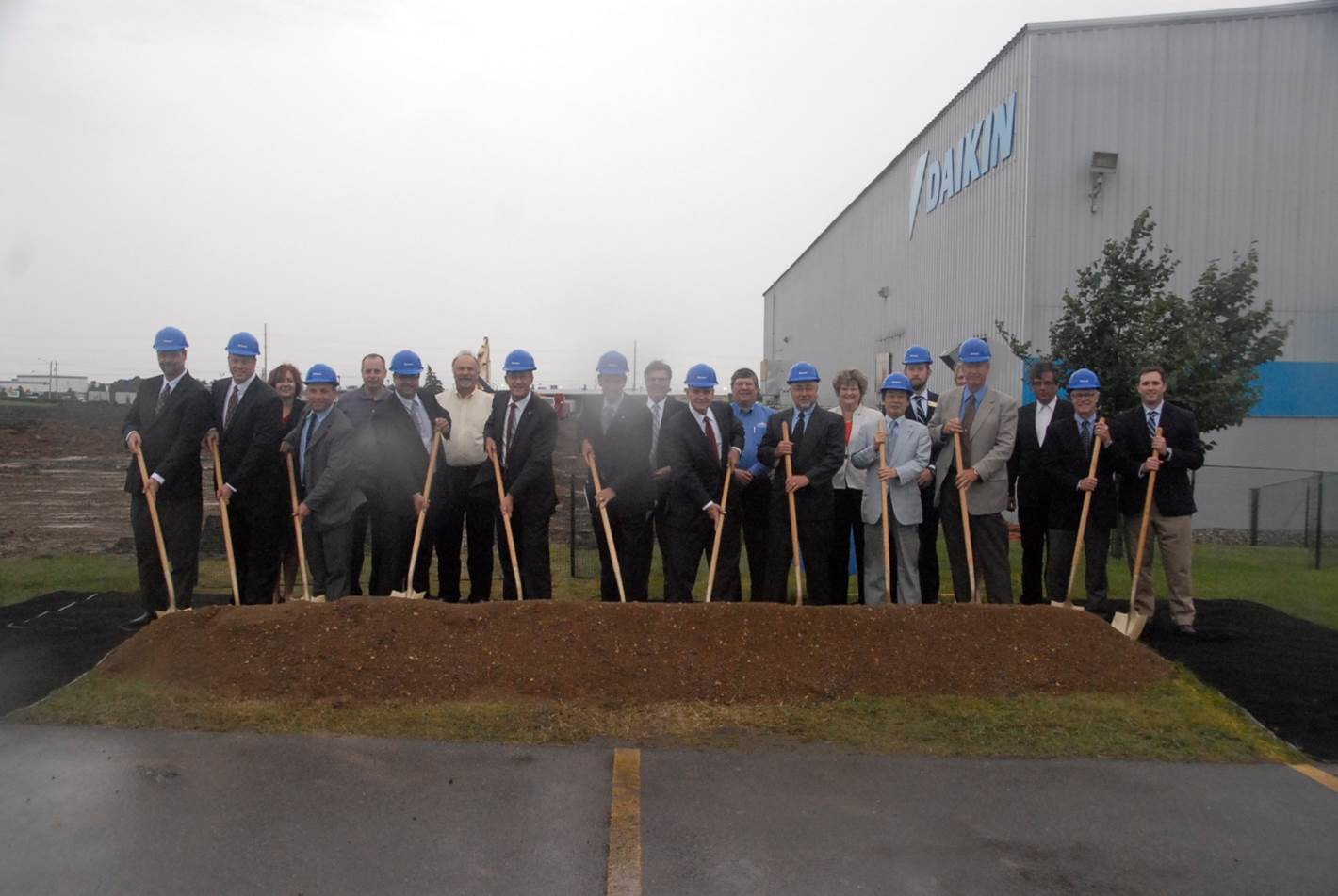 Governor Mark Dayton pictured with employees of Daikin Applied Americas at the July 11, 2014 groundbreaking ceremony.

OWATONNA, MN – This morning, Governor Mark Dayton helped break ground on a $9 million expansion of Daikin Applied Americas' manufacturing facility in Owatonna. The new expansion, which received $1.45 million in state assistance from the state's Minnesota Job Creation Fund and Minnesota Investment Fund, will create 40 new jobs in Owatonna with wages and benefits averaging $31 per hour.

"The Minnesota Job Creation Fund was launched just six months ago. It has already helped finance business expansions, like Daikin Applied's, throughout our state, which have added hundreds of new jobs," said Governor Dayton. "I thank Daikin Applied for its very important expansion in Owatonna and for its continued commitment to Minnesota."

Daikin Applied is one of 15 companies that have received assistance from the Minnesota Job Creation Fund over the last six months to help finance a business expansion in Minnesota. Altogether, Daikin Applied received $880,000 from the Fund. In 2013, Governor Dayton and the Legislature invested $24 million in the initiative, which provides up to $1 million to qualifying businesses planning to expand and create new jobs in Minnesota.

Daikin Applied also received $600,000 from the Minnesota Investment Fund for its expansion. In 2013, Governor Dayton and the Legislature invested $30 million of ongoing funding in the initiative, which provides financing to help add new workers and retain high-quality jobs on a statewide basis. Between 2005 and 2012, the program saw an 86 percent decline in state funding. But new, ongoing funding provided by Governor Dayton and the Legislature is projected to help create thousands of new jobs and leverage hundreds of millions of dollars in private investment in the state's economy.

About Daikin
Daikin Applied, a member of Daikin Industries, Ltd., manufactures commercial HVAC systems. Daikin Industries, Ltd. is a Fortune 1000 company with more than 51,000 employees worldwide, making it the largest HVAC manufacturer in the world. Daikin is engaged primarily in the development, manufacture, sales and aftermarket support of heating, ventilation, air conditioning and refrigeration (HVACR) equipment.
Read more >>
Governor Dayton shaking the hand of Norwegian Soccer star Jan Aage Fjortoft
Yesterday, Governor Mark Dayton traveled to the National Sports Center in Blaine to provide the welcoming remarks and participate in the Handshake for Peace with Norwegian Soccer star Jan Aage Fjortoft for the opening ceremony of the Schwan's USA Cup International Youth Soccer Tournament.
This year, Schwan's USA Cup is celebrating its 30th anniversary—marking three decades of bringing youth soccer players from around the world for competition and fellowship. Over the years, the Schwan's USA Cup has become one of the largest youth soccer tournaments in the western hemisphere, with 1,060 teams presenting 15,000 athletes from 21 states and 19 countries participating.
The National Sports Center already attracts 4 million visitors each year—more than any other sports facility in Minnesota. It is currently the largest soccer complex in the world. To help ensure that Blaine remains a center for youth athletics and the home of this remarkable tournament, the 2014 Jobs Bill signed by Governor Dayton included funding for the National Sports Center. The new resources will be used to acquire land and develop at least 20 tournament athletic fields for soccer, lacrosse, and rugby.
More on the Handshake for Peace
The Handshake for Peace was created by the Norwegian Football Association and the Nobel Peace Center in 2012. The handshake occurs at the beginning of each game before or after a match as a symbol of friendship, respect, fair play, and good sportsmanship. It has since been adopted by FIFA and will make its debut in the United States at the Schwan's USA Cup.
Read more >>
Posted on July 15, 2014 at 12:16 PM
Categories:
Health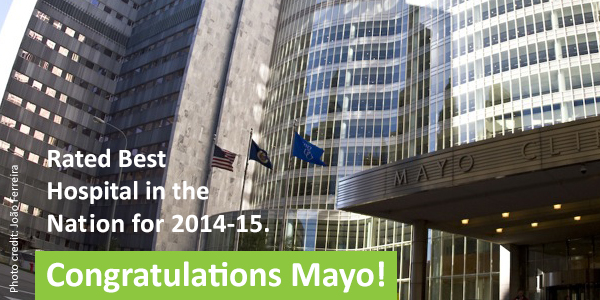 This week, Minnesota again demonstrated why our state is a national leader in health care. New Dayton Administration reforms launched in 2013 to provide better care at lower costs have saved more than $10.5 million in just one year. And today, Mayo Clinic was named the best hospital in the nation by U.S. News & World Report.

This news comes after Minnesota saw a more than 41 percent decline in our uninsured rate – giving our state the second-lowest uninsured rate in the nation. And last month, Minnesota ranked first in the nation on AARP's long-term care scorecard, demonstrating our state's commitment to providing high-quality care to disabled and older Minnesotans.

Read more below:
Nation-Leading Reforms Save $10.5 Million in First Year
Mayo Clinic Ranked Best Hospital in the Nation
Minnesota's Uninsured Rate Drops More than 40 Percent
Minnesota Has Best Long-Term Care in the Nation
NATION-LEADING REFORMS SAVE $10.5 MILLION IN FIRST YEAR
Minnesota's new, nation-leading approach to delivering better quality health care at lower costs is paying off. In the first year of a pilot program announced by the Department of Human Services and Governor Mark Dayton in 2013, six health care providers serving 100,000 Minnesotans spent $10.5 million less than projected – cost savings that will benefit Minnesota taxpayers.

What Governor Dayton is saying:
"Some people talk about reform. We do it. Minnesota is the first state in the nation to implement these cost-saving reforms – and we have proven that this new approach delivers results. I thank the health providers who have partnered with us on this initiative, making it possible to deliver better care to over 100,000 Minnesotans."
MAYO CLINIC RANKED BEST HOSPITAL IN THE NATION
Today, Mayo Clinic achieved the highest honor in U.S. News & World Report's ranking of top hospitals, making it the best hospital in the country. Mayo Clinic earned more number one rankings than any other provider, ranking number one or number two in 11 of the 12 specialties based on reputation, services and volumes, safety and clinical outcomes.

What Governor Dayton is saying:
"These rankings reaffirm what millions of patients and doctors around the world already know: Mayo Clinic offers the best medical care in the world. Thanks to the wise investment made by our State Legislature in the development of a Destination Medical Center, I am confident Mayo will continue its tradition of excellence into the future. Congratulations, Mayo!"
Watch what Mayo Clinic President and CEO Dr. John Noseworthy is saying:


Read more >>
Posted on July 11, 2014 at 4:18 PM

Minnesota Department of Education Commissioner Brenda Cassellius speaks with students

Congratulations to the Minnesota Department of Education! This week, MDE's Regional Centers of Excellence program won the University of Minnesota's Humphrey School of Public Affairs 2014 State Government Innovation Award. The awards recognize excellence in state government agencies and seek to encourage experimentation and innovation in Minnesota. Winners were judged based on a three-part set of criteria: innovation (40% of the score), impact (30%) and sustainability (30%). The winning agencies demonstrated significant improvements in service, progress, and impact of the program.

To be considered, agencies had to demonstrate a performance management system for accountability, evaluations and program budgets. The winning agencies showcased programs that used technology in creative ways, targeted services to those most in need, and demonstrated collaboration and consolidation between organizations. An awards ceremony will be held Thursday, August 7, 2014 at the Minnesota History Center. Click here for more information.

Regional Centers of Excellence
The Minnesota Department of Education put in place Regional Centers of Excellence to focus schools and districts on closing achievement gaps between students. Center directors, regional staff, the Department of Education and service cooperatives work collaboratively to raise student achievement through support for all students. There are 6 centers across the State of Minnesota, serving the communities around Rochester, Sartell, Thief River Falls, Marshall, Fergus Falls and Mountain Iron.
Other Winners Include

Read more >>
Posted on July 11, 2014 at 8:21 AM


Left to right: Bloomington Mayor Gene Winstead; Jeff Appelquist, author of Toro's recently released centennial book; Governor Mark Dayton (Minnesota); and Michael J. Hoffman, Toro's chairman and CEO (Photo: The Toro Company)
Governor Dayton traveled to Bloomington to celebrate the 100th Anniversary of Toro yesterday. The company, which designs and manufactures lawn care and landscaping equipment, is one of the state's largest companies – employing about 1,800 in Minnesota.

"Part of the mentality of Toro is reaching out to its customers and to the communities, and developing high-quality products while strengthening your market through innovation," said Governor Dayton. "I don't think that the founder could have imagined 100 years ago that Toro would grow to be a Fortune 1000 company, or that more importantly, you'd be a leading corporate citizen in Minnesota. Your contributions to this state have been enormous.
Read more >>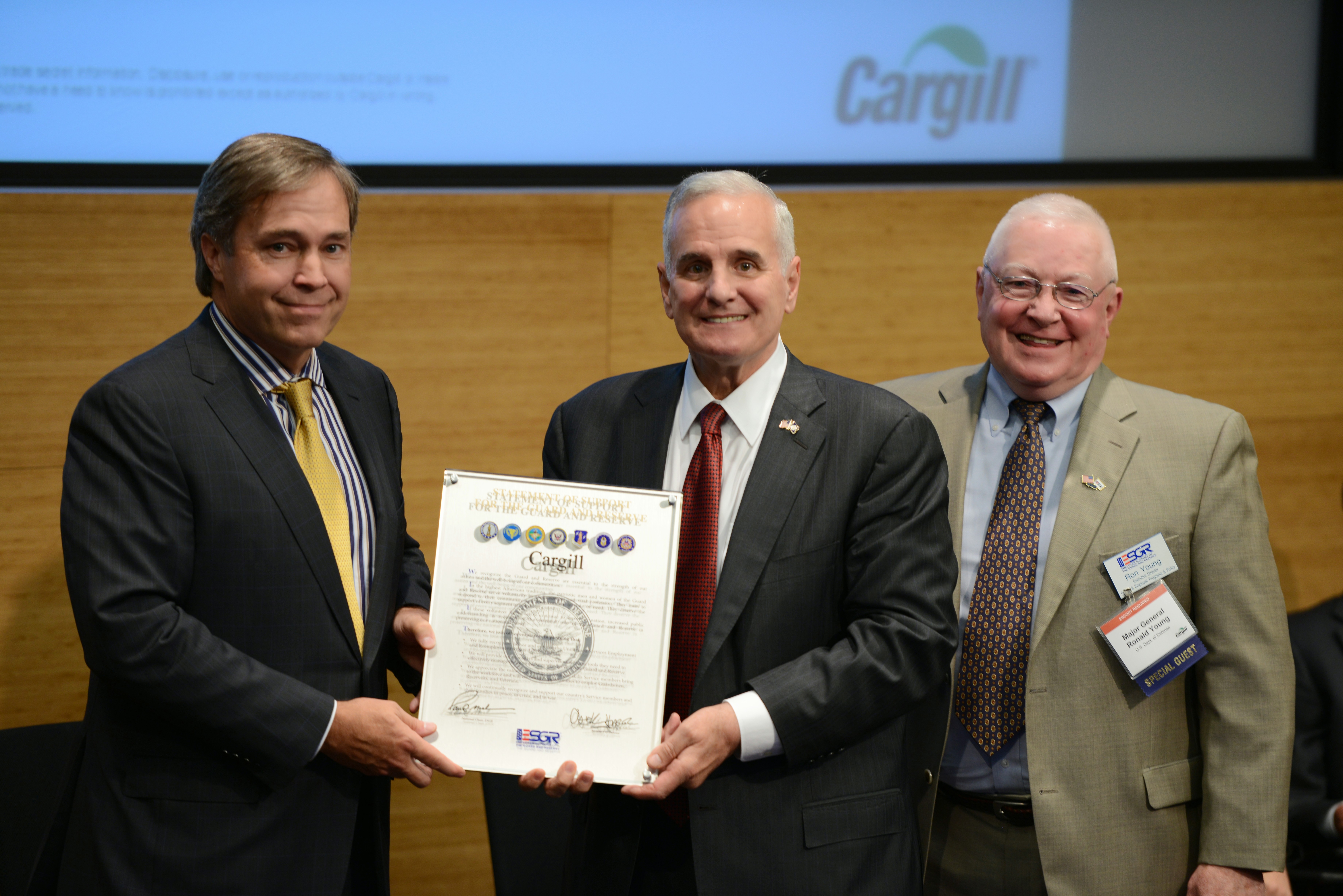 Governor Dayton recognizes Cargill as a Yellow Ribbon Company
Minneapolis-based Cargill was recognized as a Yellow Ribbon company during a Yellow Ribbon Proclamation ceremony at Cargill's Whitney MacMillan Auditorium in Hopkins, Minnesota on July 9, 2014.
The Beyond the Yellow Ribbon Proclamation recognizes the combined efforts of key areas within a company to support service members, veterans and military families and enable successful transition into the workplace for those who are returning from deployments.
"The men and women of the Minnesota National Guard, other U.S. Forces, and their families, have earned our admiration and appreciation. They have also earned our continuing assistance," said Minnesota Governor Mark Dayton. "I thank Cargill for joining over 200 Yellow Ribbon cities, counties, and businesses, who have committed to support our Minnesota heroes, when they return home."
In addition to the proclamation, Cargill re-signed the Employer Support of the Guard and Reserve's Statement of Support, further solidifying their commitment to supporting the service members Cargill employs.
Read more >>
Posted on July 09, 2014 at 1:45 PM

Governor Mark Dayton speaking at the the 2014 Veterans Career Fair.

Today, Governor Dayton traveled to the 2014 Minnesota Veterans Career Fair. At the Brooklyn Park event, the Governor thanked Minnesota employers for their continued commitment to hiring and supporting military veterans. The job fair, hosted by the Department of Employment and Economic Development, is the largest event in Minnesota for veteran job seekers.
"Hiring veterans is one of the best investments a business or organization can make," said Governor Dayton. "Minnesota veterans have the skills employers are looking for, including leadership, intelligence, dedication, and loyalty. They offer the energy and know-how our economy needs. I thank the 140 employers who are participating in tomorrow's Career Fair, and offer the state's continued support to Minnesota's heroes as they search for good jobs and new careers in our communities."
Now in its eighth year, the Minnesota Veterans Career Fair has been quite successful in connecting veterans with jobs. Historically, 10 to 15 percent of veterans who have attended have found a received a job offer there.
And to make it easier for Minnesota veterans to pursue job opportunities, Governor Dayton and Hilton Hotels announced a new initiative yesterday to provide free accommodations to veterans. Under the new pilot program, veterans who are searching for employment, attending job interviews or skills training, or are looking for new housing in Minnesota, are eligible for three free nights at a Hilton Hotels location in our state.
According to Hilton Worldwide, the average hotel stay in the Twin Cities metropolitan area costs $200 per night. That means veterans who are eligible for free hotel accommodations can save up to $600 under the new pilot program.
Minnesota veterans seeking job opportunities should visit the Department of Employment and Economic Development website. On the website, veterans can find valuable resources to help them find a job or start a business.
Read more >>
Pages 1
-
2
-
3
-
4
-
5
-
6
-
7
-
8
-
9
-
10
Next